Are you wanting to get your gaming on and take your gaming experience to the next level? Each of these best keyboards and mouse for PS4 gets you covered like never before. So before further ado, let's get right into it.
Some tasks that may practically be impossible for you to do with the controller are just a step away; with the keyboard and mouse for PS4, you will have a unique gaming experience and perform feats with your gaming strategies.
For mechanical keyboards under $100, we have:
1. Spirit of Gamer Xpert G900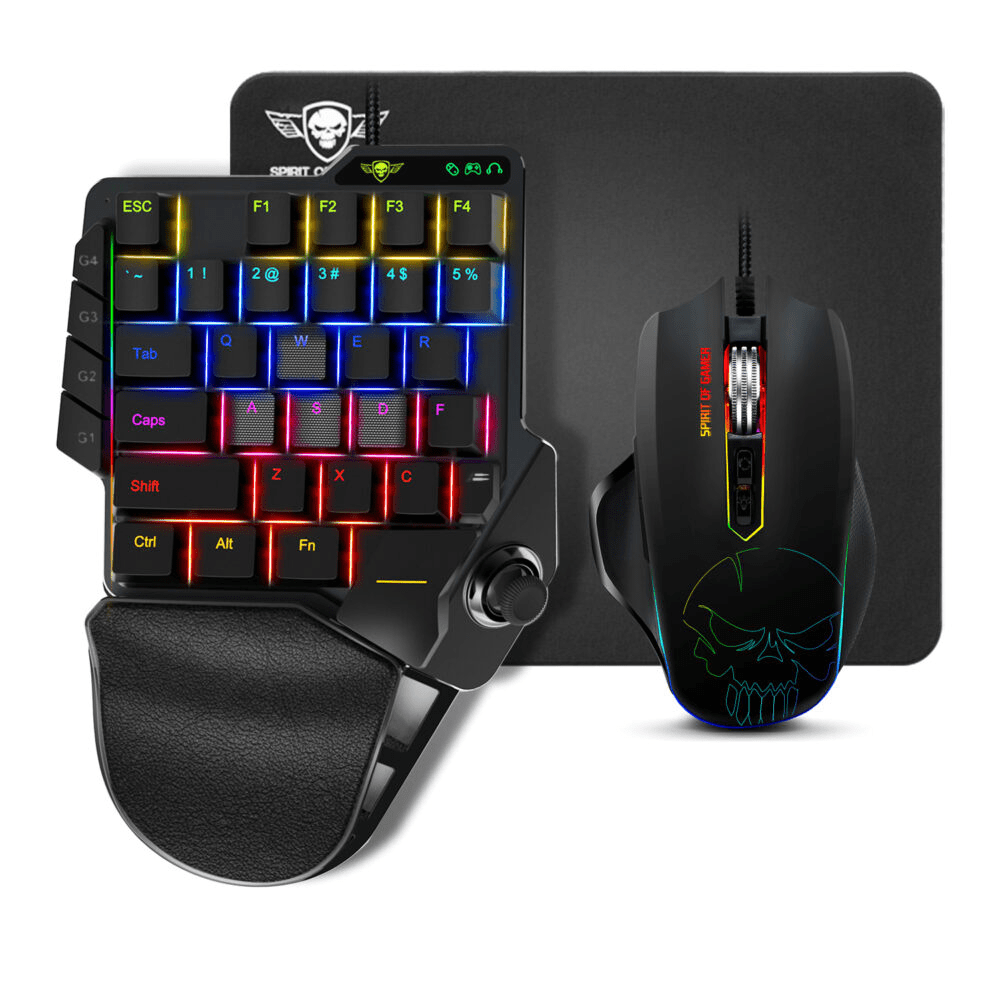 Are you ready to take your gaming experience to the next level? Look no further than the XPERT G900 combination. Designed by gamers for gamers, this package is perfect for those who love FPS/MMORPG/Simulation games on consoles.
...........................
And the best part? It's compatible with all major consoles, including PS4, Xbox S/X/One, PS3, and Xbox 360. Plus, the 3.5mm jack allows you to connect headphones for full immersion.
But that's not all – the optomechanical keyboard integrates a 360° analog stick and a mouse with an optical sensor, allowing for precise aiming and ultimate control. And with the RGB LED backlight on both the keyboard and mouse, you can play day and night in style.
But don't worry about durability – the XPERT-900 mouse is built to last with non-slip gliders and an XXL serrated metal wheel. And the XPERT GAMEBOARD-K900 keyboard is optomechanical with a red switch for strength and durability. Plus, both devices come with a reinforced and coated USB cable.
...........................
And the cherry on top? The player keyboard is programmable with the downloadable application, allowing for 3 profiles and a macro editor. So what are you waiting for? Get your hands on the XPERT G900 combination and take your gaming to the next level.
One major drawback is that it lacks the V(melee attack) and G(grenade) keys for first-person shooter games.
2. Orzly RX250 Gaming Keyboard and Mouse
Get ready to take your gaming and office work to the next level with the RX250-K gaming keyboard! This keyboard is not only ergonomically designed for ultimate comfort, but it also boasts a range of features that will blow your mind.
With three different lighting modes, four backlight brightness levels, and a breathing mode, the rainbow backlit keyboard will light up your world and make your gaming experience even more immersive. The clear uniform keycap backlighting ensures that you can see every key, even in the dark.
...........................
But that's not all – the RX250-K also has 19-key rollover support and built-in anti-ghosting technology, ensuring that every keystroke is recorded accurately and quickly. The fast, responsive, and quiet membrane switches make typing a breeze.
And don't worry about spills – the built-in drainage ports quickly remove liquids, protecting your keyboard from damage. Plus, the wired connection ensures a lag-free response, so you can game and work with ease.
But wait, there's more! The RX250-K also includes a foldable stand, giving you another typing position for ultimate comfort. Check out the video and pictures to see for yourself.
Upgrade your gaming and office setup with the RX250-K gaming keyboard – your fingers will thank you.
...........................
3. Hori Tac Pro M2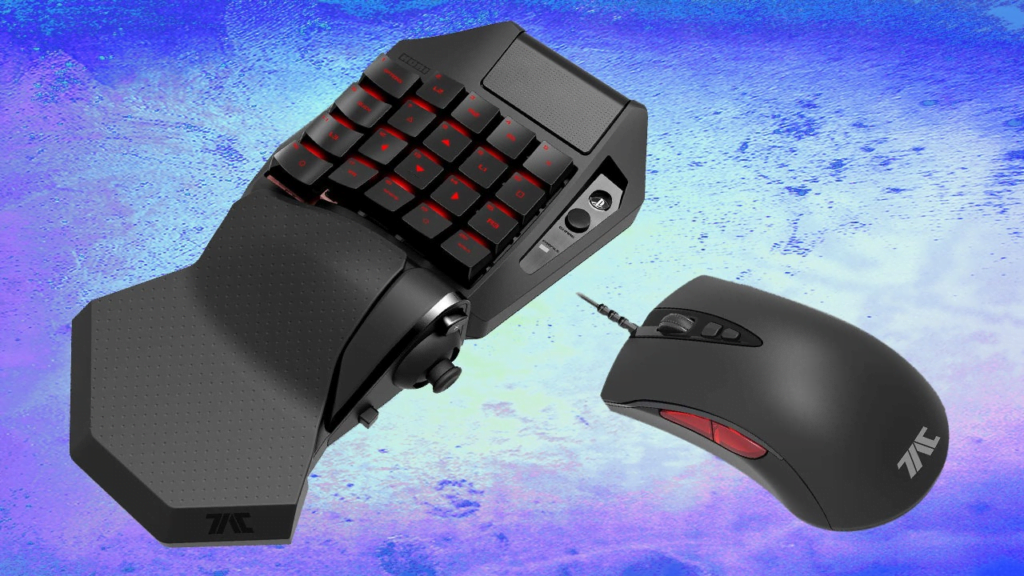 Get ready to dominate your FPS games like never before with the brand-new TAC PRO Type M2 from HORI! This officially licensed keypad and mouse controller for PlayStation 4 brings PC-style control to your console, giving you the ultimate gaming experience. With its precise aiming and customizable input options, the TAC PRO Type M2 is the smoothest and most accurate TAC ever.
But that's not all – the TAC PRO Type M2 also features Bluetooth wireless connectivity to the HORI Device Manager App, allowing you to update key layouts, input options, and sensitivity settings, and save profiles on the fly using your iOS or Android device.
And with an adjustable palm rest, proprietary mechanical key switches with LED backlighting, a high-end gaming mouse with adjustable DPI, a fully-featured touchpad, headset input, and more, this controller has everything you need to take your gaming to the next level.
...........................
The TAC PRO Type M2 also brings back fan-favorite features such as the Snipe and Walk buttons, ADS lock, adjustable dead zone and mouse acceleration, and full compatibility with PS4, PS3, and PC (Windows®11 / 10). So what are you waiting for? Go in for the kill with the TAC PRO Type M2 and dominate your opponents like never before!
4. BlueFinger Gaming Keyboard and Mouse
Introducing the ultimate gaming set-up! Get ready to take your gaming experience to the next level with our top-of-the-line RGB Backlit Keyboard, Gaming Mouse, and Mouse Pad.
First up, our RGB Backlit Keyboard. With 104 keys and a built-in steel plate, this keyboard is anti-fall and durable. The RGB backlit function ensures that all letters glow and never fade, making it perfect for those late-night gaming sessions.
...........................
Plus, the 19 non-conflict keys allow you to press or hold multiple keys simultaneously, giving you the ultimate gaming advantage. And let's not forget the convenient Scroll Lock Key, which allows you to turn the RGB backlit on or off with ease.
Next, our Gaming Mouse. Ergonomically designed with quality ABS construction, this mouse is built to last. The 59-inch USB braided wire ensures durability, while the 4 different LED breathing light changes automatically add a touch of style to your gaming set-up.
And with DPI adjustable settings of 800/1200/1600/2000, you can customize your mouse to fit your gaming needs. Plus, the Forward Key + DPI Key allows you to turn the mouse backlight on or off with ease.
Last but not least, our Gaming Mouse Pad. Measuring 11.8 x 9.8 inches, this mouse pad provides ample space for your mouse to move around. Made of superior material, the smooth exquisite cloth on the surface provides comfortable wrist rest support, while the rubber at the bottom ensures that the mouse pad does not slip.
...........................
And the best part? Our gaming setup is compatible with PC, computers, laptops, PS4, and Xbox One. With USB connect and plug & play capabilities, no driver is required. Compatible with Windows XP/ VISTA/ Win 7/ Win 8/ Win 10/ Mac OS, this gaming set-up is perfect for any gamer looking to elevate their gaming experience.
So what are you waiting for to get this amazing gaming keyboard?
5. Empire Gaming Armor S-100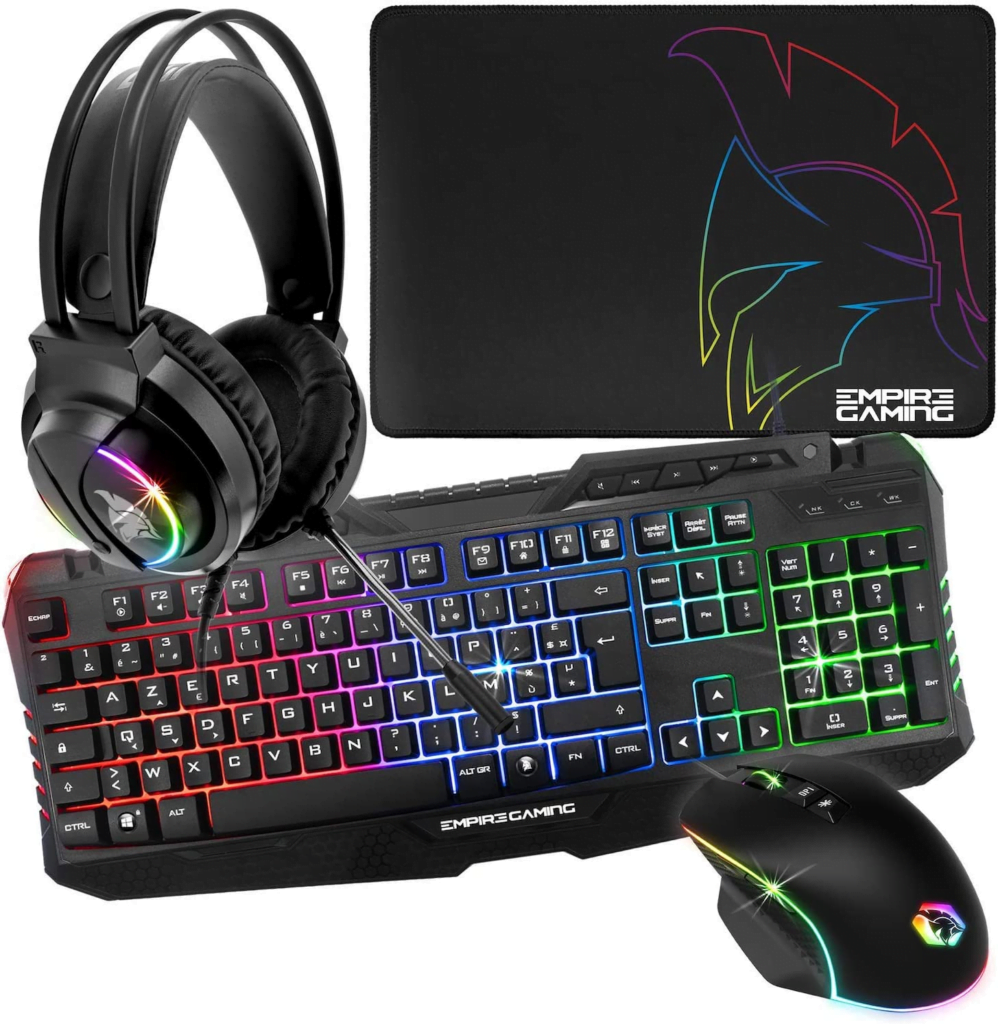 Introducing the RGB Gaming Complete – the ultimate choice for all avid gamers seeking unparalleled comfort and exceptional performance. This gaming set comprises of a Clavier 100% Gaming, featuring 105 semi-metric keys, 12 multi-sized resources, and 19 anti-ghosting touches that prevent conflicts and unwanted actions.
...........................
The accompanying Souris Gaming RGB is designed for precision and performance, with a high-precision optical sensor ranging from 800 to 6400 DPI.
The CASQUE GAMING RGB ULTRA CONFORTABLE is the epitome of comfort, boasting a circum-aural design that envelops the ears and prevents sound leakage while promoting a comfortable head grip. The equipment is also equipped with a flexible and directional microphone for optimal performance.
To complete the set, we have included a Tapis Skin Quality, featuring a high-quality durable tissue surface optimized for stability and precision. The anti-shock base ensures that the mat stays in place, providing a seamless gaming experience.
Invest in the RGB Gaming Complete and elevate your gaming experience to new heights.
How to Select a Keyboard and Mouse for PS4
...........................
There are a number of factors you should be considering when it comes to selecting a keyboard and mouse for PS4.
How to Choose the right mouse for PS4
Captor and DPI
The first thing you should consider is the sensor and the DPI if you are looking for a high-performance gaming mouse.
The sensor is used in determining its performance and accuracy as it is responsible for tracking our motions to transmit signals.
Are you ready to take your gaming experience to the next level? Then let's talk about CPI and DPI! These acronyms stand for counts per inch and dots per inch, respectively, and they refer to the sensitivity of your mouse. The higher the CPI or DPI, the more sensitive your mouse is, which means you can move your cursor faster and with greater precision on the screen.
...........................
But that's not all – many mice allow you to adjust the CPI or DPI to your liking, giving you, even more, control over your gaming experience. With quick and precise movements in-game, you'll be able to dominate the competition like never before.
Now, let's talk about Captor. This could be referring to a type of mouse sensor technology, which can greatly impact your mouse's performance and accuracy. The most common types of sensors are optical and laser, but there are also some less common types like trackball and gyroscopic sensors.
Optical sensors use a LED light and camera to track movement, while laser sensors use a laser. Each type of sensor has its own unique advantages and disadvantages, so it's important to consider which one is best for your needs.
...........................
Have in mind that the higher the DPI, the greater the sensitivity, the laser sensor is precise making it easier to play on reflective surfaces such as glass.
So, whether you're a serious gamer or just looking for a high-performance mouse, remember that both CPI/DPI and the type of sensor used can make a big difference. Choose wisely and get ready to take your gaming to the next level.
Dimensions, Form, and Weight
Are you ready to take your PS4 gaming experience to the next level? Then listen up, because choosing the right mouse is crucial. Don't settle for just any old mouse – consider the dimensions, form, and weight to find the perfect fit for your needs.
Your gaming performance will be affected by the size, weight, and shape of your PS4 mouse, bare in mind that not all mouse can accommodate your hand size and grip designs varying across models
...........................
First up, let's talk about dimensions. You want a mouse that fits comfortably in your hand and allows you to easily reach all the buttons. Some mice are designed to be larger or smaller to accommodate different hand sizes, so make sure you choose one that feels just right.
Next, consider the form of the mouse. Do you prefer a curved shape that fits the natural contours of your hand or a flatter design? Some gaming mice even have extra buttons or a unique shape to give you a better grip during intense gameplay.
Last but not least, don't forget about weight. A lighter mouse may be better for quick movements, while a heavier one can provide more stability and precision. Some gaming mice even come with adjustable weights so you can find the perfect balance for your play style.
...........................
So there you have it – the key factors to consider when choosing a mouse for your PS4. Don't settle for anything less than the perfect fit for your hand and your gaming needs. Get ready to dominate the competition with your new, perfectly tailored mouse!
How to Choose the Right PS4 Keyboard
Membrane Keyboard or mechanical
A membrane keyboard, on the other hand, has the advantage of being quiet!
Keyboards come in three main categories:
Full-size keyboard with all necessary keys, including function buttons, a numeric keypad, and letters, numbers, and these.
TenKeyLess is also known for the absence of a numeric keypad.
A numeric keypad or function keys are absent from 60% of devices.
However, for console gaming, the TKL is frequently favored. Your preference will determine your choice. Without consuming a large amount of space, it has all the necessary functionality.
...........................
Wireless or wired?
The benefit of Bluetooth is that it promotes more mobility. However, there is a chance that you could lose your connection while playing, and the batteries quickly run out, leaving you without a keyboard.
How do I utilize a keyboard and mouse to play on a PS4?
Although not all keyboards can be used with your Sony system, there is a solution!
You'll be able to do without your controller with the help of a PS4 keyboard and mouse adapter. Because adapters vary, comparative tests should be used to select the best option.
Connect a keyboard and mouse to your PS4 console's USB port, then wait for the console to detect the device before you start playing on it.
...........................
Are all PS4 games keyboard and Mouse Compatible?
Sadly, the answer is no without an adapter. The following video games, however, work with a keyboard and mouse:
Fortnite
Final Fantasy 14
Call of Duty: Modern Warfare
War Thunder
Elder Scrolls Online
Can I be Banned If I Use a PS4 Keyboard and Mouse?
Although the question may appear stupid, some games may not value the use of the combo. The reasoning is simple: having a keyboard and mouse makes you more competitive. This advantage could be perceived as deception.