How To Get Yellow Fever Card For Traveling
Introduction
Yellow fever is a viral hemorrhagic fever caused by the yellow fever virus. Its vector is the Aedes aegypti mosquito.
It is endemic in tropical areas of Africa and Central and South America.
Symptoms include but not limited to;
a. Vomiting
b. Nausea
c. Fever
d. Lethargy
e. Headache
f. Jaundice.
The yellow fever vaccine was brought into use in 1938 and is a generally safe vaccine. It is usually administered subcutaneously (under the skin).
Do you want to get a yellow fever card for travel purposes? Have you fallen prey to scammers before in a bid to get your yellow fever card without stress? Are you uncertain about the new e-yellow card and how to get it? I believe your questions will be answered after reading this article.
Related: How to do change of name on international passport
What Is Yellow Fever Card?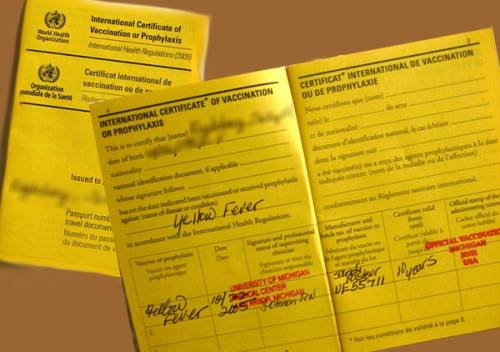 Yellow fever being a dangerous ailment, precipitated the need for the yellow fever vaccine, and the certificate of administration- The yellow fever card.
The yellow fever card is an internationally recognized certificate and is needed for international travels, especially from yellow fever endemic areas. It is a proof of yellow fever vaccine administration.
It is also known as International Certificate of Vaccination or Prophylaxis (or ICVP).
The Yellow Card should be kept in the holder's passport , as it is a medical passport of sorts.
Requirements
To obtain the yellow fever card/vaccine,
1) The individual must be 9 months and above.
2) 2000NGN
How To Get The Yellow Fever Card
You can visit any State or federal ministry of health.
Generate a Remita Retrieval Reference Number ( RRR ) number so you can pay for the yellow fever card. The amount is 2000NGN. ( Remita Retrieval Reference Number (RRR) is a 12-digit code that is generated electronically, and it is used for making financial payments on the Remita platform).
The vaccine is administered.
The yellow fever card is issued immediately after taking the vaccine.
Alternatively, you can-
visit yellowcardnigeria and register, filling out relevant information.
Click on payment generate your RRR, pay online or go to the bank. The amount is 2000 NGN.
Take your payment receipt and international passport with you to the ports health office for administration of vaccine and issuance of the yellow card.
The Card must bear the signature of a licensed physician or a health care worker designated by the physician to supervise the vaccine administration.
Note that the e-yellow card has replaced the old card. This took effect from 1st July 2019. Old yellow fever cards might need to be renewed.
Validity
The yellow fever card is valid from 10 days post vaccination, and remains so for life.
It was previously valid for just 10 years but now its valid for life.
Waiver
This is a document issued in cases where administering the vaccine is contraindicated. Example Children under 6 months, individuals with allergies to egg protein or on immunosuppressive therapy like steroids, individuals with a transplant, thyroid dysfunctions and symptomatic HIV. In such scenarios, the Vaccination waiver may stand in for the yellow fever card.
The Vaccination waiver may not be accepted by the country of destination and there is also a risk of getting infected as a vaccination waiver does not rule out risk of getting infected. It is important to obtain information regarding the acceptance of the vaccination waiver from the embassy of country of destination.
Countries With High Risk Of Yellow Fever Transmission
AFRICA
Angola, Benin, Burkina Faso, Cameroon, Central African Republic, Chad, Congo, Republic of the, Côte d'Ivoire, Democratic Republic of the Congo, Equatorial Guinea, Ethiopia, Gabon, The Gambia, Ghana, Guinea, Guinea-Bissau, Kenya, Liberia, Mali, Mauritania, Niger.
AMERICAS
Argentina, Bolivia, Brazil, Colombia, Ecuador, French Guiana, Guyana, Panama, Paraguay, Peru, Suriname, Trinidad and Tobago, Venezuela.
Countries That Impose Vaccination
Albania, Algeria, Angola Antigua & Barbuda, Aruba, Bonaire, Curaçao, Australia, Bahamas Bahrain, Bangladesh, Barbados, Belize, Benin, Bolivia, Botswana, Brunei, Darussalam, Burkina Faso, Burundi Cabo Verde, Cambodia, Cameroon, Central African Republic, Chad, China, Christmas Island, Colombia, Congo – Democratic Republic, Congo – Republic, Costa Rica, Côte d'Ivoire, Cuba, Dominica. Dominican Republic, Ecuador, Egypt, El Salvador, Equatorial Guinea, Eritrea, Eswatini | Swaziland, Ethiopia, Fiji, French Guiana, French Polynesia, Gabon, Gambia, Ghana, Grenada, Guadeloupe, Guatemala, Guinea, Guinea-Bissau, Guyana, Haiti, Honduras, India, Indonesia, Iran, Iraq, Jamaica, Jordan, Kenya, Korea – North, Kyrgyzstan, Laos, Lesotho, Liberia, Libya, Madagascar, Malawi, Malaysia, Maldives, Mali, Malta, Martinique, Mauritania, Mayotte, Montserrat, Mozambique, Myanmar | Burma, Namibia, Nepal, New Caledonia, Nicaragua, Niger, Nigeria, Niue, Oman, Pakistan, Panama, Papua New Guinea, Paraguay, Philippines, Pitcairn Islands, Rwanda, Saba and Sint Eustatius, Saint Barthélemy Saint Helena, Ascension, T. d. Cunha, Saint Kitts & Nevis, Saint Lucia, Saint Martin Saint Vincent & the Grenadines, Samoa, São Tomé & Príncipe, Saudi Arabia, Senegal, Seychelles, Sierra Leone, Singapore, Sint Maarten, Solomon Islands, Somalia, South Africa, South Sudan, SriLanka, Sudan, Suriname, Tanzania, Thailand, Togo, Trinidad & Tobago, Uganda, United Arab Emirates, Venezuela, Wallis & Futuna, Zambia, Zimbabwe.
Note: There are conmen who will try to sell fake yellow fever cards to you. It is important that the cards are gotten through the right sources. You can visit yellowcardnigeria for more information.