If you are travelling around Australia and you are thinking about getting to this beautiful and impressive part of the country, be ready for a lot of things to do and discover. Known as the Golden City, and literally translated as Gold Coast, with a population of 638.000 inhabitants it is one of the best-known cities in Australia. It has and approximate area of ​​about 420 km2. It is located about 71 km south of Brisbane and some of its beaches are among the most spectacular that you will find in the state of Queensland.
Its climate is subtropical and therefore its temperatures are quite warm, being the minimum in winter of about 12ºC and its maximum in summer of about 38ºC. The Gold Coast offers a wide and long coast of 57 km with white sand beaches that you cannot miss. No wonder that it is famous among surfers and water sports lovers. In case you are wondering what to see in the Gold Coast, we will discover this city where you can breathe a great atmosphere everyday.
Advertisements
CONTINUE READING BELOW
This city started to become a famous tourist spot in the year 1925, when Jim Cavili inaugurated the iconic Hotel Surfers Paradise and the population started to move in this city. Tourism started to be the main economic industry in the city, and the city started to be referred as the "Golden City" by many investors and journalists, and that is why it got this name as its official one in 1958.
Since the 1970s the city started to build its characteristic skyscrapers in the area known as Surfers Paradise. Nowadays, the city has a wide range of skyscrapers all over the city, being the tallest the Q1 with 78 floors and 322 metres high, located in Surfers Paradise. The city is building more and more skyscrapers which are a symbol of this city, and they also offer the perfect panoramic views of the sea and the city.
Advertisements
CONTINUE READING BELOW
The Gold Coast city is a destination that is perfect for any occasion. With family, relaxing, as an athlete, as a student. It does not matter, enjoying it is incredibly easy. It has theme parks, beaches with heart-stopping waves where you will find that is easy to learn and practice surfing and other sport.
Another thing that you can find here are the amazing tropical jungles, and avenues and streets full of restaurants and bars where you can breathe a modern atmosphere and walks full of shops and bazaars. This city has a young soul and was established as in the XIX century.
Transport – how to get into the city center
The Gold Coast has its own airport, called as Gold Cost Airport, which is some minutes from the city centre. You can hire a car to go around and look at the Gold Coast, but there is also the option of taking the SKyBus Byron Express, which has daily services from The Gold Coast to the Byron Bay. There are also buses that will connect you with the city center. This airport is the one that you can use if you want to visit Brisbane. Translink is the company that operates the transport from and to the airport, where you can use, trams, Surfside Buslines and the train.
Advertisements
CONTINUE READING BELOW
The cheapest and quickest way is to take the bus Byron Bay Express from the airport to the city center, which will take around 30 minutes to the stop of Surfers Paradise. For more information check byronbayexpress.com.au. Another quick and easy option is to take the bus 777 from the airport where you need to do a transfer in Broadbeach South Station and take the Glink tram to the city center (Cavill Avenue Station) is one central stop.
What to see and do in Gold Coast
Surfers Paradise Beach
It is one of the most spectacular beaches as well as the most famous to see in the Gold Coast. In fact, it is located in the most central part of the city. Next to it there are very wide boulevard full of shops, bars and restaurants which mark the main entrance of this fantastic beach. It is considered as one of the best beaches in Australia, with crystalline waters and white sands. This 2 km long beach will allow you to swim and surf. It offers great waves and conditions for surfers of all levels.
Advertisements
CONTINUE READING BELOW
It is often said that some of its waves are the best on the planet, hence its name "Surfers Paradise". Here you can surf wherever you want, and also practise some other sports like volleyball. This is true that it is also the most touristy area with the most influx of people but also a place that you cannot miss on your trip to the city.
Learn to surf
If you have always wanted to learn to surf, the Gold Coast is the ideal place for it. Take advantage and book those surf lessons that you have always wanted to do in Surfers Paradise. You can take two-hour lesson to learn to surf in Surfers Paradise while you enjoy this beautiful light blue waters. You can also join other experienced surfers and practise with them!
Advertisements
CONTINUE READING BELOW
Other beaches that you can enjoy in the Gold Coast are: Main Beach, Surfers Paradise, Kurrawa Beach, Mermaid Beach, Miami Beach, Burleigh Heads, Palm Beach, Kirra Beach, Currumbin Creek and Broadbeach.
Go for a stroll through Surfers Paradise!
Take a tour of Surfers Paradise and enjoy its beach atmosphere. You can also take the opportunity to enjoy some shopping and buy some nice beach clothes in one of the many clothing stores in the area. This is a long walk full of shops, restaurants, and small coffee places.
Visit some of the Gold Coast markets
Whether you want to buy some second-hand clothes, organic or local products or just go for a walk to browse, the markets that you will find in the Gold Coast are perfect to spend the morning shopping. Some of the most popular organic beachfront Markets at Surfers Paradise are:
Advertisements
CONTINUE READING BELOW
-Camarra Market
-Miami Farmers Market
-Burleigh Farmers Markets
-The Village Market
Most of the farmers markets are located along the Surfers Paradise offer some of the best products made by hand such as jewelry, crafts, fashion, gifts and organic seasonal foods and products. They also offer some activities that you can do here.
A market that we recommend to have some dinner and get some good food is the famous Miami Marketta. Here you can find live music and street food from all over the world is what you will find in Miami Marketta. A perfect place to watch the sunset and go out for a drink open on Wednesdays (open from 5 pm to 9 pm), Fridays and Saturdays (open from 4 pm to 11 pm).
Springbrook National Park
Nature is something to see in the Gold Coast that is worth it, and we propose you as another essential place to see in this area, which is The Springbrook National Park. It is a natural park, located 45 minutes by car from the Gold Coast and is part of the Gondwana Rainforests of Australia, declared a World Heritage Site. You can enjoy a wide variety of walks through its forests, study its nature and stop for a picnic in a 100% natural environment.
Advertisements
CONTINUE READING BELOW
There is the Toolona Creek circuit, which is a wonderful walk of about 17.4 km in length where you can discover seven incredible waterfalls. It takes about 6 hours to complete it in its entirety. Visiting this park will easily take you one day, so we recommend this activity for one day.
Burleigh Heads National Park
Another National Park that you can visit in this area is the Burleigh Heads National Park. You can have a wonderful to walk along the paths that border the sea and suddenly find a natural park, not very large, but full of pure nature. And that is how this park is, where you enter for free and have a couple of routes at your disposal.
It has two beautiful viewpoints from which you can glimpse the whales in the distance if it is migration season, and if not, you can sit on one of its benches to simply enjoy the moment. Halfway more or less there is a small path down which you arrive at an area of ​​rocks, white sand and sea, a most exclusive painting. It takes just under an hour, so it is not very long, and it will not exhaust you either.
Advertisements
CONTINUE READING BELOW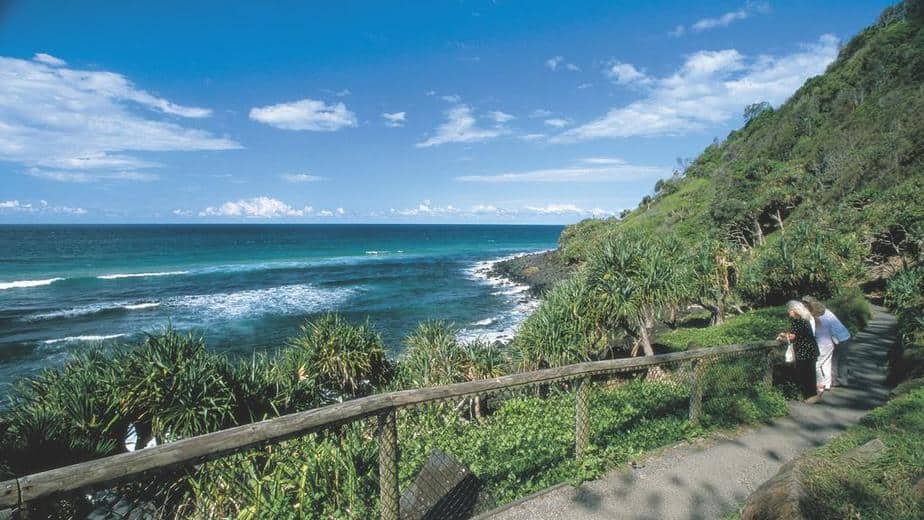 Usually, the National Parks are only accessible by car, but if you do not want to rent a car to get to know any of these national parks or simply prefer to go on a group excursion, day tours are also organized to see the most important places in some of these parks that are World Heritage Sites.
Have a picnic while you watch the sunset!
A very popular Australian tradition is to do a picnic. What you need for it is to get a picnic blanket, a basket of cheese, crackers, carrots, hummus and various dips and a bottle of wine and sit quietly and watch the sunset in a park. The best places for a picnic on the Gold Coast are:
Burleigh Hill, in Burleigh. It is the most popular picnic spot on the Gold Coast.
Gold Coast Botanic Gardens
Long Tan Park in Currumbin
Hinze Dam, Advancetown
In the park on Macintosh Island in Surfers Paradise
Cascade Gardens in the Broadbeach area
In Ed Hardy Park, in the area
A picnic is a great plan to enjoy your afternoon or evenings in the city.
Advertisements
CONTINUE READING BELOW
Visit the Q1
This building is one of the most spectacular buildings to see on the Gold Coast (and in the entire state of Queensland. It was inaugurated in 2005 and designed by the Australian company Sundland Group. If you are curious how does the city looks from this building and you fancy going up there, we recommend visiting this skyscraper. It is a building that you can go to its top floor, which has a viewpoint that will leave you speechless known as Q1 SkyPoint Observation Deck.
It is the tallest building in Australia, with 322.5 meters high, and 78 floors, in addition, at present, it is the eighth tallest building in the world. At the top is where you have the skypoint, a point from which people can go up to see the world from the heights.

Advertisements
CONTINUE READING BELOW
We don't recommend it for people with vertigo or fear of heights, however we must say that it is quite impressive! As a bonus, we are going to pout out that the name of 'Q1' stands for 'Queensland Number One', and the shape of the building mimics the Olympic torch that was used at the 2000 Sydney Olympics.
Currumbin Wildlife Sanctuary
If you want to see koalas and crocodiles, you can visit Currumbin Wildlife Sanctuary. It is one of the most popular attractions to do on the Gold Coast, both for locals and tourists.What started as a veterinary hospital that took in sick, injured or orphaned animals has grown into a Queensland Heritage Zoo.
Currently in Currumbin educational activities are organized for schools in the area and tourists. The park is home to a large number of species of birds, marsupials, reptiles, and other exotic animals.If you want to see Australian animals, it is much better to visit this type of place than a zoo. You can reserve a ticket to the Currumbin Wildlife Sanctuary.
Advertisements
CONTINUE READING BELOW
Take a relaxing bath at Currumbin Rock
This is a place for nature lovers, Currumbin Rock is a natural spa located in Currumbin Valley. Pack a backpack with a swimsuit, a towel and a snack and go on a hike through this beautiful Gold Coast valley. Currumbin Rock is only a 15-minute drive from Currumbin Beach. In the area there are natural pools where you can take a dip, ropes to climb the rocks and jump into the water it is a perfect place to spend a different day in the nature.
Other places to visit in the city are the. City Art Gallery and the Tamborine Mountain. The Gold Coast offers many possibilities and things to do, and it is a great destination to visit in Queensland. You can also take a trip to Brisbane or Byron Bay from here. Definitely, it is a special and fun place to go. If you are interested in knowing more about Australia, you can get some more information about