Have you been browsing through the internet for the best ways to support small business without buying but to no avail?
If yes, then you at the right place at the right time as this blog post will unravel the best ways to assist small business for free.
But before then, it's important you note that small businesses are the heart and soul of any communities across the globe.
Their presence in the community cannot be overemphasized. They are the symbol of development, and they mean a lot to the locals.
What's more, small business does not only support the community but also contribute to the local economy in all ramifications.
What is small business?
A small business is a business which is operate on a small scale, involves less investment capital, less labour and less machines to operate.
.........................
Also, small scale business or small scale Industries or small business (or SME) are the type of industry that produces goods and services on a small scale.
It is important you note that these industries play a vital role in the growth and economic development of any country.
The owner of the business invests once or little on the industry, machinery, or plants and he take a lease or hire purchase to fulfill the business.
Also, the small scale industries do not invest money that is more than a crore. Examples of small-scale industry include paper, bakeries, candles, local chocolate, pen, etc.
Why do you need to support small business?
The coming of the ugly COVID-19 pandemic has in all ramifications challenged both small and large businesses more than ever.
.........................
It left an enormous impact — financially and mentally — among the small business owners. Hence, at risk of collapsing.
And these small businesses ranging from bakeries, coffee shops, stationery, down to plumbers, need our support — more than ever.
So, to support small business without buying, take a look at the following ways you can support your friends and local business for free!
. 10 ways to support small business without buying
the following are the best possible ways to support small business without buying and for free.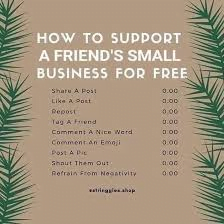 1. Follow and like them on social media
One of the best ways to support small business without buying or spending on them is to like and follow them on social media.
.........................
Whether it's on Instagram, Facebook, Pinterest or Twitter, clicking the follow button can actually give small business a much-needed boost.
This is very easy and it doesn't cost you a dime, all you have to do is to search for their page and click follow. And where they post something, you like it.
Many companies and small businesses are harnessing the instrument of the social media to channel and promote their business because of its wider reach.
So if you follow a small business social media page, it will not only help the business brand to connect with you more, but also it will allow them to reach an extensive audience.
2. Like their posts
Other than following small businesses on the social media, another way to help them grow without buying is by liking their posts.
.........................
If you like their posts, it will allow them to know which type of contents work best. Plus, liking their contents will help reach the newsfeed of the audience who did not like or follow their page.
Hence, such is a better way to help them attract new followers. Attracting new followers means they are getting new customers.
3. Share their posts
Also, sharing small scale businesses in your locality posts on your social media pages is another way to support them without buying.
By sharing their contents, you automatically become the company's advocate.
And when your followers see that you shared such post, it signifies that the business is legitimate and reputable.
One quick like and share can create a new business and sales for a small company; all without buying or spending.
.........................
4. Comment on their posts
Equally, you can just comment on their post. The comment doesn't have to be anything long; in fact, an emoji will do, sometimes!
The rationale behind this is that when you comment on their post, the post will be shown in other people's newsfeeds.
This means that such small business has the chance to promote its goods or service to even more people that are not in their circle.
Doing commenting on their post alone will help grow the small business network and spread the word about the company.
5. Tag your friends who would like the brand
In a bid to support small business in your area without buying and for free, you can tag some of your friends on the post made by the business brand.
.........................
By tagging these your friends in any content created by the small business, you are creating a digital form of referral or word of mouth.
This method is worth its essentials and weight in gold to any small business establishment.
Letting your close circle know about the existence of the small business will not only be advantageous to your friends alone.
But rather, it will also help the small business to get the messages they are trying to pass out to more potential audience.
6. Post their photos
You can support small business without buying by simply posting the photos of their products on your social media pages.
Better still, if you engage their service or purchased a product from them, help them out by taking the picture of such products while using it and tag the brand.
.........................
People tend to trust and believe in products they see real people using, it helps them decide to spend their money on such products.
7. Tell your friends about it.
You can also support that small business in your community by recommending its products to your friends.
Even if that products is not something that relevant to you, you never can tell, some of your friends may interest in it.
A verbal recommendation and word of mouth referral between friends are essential and invaluable to small-scale businesses.
8. Give feedback and write reviews
By giving feedback, your helping the small business owners knows their weaknesses and areas that needs improvement for the betterment of their products.
By writing a review on the other hand, you are helping possible and potential customers to get the true picture of what they are buying.
.........................
According to research, statistics shows that 37% of shoppers believe and rely on product reviews made by review sites in making decisions.
In addition, as much as 87% of consumers place heavy reliance and trust in any reviewed product as though it's recommended by a friend.
So tons of small businesses out there welcome constructive feedback from their target audience because they really want to improve
Hence, if you find or notice that something is wrong with their products or services, let them know so that they can improve.
9. Sign up to their newsletter
Supporting small business without buying is also possible even if you are not on social media.
All you have to do is to sign up for their newsletter. They will do well and be happy to be sending you every update about their business.
.........................
As loyal customer, you will be the first person to know about the small business new deal that is in town.
That is an added advantage to you being supportive of them. The newsletter is a more personal approach.
It encompasses all that's happening in the company at that particular time. So if you are felt honoured, you can forward their email to your family, too!
10. Send a complimentary message
Every small business love complimentary messages. They like hearing back from their customers.
So if you want that small business in your area to know that you are there for them in their trying times, send them a message telling them you like what they are doing.
You never can tell, a small note, message, comment, or email can make the day of a small business owner, really.
.........................
Although you are not going to get a reward for doing that and you are not going to get a lacklustre reply as a response as you would from a large scale business.
But doing that means you will be making another human being like yourself get the fuzzies and warm that they need in trying times.
You will also help them to realise the main reason why they are getting up early each morning and what they can do better.
Bottom line
You will agree that only few small businesses have a budget — fringe one, though — other don't have at all.
On this note, helping them spread the word is one of the best ways to support them as a person.
.........................
You are giving them the lifeline to carry on their business, keep it real and at the same time help generating more money into your community economy.
In hard and trying time, you don't have to give or buy from small entrepreneurs if you can't, the above mentioned are the best ways to support small business.