If you have any intention or wish, to study at any private University, then you shouldn't skip this!
The demand to attend private universities has gradually increased over the years and many individuals have come out in full force, to answer the growing demand.
Private universities have become better over the years that you can be rest assured that you'd get a very good job when you graduate.
There are now a lot of private universities in Nigeria and all of them are quite good. Even still, among the best, there shall always be a best.
We have decided to provide this informative article in which you would know the exact and updated tuition fees for the TOP THIRTEEN (13) PRIVATE UNIVERSITIES IN NIGERIA.
One huge advantage of private universities is that they don't go on strikes. Yeah, no strikes and that means if you are studying a four-year course, four years is four years and you are out!
Advertisements
CONTINUE READING BELOW
The schools provided below boast of a smooth academic calendar and a high British standard level of education.
A lot of people probably think that private universities are way too expensive and that they can't afford them. Well, that is not entirely true as these schools allow payment in instalments. Some people also think that private universities don't require jamb, but you have to check your jamb result to be sure you qualify to get into a private university in Nigeria.
Schools like Bowen University and ABUAD are into instalment payments.
Also read: Visas available for Ghana Passport holders
UPDATED LIST OF TOP PRIVATE UNIVERSITIES IN NIGERIA AND THEIR SCHOOL FEES. 2022.
Below is the list of TOP THIRTEEN (13) PRIVATE UNIVERSITIES IN NIGERIA AND THEIR SCHOOL FEES.
However, these schools, as listed below are in no particular order.
Advertisements
CONTINUE READING BELOW
1. Adeleke University.
Adeleke University is located in Ede, Osun state Nigeria. It is one of the best UNIVERSITIES IN NIGERIA. With all sincerity, the school's well worth the money. To study in this school, you have to pay about 2 million naira for freshmen but it all depends on the course you want to study.
Admission is fairly easy and you can get into the University with a minimum jamb score of 160 and five credits in your SSCE core subjects.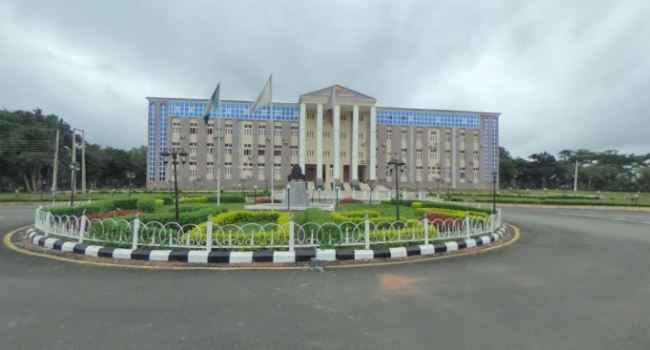 2. Are Babalola University, Ado Ekiti. (ABUAD).
The school is located in Ado Ekiti, Ekiti state and the founder is Are Babalola, a former vice Chancellor of the University of Lagos The school has one of the best teaching hospitals in the country with a huge landmass.
The school is one of the best schools in Africa to study medicine and engineering. If you happen to be very intelligent, you may win one of the numerous scholarships they offer. Engineering students even have the opportunity to study in Germany on scholarship.
Advertisements
CONTINUE READING BELOW
The school fees for medicine is about 1.85 million naira per session. Other faculties pay less.
3. Achievers University, Owo, Ondo state.
This school was founded in 2007 and is located in Ondo state, Owo, to be precise. The school fee seems quite fairer than that of other private universities.
To complete medical studies in this school, you need only 4 million naira and for other courses, you don't need less than 2 million naira.
In this school, if you register late for the semester, you pay a lateness fee of 25,00 naira. So when you get there, you know what's right. This great school has existed for 14 years.
4. Ajayi Crowther University, Oyo state.
Ajayi Crowther University (ACU) has been officially accredited and recognized by the National Universities Commission (NUC), Nigeria just like the other universities mentioned.
Advertisements
CONTINUE READING BELOW
SCHEDULE OF FEES FOR THE 2021/2022 ACADEMIC SESSION
School Fees Per Annum (Tuition & Related Fees)
550,000
610,000
MODE OF PAYMENT
1st Instalment (Payable in September before resumption)
81,000
76,000
2nd Instalment (Payable on resumption latest 1st week, January)
40,500
38,000
5. Babcock University, Ikenne.
Established in 2005, the school breeds morally upright students…..being a Christian University.
Their website goes: acu.edu.ng
The school is aiming at becoming a top class institution in pursuit of knowledge and exemplary service to humanity.
6. Bingham University, Karu.
ECWA Bingham University is a Nigerian university.
ECWA started planning for the University in 2003. A charter was granted by the Nigerian University Commission in 2005. Lectures commenced in 2006.
| | | |
| --- | --- | --- |
| Department | Level | Tuition |
| Medicine | 100 | 1,180,000 |
| Medicine | 200 – 300 | 690,000 |
| Medicine | 400 – 500 | 1,396,000 |
| Medicine | 600 | 1,396,000 |
7. Al-hikmah University, Ilorin.
Al-Hikmah University is an Islamic university located in Ilorin, Kwara State, Nigeria. It was founded in 2005 by AbdulRaheem Oladimeji Islamic Foundation AROIF based in Nigeria and World Assembly of Muslim Youths WAMY based in Jeddah.
Advertisements
CONTINUE READING BELOW
FEES
NEW 100L, DE & TRANSFER BA, BA(Ed) ARABIC & ISLAMIC STUDIES
Tuition Fee: 50,000.00
Acceptance Fee: 30,000.00
E- Books / Al-hikmah Note books: 20,000.00
Caution Fee: 2,000.00.
8. Al Qalam University, katsina.
This school is the only private University in katsina and I can vouch for it….. Standard….and all that. Quite cheap too.
TUITION FEES FOR FRESH STUDENTS
Natural and Applied Sciences/B.Sc Education: N180,000
Social and Management Sciences: N150,000
Humanities/B. Education: N150,000
9. American University of Nigeria.
This school is of great quality….but is a bit more expensive than other schools.
You will feel really comfortable….. Good luxury along with quality classes.
American University of Nigeria is a private university in Yola, Nigeria. She offers an American style of higher education at undergraduate, graduate, and professional levels. Founded in 2004, as the first American-style university in Sub-Saharan Africa. AUN is accredited by the National Universities Commission. The above statement is from their website.
Advertisements
CONTINUE READING BELOW
The owner is a former vice president of Nigeria…. Atiku Abubakar.
10. Bells University.
Bells University of Technology, also known as Bellstech, is the first private university of technology established in Nigeria. It was established in 2004, and began admitting students from the 2005/2006 academic session. It is located in Ogun State of Nigeria
11. Bowen University.
Bowen University is located at Iwo in Osun State, Nigeria, and is housed in the old 1,300-acre (6 km²) campus of the Baptist College, a teacher-training institution on a hill just outside the city. The first Baptist University in Africa.
100 Level Students are required to pay 70% in the minimum payable before the first two weeks of resumption of the First Semester and register for their courses. The balance of 30% of the total fees is to be paid within the first two weeks of the second semester.
Advertisements
CONTINUE READING BELOW
13.Covenant University.
This school joins the other 12 schools in the hall of fame of Nigerian Universities as the last but not the least school. Covenant University is a growing, dynamic vision-birthed, vision driven University, founded on a Christian mission ethos and committed to pioneering excellence at the cutting edge of learning.
Tuition/exam/registration fee of N472,000 per session (First and second semester) Hostel Accommodation fee of N185,000. Utility Fee of 75,000 Naira per session. ICT Development fund of N25,000).
Thus, we have come to the end of the TOP THIRTEEN (13) BEST PRIVATE UNIVERSITIES IN NIGERIA.
You should have no problem in making your choice!