If anything could be identified as part and parcel of Nigeria, it is corruption. Corruption is one of the biggest challenges Nigeria has been dealing with for a long time now and many proffered solutions to Nigeria's corruption problems have failed.
It is obvious to both its citizens and the international community that the country faces a high level of corruption in various sectors in the country— both the small and large sectors in Nigeria face one aspect of corruption or the other. For many years up until 2022, Nigeria has been ranked as one of the most corrupt countries in the world.
Read also: Ways of Improving the Public Service in Nigeria
The State Of Corruption In Nigeria
.........................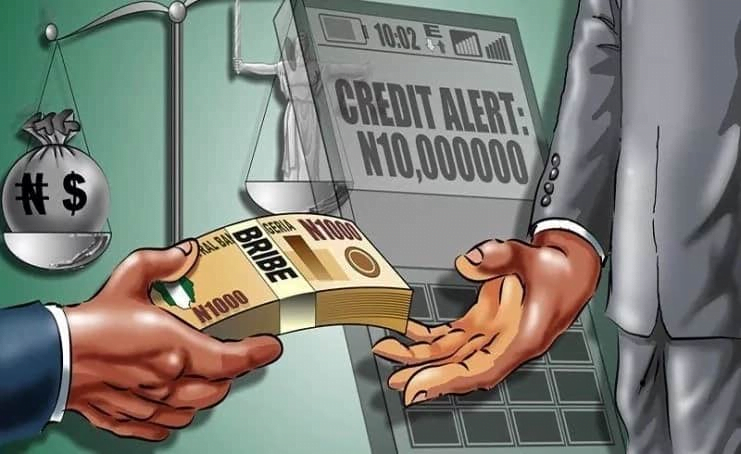 The United Nations Office Of Drugs and Crime (UNODC) took a survey and confirms that 117 million bribes ensue in Nigeria on a yearly basis, which equals 1.1 bribes per adult.
This implies that the money that is required to establish hospitals, roads, and schools for its citizens are somewhere in someone's account, embezzled for personal use. Consequently, this keeps the country stagnant; hindering economic growth, increasing unemployment, insecurities, crimes, etc.
During a 2019 survey by the Nigeria Medical Association (NMA), 2,000 doctors were recorded to leave Nigeria for well-developed countries. Adding that for 75,000 registered doctors in Nigeria, only about 35,000 reside in Nigeria. This is a huge gap in the health sector for a country as populated as Nigeria.
.........................
However, the Federal Government disregards the rates and grades of the State, saying it is a sensational and baseless rating on Nigeria and the fight against corruption.
We all know the problem of our country, not even speculations are enough to cover the facts. When it comes to the issue of laws, the problem starts from the implementation stages, and not the enactment stage.
What Makes A Country Corrupt?
There are various factors used in measuring the cause of corruption in a country. In this article, we will look into the causes as well as possible solutions to Nigeria's corruption problems
Based on a 2017 survey study, the following components are contributory causes of corruption:
Zero political transparency
Greed
Poverty
Civil/societal apathy
Political and market monopoly
Poor administrative structures.
Ethnic division/ethnic favoritism
Poor educational system
Gender inequality
Weak policies.
These factors listed above are the major causes of corruption in Nigeria.
.........................
More About Corruption In Nigeria
A one-time president of Nigeria, Olusegun Obasanjo, while speaking on November 24, 2016, at the first Akintola Williams Annual Lecture in Lagos responded unfavorably against the height of corruption taking place among the members of the House of Assembly, and the House of Rep.
Quoting the writing of Jola Sotubo "Former President, Olusegun Obasanjo described the National Assembly as a den of corruption (Jola 2016)".
Anti-graft agencies such as the Economic and Financial Crimes Commission who should be responsible for fighting corruption are regrettably not shy of diving into corrupt waters. A former chairman of the EFCC Ibrahim Lamorde was once indicted for diverting one trillion naira from funds recovered by the agency; a shocking reality showing how deeply corruption has eaten into the system.
.........................
Forms Of Corruption
Corruption could take any form ranging from bribery, rituals, and embezzlement to rigging during elections. It is obvious that corruption in these various aspects is high in Nigeria.
1. Election Fraud
One way rigging takes place during elections is the use of paid hoodlums to hijack ballot boxes. This has been seen in several states and in most elections. After the operation, election results are distorted to favour certain corrupt political officers. Vote buying is also another corrupt practice where both the voters and the voted for are guilty of corruption.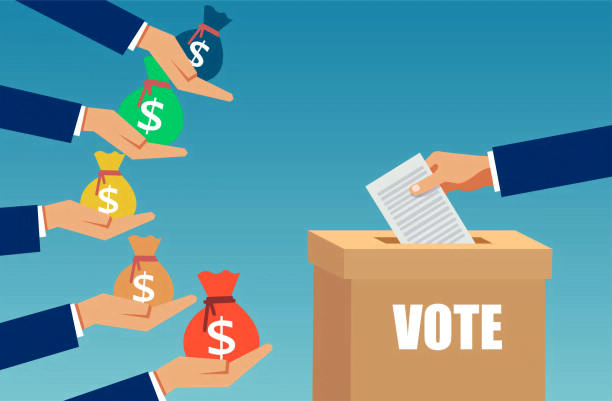 2. Bribery
Many times in Nigeria, powerful individuals use their influence and money to maneuver their way into doing illogical acts. These people are most times not held responsible by the police giving credence to such attitudes in the future.
.........................
Places Where Corruption Takes Place In Nigeria
1. Corruption In Higher Institutions/ Universities
Corruption is the driving factor for the poor level of education in Nigeria. This can be seen in how some lecturers extort money or sex for grades from students. In the same vein, students engage in examination malpractices by paying their way through school or threatening other students to complete assignments and tests on their behalf.
Often, the punishment for such acts is hardly ever implemented.
2. Corruption In The Police Force
Bribery, harassment of suspected individuals and illegal searches are some of the many corrupt practices that members of the police force engage in.
3. Corruption in Sports
In many sporting activities in Nigeria, a number of people complain about how athletes are not chosen based on capabilities but are rather chosen based on connections.
.........................
4. Corruption in Religious Institutions
Corruption in religious institutions involves the violation of human rights by certain Men of God. One major example is Chukwuemeka Ezeugo popularly called Reverend King who burnt a member of his congregation alive. Fortunately, the law caught up with the Pastor who ended up with a death sentence.
Some other religious leaders have been found guilty of sexually harassing female members of their congregation, engaging in fraud, ritual killings and extortion. Unfortunately, some of them have gotten away with it due to corruption in law enforcement.
5. Corruption On The Internet Space
This is a new aspect of corruption in the country. Nigeria is ranked as one of the countries that engage in Internet fraud. Most especially young people who lack the knowledge to harness their skills indulge themselves in a get-rich-quick scheme.
.........................
Practical Ways To Eliminate Corruption In Nigeria
The after-effects of corrupt acts are usually long-lasting, but there are possible ways to get rid of corruption and proffer solutions to Nigeria's corruption problems. Below are some of them.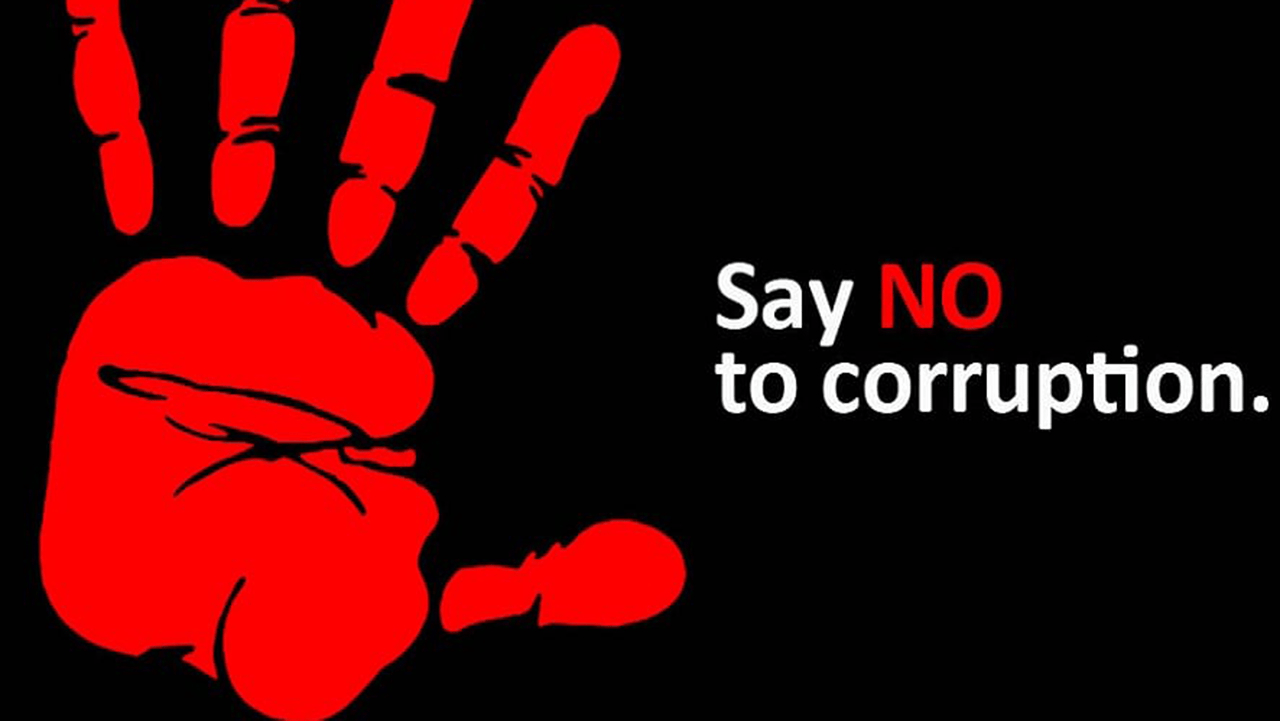 1. New Perspective
The value system enforces a people's actions and way of thinking. The truth is, if Nigerians never get to envision the possibility of eradicating corruption from the land, then it might not happen.
We have to cultivate a new perspective and re-evaluate our value system, and start seeing ourselves as people who can get rid of corruption.
2. School Funding
When the government gives proper attention to the education system, universities will produce certified and employable graduates, who are also skilled in various aspects.
.........................
Establishing the right machinery to equip graduates in acquiring skills will reduce the rate of corruption by providing more jobs. This means that even if no company employs them they don't have to juggle their way into getting a position because they already have skills.
Self-employment will make a graduate more focused on establishing his work rather than seeking fraudulent or evil means to get money.
3. Employment Generation
Typically, those who are unemployed seek other means to get money. This could lead to kidnapping, arm robbery, and other vices simply because they want to meet up with daily needs.
When there are opportunities for people to create jobs, vices can be curtailed. A busy mind finds it difficult to go into corruption because he is well paid.
.........................
4. Rule of Law
The rule of law states that every citizen in any given country is accountable to the same set of laws. If every offender is treated equally then others will understand that no one is above the law. By doing so, corrupt practices will be reduced.
5. Contentment
Though more inclined to morality, contentment can be a way to reduce corruption. Teaching young people in their families, schools and religious institutions about contentment can help reduce greed in coming generations. This in turn will reduce the level of corrupt practices.
When lecturers or civil servants are paid well, they will be satisfied, at least to an extent. By doing so the problem of embezzlement will be history.
.........................
Similar: Importance of Moral Values In Student's Life
6. Organization of Strong Anti-Corruption Groups and Check and Balancing Bodies
Establishing well-structured anti-corruption institutions will be a great way to eradicate corruption. This will only produce the required results if bodies are set up to check these groups.
As said earlier in this article, the issue of laws all begins with the implementation stage rather than the enactment stage.
If able, trustworthy anti-corruption groups are deployed, and if they work independently with the government to guarantee transparency, then corruption can be eradicated.
Conclusion
Corruption is a cankerworm that has eaten deep into the fabric of Nigerian society. It's in our hands to decide if we want to continue to dwell in it or if we really want to see a reformed Nigeria.
.........................
Every person has a part to play in ensuring that corruption is eradicated from Nigeria. It has nothing to do with having a position in the government sector. You only have to be the change you want to see that will bring solutions to Nigeria's corruption problems.