Overland Airways Review. All You Need To Know About Overland Airline
Overview
Overland Airways is an airline-owned by Overland limited. They are based in Ikeja, Lagos State, Nigeria. It operates from Nnamdi Azikiwe International Airport Abuja.
The airline was incorporated on the 17th of September 1998. It began operations in the year 2002, and the company has up to 200 people on their payroll.
The airline has up to nine fleets consisting of four ATR 42, ATR 72 and beechcraft 1900. The aircrafts deliver very safe, comfortable and reliable flight experience with other in flight benefits attached.
The cabins of Overland airways flights have very spacious leg room, luxurious and epicurean cabins with a fine finishing to the interiors, comfortable seats built specifically for comfort and suiting all body types and each seat in the B1900D aircraft model are window seats.
Advertisements
CONTINUE READING BELOW
It has an aim to increase prosperity of the Nigerian hinterland by enabling the transportation of individuals and goods from one place to another. This has continued to happen till date.
Vision and mission statement
Overland airways has the vision to be a successful Airline with global coverage through a strong Base operation supplemented with partnerships and alliances.
It's mission is to deliver exceptional standard of service to meet the needs of air travelers in our operational regions taking into consideration the environment' the consumer' the general public and our partnerships.
To operate business with required compliance with Regulations & Standards be it national' Industry or Global.
To earn sufficient profit for organizational growth and provide excellent returns on investment.
To provide a safe' healthy' rewarding working environment and also to maintain good employee relations.
Advertisements
CONTINUE READING BELOW
Flight services
Overland flight services operates a domestic flight schedule within Nigeria called business flyer. It has brought transportation to the hinterlands.
Charters
The VIP aircraft charter services is designs for the traveler who desires exclusive and personalize passenger services it's a comfort added. The service comes in especially when faced with erratic and haywire schedules making it impossible for one to meet up with travel schedules. In this case, Overland airways charter services is the best bet. The posh aircraft is available for individual and group charter services, either for leisure or business related reasons.
Examples of value added services included in the Overland airways charter services include
A large fleet of well serviced and maintained modern and epicurean single digit age aircrafts containing luxurious cabin interior.
Professional and polite staff.
Comfortable, and reliable flight services to your flight destination.
Advertisements
CONTINUE READING BELOW
Very affordable services with discounts where and when necessary.
Standard and amazing in flight catering.
Availability round the clock. 24 hours of the day, seven times a week, fifty two weeks a year and 365 days of the year.
Cargo services
Overland airways offers limited space for cargo across it's flight and travel network. They operate early morning flight moving from Lagos to Ilorin, Ilorin to Abuja, Abuja to Akure and Jalingo and Asaba.
For more information call:+234-8035355101 or E-mail: [email protected]
Travel routes
The travel routes that the airways take include Lagos' Abuja' Ibadan' Ilorin' Akure' Dutse' Minna' Bauchi' Asaba and Jalingo. The airline also operates charter services to several destinations within Nigeria and West African countries and also central African countries.
Economic value
overland overland airlines has contributed to the economic importance of states by connecting them to Lagos and Abuja the business and economic hub of the country.
Advertisements
CONTINUE READING BELOW
The airline has been said to be the fastest growing airline in the country, and has since received an number of awards and merits.
Overland airways is a documented and bonafide member of the international air transport association (IATA). This is after completing the International operational safety audit (IOSA), and also got listed, on the IOSA registry.
Since the inception of the company, it has gone ahead to win awards. On the 16th of August 2012, the airline won the National Productivity Order of Merit (NPOM) Award for excellence on the occasion of the 12th National Productivity Day Celebration at the International Conference Centre' Abuja, Nigeria by His Excellency Goodluck Jonathan.
The airline, in May 2012, also won the award for Leading Air Commuter Services Operator in Nigeria by the League of Airport and Aviation Correspondents (LAAC).
Advertisements
CONTINUE READING BELOW
Terms and conditions for travel with Overland Airways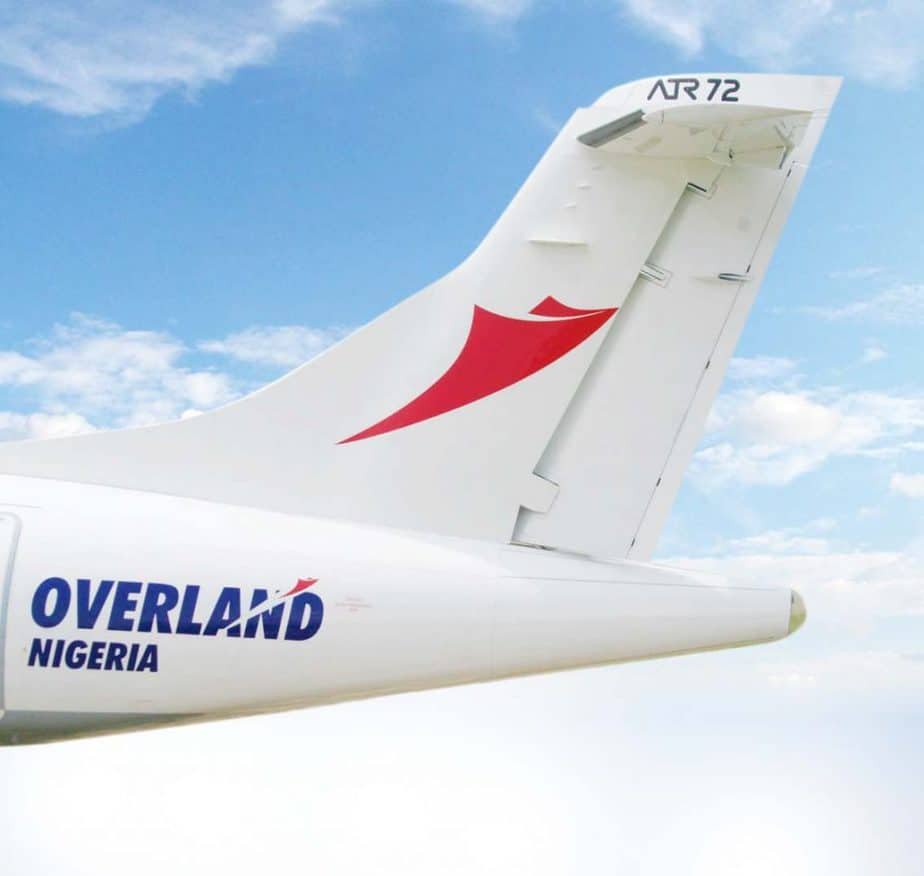 Expressions and meanings
Agreed stopping places – This is a planned stop over at the carrier, which is a location between the place departed from and the flight destination as shown in the flight schedule.
Air carriage – Carriage of a passenger and luggage on the aircraft.
Baggage this is the personal property going with you on the trip.
Airline Designator Code is the character or letters that recognize air carriers or baggage.
Authorised agents are individuals given the permission for sale of air carriage tickets.
Baggage Check refers to the part of the ticket matching the checked baggage.
Conjunction ticket refers to ticket issued in conjunction with another one which make up for a single carriage.
Confirmed reservation is the booking for a flight or series of flights whereby a seat is said to be confirmed and can not be given to someone else because it has been paid for either by credit or debit cards, cash at the airport, or through any other means like a cheque or transfer into a designated account. The booking contains details and information matching with the ticket such as name, phone number, flight address Etcetera.
Advertisements
CONTINUE READING BELOW
Check in deadline means the time in which one is supposed to have concluded checking in procedures for the flight.
Coupon means an electronic paper which could be as a means of identification issued to the passenger enabling him or her to travel on the scheduled flight.
Damage refers to death of a passenger, wounding of a passenger, bodily injury or the loss or damage of a baggage on the aircraft.
Days mean seven days of the week.
Denied boarding means the refusal to allow the passenger board the flight in spite of meeting all the conditions of the flight such as the flight ticket Etcetera.
Electronic coupon is the electronic flight ticket held in the database.
Electronic ticket is any schedule or itinerary issued by the airline for any boarding purpose.
Flight coupon is the part of the ticket that bears good for boarding, or indicating particular places which you're entitled to be carried to.
Advertisements
CONTINUE READING BELOW
Force majeure refers to unforseeable and far from usual circumstances beyond ones control that could not have been avoided or glossed over even coupled with ensuring adequate care was taken. An example of such circumstances includes not possessing valid travel documents for the country of destination, a pre existing health condition, a pre existing engagement either in the office or at home Etcetera.
Itinerary Receipt refers to a document given by the airline or issued to Passengers travelling on Electronic Tickets. It contains the Passenger's name' flight information and other notes of interest important for the journey. This document is to be in the passengers custody and to be carried during the whole journey.
Nominated bank refers to the bank' or specific branch of a bank' where the airline receives cash payment on behalf of the airline. This is with respect to the airlines charter flight services.
Advertisements
CONTINUE READING BELOW
Passenger refers to any person or individual except members of the crew' carried or to be carried in an aircraft with respect to the ticket.
Tariff refers to the published fares' charges and/or related conditions of carriage of an air carriage by respected authorized ticket.
Ticket refers to either the document called Passenger Ticket and Baggage Check or an electronic ticket which the airline through an authorized dealer, issues to an individual.
Transit Passenger refers to a Passenger arriving at an airport for onward travel to another country. The passenger could be on the same flight from that airport, on a connecting flight from that airport, on a connecting flight from another airport, on another onward flight from that airport.
Unchecked Baggage refer to any of your Baggage other than Checked Baggage.
Advertisements
CONTINUE READING BELOW
Validity Period refers to the period for which your ticket is valid for travel.
Tickets.
Concerning transferability' non-use' loss and replacement of tickets
The airline will only accept to carry an individual, if such a person, is the passenger named in the ticket. They may go further to ask you to prove that the individual is the one indicated by asking for further means of identification like a Driver License' International Passport or National ID Card for appropriate identification.
A ticket is not transferable
The Ticket is and remains at all times the property of the passenger.
In case of loss or mutilation of a ticket by the passenger, upon the individuals request, the airline will either replace such ticket (or part of it) by issuing a new ticket or make cash refund in the same currency used to purchase the ticket' provided there is evidence' readily ascertained at the time' that a ticket valid for the flight or flights in question was duly issued to the individual and the passenger signs an agreement to reimburse the airline for the costs and losses accrued.
Advertisements
CONTINUE READING BELOW
Related: Cheap flights in Nigeria
Validity period of ticket
The ticket is valid one year from the date of issue as regards international travel and six months from the date of issue in respect of domestic travel wholly within the borders of the Federal Republic of Nigeria.
Fares
Fares are applicable, only for carriage from the airport at the point of origin to the airport at the point of destination. It is calculated according to the tariff. In cases where there is a change of itinerary or dates of travel' this may affect the fare to be paid.
Fares' taxes' fees and charges are payable in the currency of the country in which the ticket is issued unless another currency is indicated by the airline or an authorized agent.
Reservations
Overland airlines or an authorized agent will record the passengers reservation or reservations. Where request is made, the airline provides the passenger with a written confirmation of the reservation or reservations made, if payment is made within the airlines reservation ticketing time limit.
Advertisements
CONTINUE READING BELOW
Ticketing time limits
The passengers reservation will be automatically cancelled if the applicable fare (and taxes' fees and charges) for the ticket has not been paid, within the ticketing time limit.
Check in and boarding
The passenger must personally be present at check-in' with his or her appropriate checked baggage. Third party checking in is disabused and frowned at. The passenger may not be accepted to board the flight if he or she fails to be physically present for check-in.
The passenger must be present at the boarding gate not later than the time specified by the airline at the time check in is done.
The airline may decide to cancel the space reserved for the passenger or change seating positions within the ticketed class of carriage if failure to arrive at the boarding gate in time is made.
Advertisements
CONTINUE READING BELOW
In cases where failure to produce photo identification at check-in and boarding gate is made, then it will result in denial of boarding.
Baggage
The passenger is entitled to free baggage as specified by the airline. It will be shown on the ticket.
The passenger is made to pay for excess baggage. The carriage of excess baggage is dependent on the available space on the flight.
Items unacceptable as baggage includes Items which are likely to endanger the aircraft or persons or property on board the aircraft, Items which are prohibited by the applicable laws' regulations or orders of any state to be flown from or to by the airline, Items which are reasonably considered by us to be unsuitable for carriage because they are dangerous' unsafe or by reason of their weight' size' shape or character' or which are fragile or perishable having regard to' among other things' the type of aircraft being used, firearms and ammunition except those used for hunting and sports activities.
Advertisements
CONTINUE READING BELOW
Weapons such as antique firearms' swords' knives' toy or replica guns' bows and arrows Etcetera may be approved only by prior notice but will not be permitted in the aircraft cabin.
Checked Baggage must have name or other personal identification affixed to it.
Special travel requirements
A person with reduced mobility refers to individuals whose mobility is reduced or limited when using transport. This could be due to physical disability, intellectual disability or impairment. It also refers to any other cause of disability that requires special attention.
Categories of such passengers includes
Passengers travelling with medical conditions or illness. This applies to patients with cardiac and respiratory conditions. Patients suffering from myocardial infarction are not allowed to fly and same applies to individuals or patients with severe uncontrolled hypertension.
Pregnant passengers. Passengers with pregnancy up to 27 weeks are allowed to fly in absence of complications. From 28-32 weeks uncomplicated expectant women may be permitted to fly provided it's a Singleton fetus. Such women are required to present a fitness to fly certificate from her obstetrician. After 32 weeks, the woman is not permitted to fly.
Cases of an unaccompanied minor. The age is between 5-12 any age below 5 is not permitted to fly as an unaccompanied minor.
Prisoners and deportees are not allowed.
Deaf, blind and visually impaired patients are allowed to travel but adequate care needs to be taken.
Drunk passengers are not allowed to board Overland aircrafts.
Elderly patients are permitted to travel with the aircraft only if they are not critically sick, unconscious, have oxygen tanks or other medical equipment like urine bags etcetera attached to them.
Traveling tips
Advertisements
CONTINUE READING BELOW
Check in online to avoid long queues and to get preferred and choice seating positions.
Get to the airport on time to avoid unnecessary stress.
Dress appropriately and avoid bulky fabric which could make one uncomfortable.
Laptops phones iPads and iPods and wrist watches should be taken off before getting to the security points to avoid unnecessary embarrassment and stress.
Shoes worn to the airport should be comfortable shoes. Avoid lace-up shoes and shoes which are not easy to remove.
Listening to music can help ease the tensions in traveling and help to relax.
Sitting at 135 degree angle is the ideal sitting position so unless it's meal time' take-off and touchdown' pull seat back.
Drink water, instead of drinking soda or caffeinated drinks.
Hands should be frequently washed and touching of eyes should be avoided. Contact lenses should be removed before boarding, and this should be after washing hands. One should never let oneself fall asleep with contacts in' as the eyes could become even drier that way.
Choose to eat healthy meals before travelling. One can access healthy meals at airport restaurants. Choose dishes with plenty of vegetables and lean meat. You will sleep better after a good meal.
Alcohol slows down effectiveness' and Alcohol tends to leave you dehydrated. Take water instead.
Pressure increases in the ear while in the air. Chewing gums and hard candy can be chewed on or sucked on to prevent ear pain.
Conclusion
Advertisements
CONTINUE READING BELOW
Overland airways is undisputably one of the leading flight services in Nigeria and caters to the comfort of the passengers.
Visit their website here for more information on prices and for booking tickets.