What we refer to as network marketing in Nigeria is actually called multi-level marketing (MLM). MLM is a sales technique, based on the idea of networking. It relies on independent salespeople to recruit other sellers into their "downlines" by rewarding them with a commission for every sale they generate in their line of products.
In simpler terms, it is the practice of selling goods or services and then earning commission on those goods or services you sell, as well as earning commission from the sales your recruits make.
So to be able to survive in network marketing in Nigeria, you need to either recruit more people or sell more products or both. And before you say, I can't sell anything, finish reading this article first, you'll find out that it's not just that you can sell, but that recruiting is even easier and more profitable.
Advertisements
CONTINUE READING BELOW
Let me tell you some advantages of starting a network marketing business in Nigeria.
Advantages of Network marketing business in Nigeria
Network marketing is the fastest way to make an income in Nigeria today, I am telling you the honest truth. If you are able to recruit 4 people who are avid sellers, then your work is done, you'll just start enjoying from their own commissions.
Large Income Possibility
Very low initial Start up
Good quality Products
Residual Income
Possibility to scale
Leverage and support system
Freedom
Large Income Possibility
Network marketing in Nigeria has the potential to generate large incomes. This is possible if you have a large downline and trust me, to have a large downline is not that difficult, it only takes time. Once you put in the work, you'll reap the reward. Imagine having recruited 4 people that recruited for persons each and you make 5k monthly from each downline, thats like 5,000 x 20 = 100,000 (four people that you recruited yourself and 16 persons recruited by your downline). And this is just the second level (all things being equal)
Very low initial Start up
There are so many network marketing companies in Nigeria and most of them require very little capital when compared to the potential gains. Imagine starting a business with 20k investment and 12 months later, you are making 100k a month (Yes, its not a get rich quick scheme).
Good quality Products
Network marketing relies on quality products that work. They have even gone ahead to bring ground breaking products. Once you join a good network, they usually have good quality products.
Residual Income
This is the best part about network marketing in Nigeria. You are paid for the work you did not do. Imagine that, someone else works for you and you get paid for it? The best part is, when someone else in your downline recruits new people, it continues to create residual income for you still (recruit a person and receive commission from all sales made by them based on how deep they are in your downline).
Possibility to scale
This business and always grow. Its not like a shop where once you've filled it with provision, its filled up. Network marketing in Nigeria can keep growing so long as your downlines are doing their jobs, you can scale to infinty,
Leverage and support system
All good network marketing companies in Nigeria has support groups. People who will teach you the business. In fact, it is only in network marketing that people are willing to tell you their secretes because once you start making money, some part is enetering their pocket, so they will tell you the truth.
Freedom
You work for yourself. You have NO boss breathing down your neck. Network marketing in Nigeria is the chance to get rid off the 9-5 work culture. If you are willing to work smart, you can even leave your full time job and be a networker. It is achievable, you just must believe in yourself and be patient.
Best Network marketing companies in Nigeria
Advertisements
CONTINUE READING BELOW
I will save you the problem of listing 30 or 40 companies and list just 4 that are actually the best network marketing companies in Nigeria. These companies have also stood the test of time and have very good business models.
1. Oriflame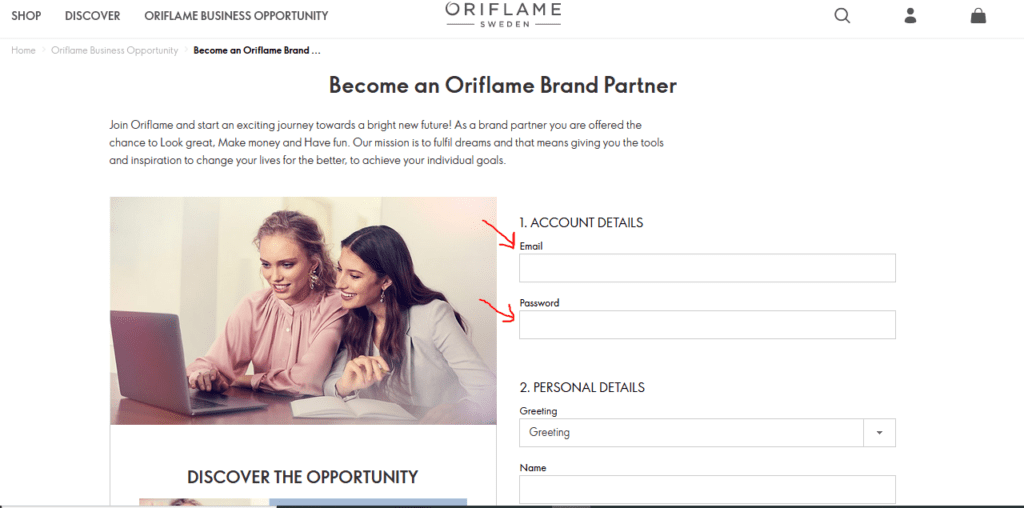 The first is Oriflame. It is a Swedish company manufacturing cosmetics and perfumes that operates in more than 60 countries. To join Oriflame, an individual is required to pay about N4,490 as a registration fee and 15,000 as a business starter kit where you will be given products to either use or sell. After you've joined, you will be thought exactly how to succeed with Oriflame by the person who recruited you and you are on your way to success.
If you get recruited by someone who only cares about him or herself, then you have to figure the process out by yourself. Thankfully, Oriflame has some amazing tutorials on how to go about the business.
Advertisements
CONTINUE READING BELOW
The business is more like buying and selling, in that you don't necessarily have to bring somebody to register if you are able to sell their products. If you can sell their products at the same time and bring people (which is what I do), you can make millions in your very first year.
As already stated, it is a cosmetic and perfume manufacturing company and they are in the beauty niche and that makes selling their products much more fun. I personally recommend this network. I'll let you know my reasons here. If you want to join and be in my team and get my step-by-step method, join using this link: click here and register.
Remember that after registering, you have to click on shop to buy a few products (It has to be a product worth up to 15k) and then I'll see you on my dashboard and contact you. The reason I am not dropping my line here is because I wouldn't want to waste the energy I should be using to teach people who register on people who just want to ask questions.
Advertisements
CONTINUE READING BELOW
Actually, you don't have to buy the product after registering, you can start advertising the product immediately you register or even before you register, and then when you get an order, you can now use the money to buy your first product and deliver to the person. It is strongly advised that you buy a product immediately after you register though.
Remember, every business is difficult in the beginning, but with a little guidance and coaching, anyone can become a pro. If you say you can't sell and can't bring people, you are just limiting yourself.
Sorry, I've wasted too much time ranting, lets move on.
2. Norland
The second is Norland. Norland Nigeria, the Nigerian Network Marketing company established in 2008, is based at the heart of the commercial, industrial, and residential areas in Lagos.
Advertisements
CONTINUE READING BELOW
It is a direct selling business that is in the healthcare industry. Norland started their journey in Nigeria with headquarters at Ikeja. To join Norland network marketing business, the registration fee is between 87,000 naira to 1,350,000 naira. If you join with a higher package, you earn more money.
Norland International packages.
Senior Member level –N87,000
Bronze member level –N160,000
Silver member level –N350,000
Gold member level –N700,000
Diamond –N1,350,000
3. Helping hand international
Helping hand international is another popular network marketing company in Nigeria. To get started, you have to register with $40.
Helping hands uses a 2×2 and 2×5 matrix marketing system. When you qualify, you are entitled to get the below rewards
Matching bonus
Referral bonus
Housing funds
Scholarship
Paid trips
Cars
Promotional incentives
Currently, helping hand international operates in more than 12 African countries, America and Asia with the head office situated in Lagos state Nigeria.
Advertisements
CONTINUE READING BELOW
4. Alliance In Motion (AIM) Global
Alliance in Motion Global was founded in 2009 by Michael O'Neill. It is a network marketing company that helps people make money by selling products, with a variety of income packages available.
Their registration packages include:
Global starter package –N38,000
Entrepreneur package –N114,000
International business –N266,000
Global mega package –N700,000
Product: Herbal and organic food supplements.
How to Start a Network Marketing Business in Nigeria
Now that we've seen some of the benefits of starting a network marketing business in Nigeria, let's start getting into what it takes actually start one.
Network marketing can be difficult and easy at the same time. If you go about it the wrong way, you'll fail just like the rest of the people who think it's a scam, but if you go about it the right way, you'll be asking yourself what you have been doing all these years.
Advertisements
CONTINUE READING BELOW
1. Choose the right company for your lifestyle
The first step in starting network marketing in Nigeria is to choose the right network company for your lifestyle. This is the one true law, and if you get it right, all other things will be added unto you. If you select the wrong one for yourself, you'll fail.
Let me put this in perspective. Oriflame is a beauty network and the members are called beauty consultants. All these people have to do is to sell to people who want to be beautiful and improve skin tone and all whatnot. Norland is more of a drug company and their target customers are people who are sick like people who have diabetes and cancer and so on. You have to decide what you want to sell and if you can sell them.
Advertisements
CONTINUE READING BELOW
Personally, I went with Oriflame because I like the beauty niche. And how do I sell, I write articles on beauty and post on TikTok and what's app status, and people chat me up to say they are interested in the product. At that point, I tell them they can buy directly from me, or they can register and buy cheaper. Some will just buy, some will register.
If you are interested in joining Oriflame, click here and register and I promise to guide you through the whole process. Once you register, you'll appear on my dashboard and i'll call you to walk you through.
2. Choose a company you and your market can afford
One of the greatest challenges of network marketing in Nigeria is that registration is sometimes steep. For example, the cheapest Package for joining Norland is #87,000 (Eighty-seven thousand naira), while Oriflame has an entry package of less than #15,000.
Advertisements
CONTINUE READING BELOW
So if you are a student or a young person who doesn't have friends (because you start selling from your friends) who don't have 87k, you are better off joining Oriflame. If you are currently in the cycle of 200k gang, the more expensive one is for you.
But one thing I want you to note is that it's easier to sell something cheaper than selling something more expensive. I have first-hand knowledge of this.
3. Recruit the right people
This part is not exactly easy to control, but at least, give it a shot. There are people who are born sellers. If you are able to identify such persons in your mix, do everything it takes to recruit that person.
The reason is that if you get a born seller in your downline, you'll most definitely benefit from her success. In fact, if you are able to recruit born sellers in your downline, you might not even need to work again because they'll sell your thing for you while you sleep.
Advertisements
CONTINUE READING BELOW
4. Make sure to have a relationship with your upline
The person who recruited you usually knows a lot of secrets. Chat him or her up and ask them to teach you how the business works. In fact, you can even ask them to help you recruit your first downline, and trust me, they just might. I have done it for a few persons already.
Let them add you to all necessary whats app and telegram groups that will help you succeed. Once they are on your side, you must succeed in network marketing in Nigeria.
5. Take the business seriously
I don't even know why this is the number 5, instead of number 1. If you want to succeed in network marketing in Nigeria, you have to take the business seriously. You have to set targets, you have to connect with other people in your network.
Advertisements
CONTINUE READING BELOW
You have to do it as if your life depends on it. Starting is usually the hardest, but if you connect with other people who are in the network, you'll be shocked at how easy it is. You can make targets of posting one new talk video on what's app daily or talking to one random person daily. It all depends on the effort and type of effort.
Remember to work smart, not just hard.
What is the monthly income of network marketing?
Depending on what network you are working with, you can make anywhere between 5k to fifty million a month. But let's be realistic, you can't make that amount when you just begin. You have to have spent some years in the program.
In Oriflame for example, after spending 8 to 12 months with the company and you do what you have followed the steps laid down for you to do, you should be making a monthly income of #150,000 naira and counting.
Advertisements
CONTINUE READING BELOW
So if you are asking how much you can make from network marketing in Nigeria, you should be making about #150,000 a month after 8 to 12 months of working with the company. Again, this largely depends on the company. Companies with higher entry costs will make you more money, but they are usually more difficult to achieve thou.
How can I overcome my fear of network marketing?
Overcoming the fear of network marketing is actually easy. First of all, the fear is all in your head. You have to decide that you are no longer afraid and start doing it.
But fear also takes work. So here are practical ways to overcome the fear of network marketing in Nigeria:
Explain your fears to your uplines. They have been there before, so they know how they overcame their own fear.
Follow the right process. There is a process. Sit down and strategize. The number one cause of fear is lack of preparation. If you do not prepare, you becaome afraid of embaracing yourself.
Start by talking to your family and friends first. The confidence you gather from talking to them will improve your general confidence.
I want to repeat number 2 again. There is always a process your uplines use. For example, my upline doesnt talk to people, she makes videos on facebook and whats app and advertise the products and success stories and then people ask her so they can register under her. Find their process, there is always a secret not told. (PS: If you register under me here, then feel free to chat me up so I can show you my processes; this article is just one of them)
If you are interested in Oriflame, then read this article to see more of why it is the best network in Nigeria

Advertisements

CONTINUE READING BELOW
Final words
Network marketing in Nigeria is not more difficult than buying and selling. In fact, it's easier. When you look at it with an open mind, you'll understand what we are saying. It is easier than you think, you just have to have the will to pursue it.
Network marketing is not an investment where you'll put money and the money will yield more money, no, you have to put in some extra work. But trust me, it's worth it.