Do you have an interest in tilapia fish farming, and do you want to know how to start tilapia fish farming on your own? This is a must-read for you.

Tilapia Fish farming is one agricultural venture that has proven to be lucrative. This is because there's begun to be an increasingly high demand for tilapia fish which has created a significant market for it.

But although tilapia fish farming has become popular, there are still many people who are not aware of the lucrative business opportunity it presents. Some are aware, but they believe it must be expensive to cultivate and would only be profitable if it is a large commercial production. But this could not be further from the truth.

For starters, the tilapia fish farming business is not expensive to run. The cost of raising tilapia fish is low, and thus, they can even be raised in a pond in the backyard of your home. This implies that tilapia fish farming mustn't be done on a large scale for it to be profitable.

Large-scale production or not, fresh tilapia fish are always in high demand in the market, hence, there is always an opportunity to sell. Why? Because Tilapia are not only needed for personal consumption but also restaurants and seafood markets need them to sell.

So, the question is how quickly can you get yours to the market?

To start your own tilapia fish farming business, there are things you should know so you are prepared. This article is a tilapia fish farming guide that walks you through everything on how to start tilapia fish farming.
.........................
TILAPIA FISH FARMING GUIDE
About Tilapia Fish
Research has shown that there are approximately 80 species of tilapia in the world, and several of these species are commercially cultured. But the Nile tilapia (Oreochromis niloticus) is the most common.

Tilapia are warm-water fish with great nutritional value. They are an excellent source of protein and are also rich in vitamins and minerals such as niacin, Vitamin B12, phosphorus, selenium and potassium. As a delicacy, tilapia is said to offer the following health benefits:
Tilapia fish is beneficial to bone health.
Tilapia fish could help prevent prostate cancer.
Tilapia is beneficial to the immune system and thyroid function.
Tilapia fish is beneficial to brain health
Tilapia fish is beneficial for weight loss:
Tilapia fish helps to prevent premature aging.
Tilapia is high in omega-3 fatty acids and thus beneficial to the heart.
Tilapia is one of the easiest fish to raise after catfish, and it doesn't require much to raise them when compared to the rearing of other fish species. Tilapia only need five basic requirements to survive: clean water, oxygen, food, light, and space to swim.

With all of these in sufficient quantity, you'll have healthy tilapia fish ready every time for harvest.
.........................
How to Start Tilapia Fish Farming
Tilapia can thrive in a variety of habitats, so you can either raise them in ponds made of earth, concrete, tanks, cages, or recirculatory systems.

They grow well in water temperatures ranging from 20 to 30 degrees Celsius, and they only take about 6 months to grow. They are omnivores which means they can eat a variety of foods.

Knowing these behavioral traits of tilapia fish would help you grow them accurately.

Now to the list! how to start tilapia fish farming.
1. Create a business plan
Creating a business plan is the first course of action when considering starting any business, including the tilapia fish farming business. It is a document that can help you map out the needs and requirements of the business.

In a way, it serves as your personal tilapia fish farming guide- a miniature of this article, if you will, excluding the introductory section.
.........................
Your business plan must contain the following:
a. Your Budget
This is how much you wish to spend on setting up your fish farm. Your budget will help you define if you would start your tilapia fish farming on a small scale or large scale.
b. The kind of tilapia specie you wish to breed
Here, you state whether you want to breed the common specie (Nile tilapia) or some other specie. Remember, we mentioned that there is about 80 tilapia specie in the world, so you can choose to breed any specie that is useful and economically profitable in your geographical location.
c. The breeding stage you want to focus on
This is where you state what breeding stage you want to focus on in your tilapia fish farming. Is the hatchery stage, the rearing stage, or the harvesting stage?
.........................
At the hatchery stage, you focus on caring for tilapia fry until they grow into fingerlings. This is a delicate breeding stage because it is the first weeks of a tilapia's life.
The rearing stage is where most tilapia fish farmers are comfortable. As a tilapia fish farmer in this stage, you acquire tilapia fingerlings and continue to grow them until they are mature for harvest. Your goal as a tilapia fish farmer in this stage is to raise tilapia to harvest size quickly, economically, and in good health.
In the harvesting stage, you focus on collecting the filets from tilapia. Tilapia fish farmers in this stage, select the tilapia, move them to a finishing pond, kill them humanely in a way that respects what they are providing, and remove their filets so they can be tended as tilapia fry for the next breeding session.
d. The place you want to breed
Here, you state where you want the breeding to take place. Do you need to get land? Or would you use a ready space? What pond would you use? Do you need to purchase any equipment? If yes, where will you acquire them?

N.B- Your business plan can be used to source for investors or likely partners in your tilapia fish farming business.
.........................
2. Find a suitable location for your fish farm.
Now that you have your business plan sorted, it's time to begin practicing. Start by finding a suitable location for your fish farm. If you had stated in your business plan that you would get land, then that is what you should do. But before you do, check the following: the topography of the land, the type of soil the land has, and also check the land's hydrology.

However, if you have a ready space to use that meets these criteria, you can move to the next stage
3. Locate a reliable source of water.
A reliable source of water close to your pond is very necessary. This is because you need to be able to change the water frequently as required to ensure you have healthy fish at harvest.
.........................
4. Select an appropriate fish pond
Depending on your preference, you can construct a pond made of earth, concrete, tanks, cages, or recirculatory systems. However, you should ensure the size of the pond is big enough to accommodate the fish and still allow them enough room to swim. You can start small and gradually expand into a larger system as your experience grows.

5. Select the best fish species for you
Once, your pond is ready, select and purchase the best fish species you wish to rear but make sure these fish species are needed and economically profitable in your geographical location.

6. Learn about fish feeds and feeding.
As you acquire your first set of fish to raise, it is vital to learn more about how you will feed them. You need to find out what is healthy and appropriate to feed them, when it's the right time to feed them and how best to optimize their growth conditions.

.........................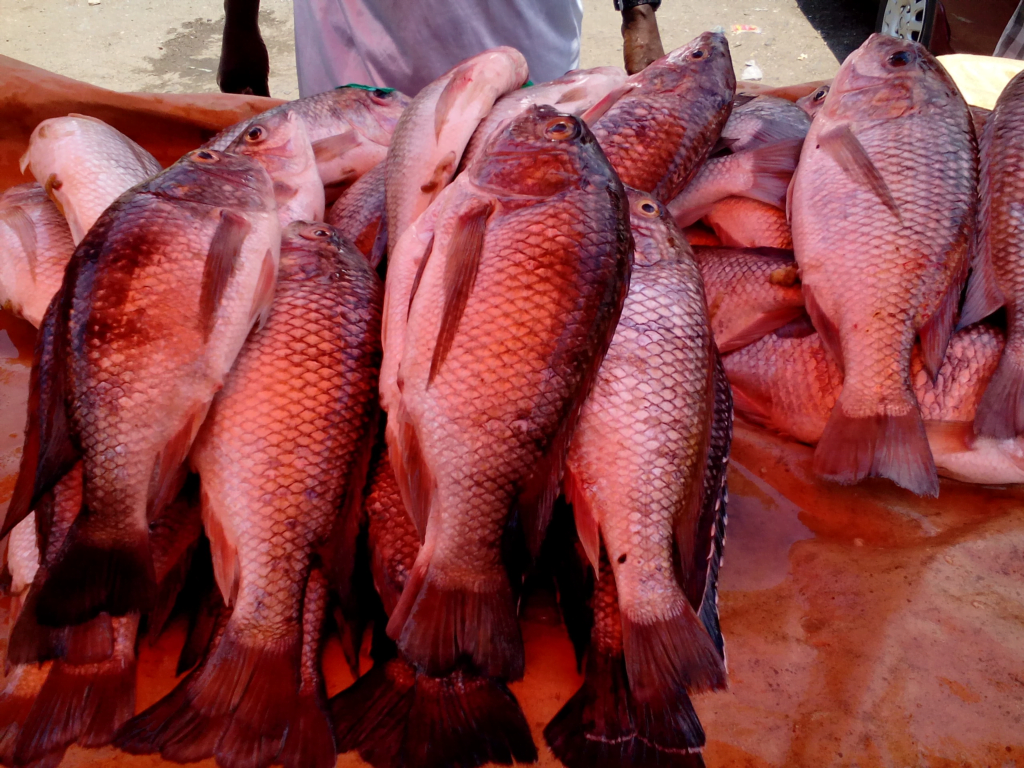 7. Learn about Pond Administration and Control
Next, you need to learn about pond administration and control which boils down to two things: Liming and Fertilization.

Liming: The process of using lime to reduce the acidity of the soil and which is also essential to perform other water purification purposes.
Fertilization: The application of either organic or inorganic fertilizers to help enrich the soil. It is recommended that fertilization should happen one week before the fingerlings are introduced into the ponds.
8. Learn disease prevention and treatment
It is important to learn about typical diseases that can affect tilapia and ways to treat them. Tilapia can be affected by bacterial or viral diseases. And this knowledge helps you take proactive measures to protect your pond to prevent an outbreak.

In the same vein, there are other healthy practices you should imbibe, they include regular cleaning of your pond, disallowing overcrowding, and regular screening of ponds for risk factors.

However, once you notice a disease outbreak, your first line of defense should be to change the water. Then you can introduce prescribed amounts of helpful chemicals such as formalin, salt, or organophosphate.

.........................
CONCLUSION
This tilapia fish farming guide gives an exposition on what you should do to set up a profitable tilapia fish farm.

In summary, a good location, regular fresh water, quality feed, good drainage, quality fingerlings, and great management tips are all you need to have a successful tilapia fish farming business.