Starting any career requires a lot of self-reflection.
Yes, the mental process of understanding who you are and the things you can do exactly. You must appraise yourself to discover your strengths, talents, and passions before you decide on any career path. Read through to learn more.
How to Start a Writing Career
Do you think you are destined to be a writer, and you are wondering how to start a writing career? Here is where you begin—self-reflection.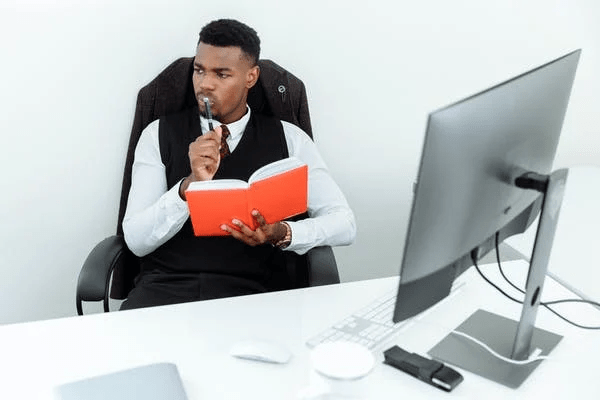 Why? Because you need to be sure that writing is what you want to do and that you have what it takes to be successful at it.
There is also one more reason why you need personal reflection; you need courage.
...........................
In Nigeria today, you need courage more than the relevant skills to start a particular career, especially if your career choice does not fall under the popular and more socially acceptable career path (like medicine, engineering, law etc).
A writing career is considered to be one of those careers. Hence, it can be difficult to venture into it without courage. Courage is what keeps you when the enthusiasm of dreams and passions has worn off and you are faced with the pressure of societal expectations.
Most people in Nigeria do not see writing as a rewarding career. And there are three possible reasons why they think so.
1. They know that writing as a profession is overwhelming.
Have you ever heard the statement that writers are thinkers and observers?
...........................
This is true, but it comes at a cost—their time. Writers use their time to think, observe, and write, whichever comes first. It is an endless cycle that widens with the more work they get. So this leaves them with little time to do anything else, like spending time with family members, making friends, or even having fun. This is most probably the major reason why you find out that most writers are usually not with the crowd.
2. They feel writing does not generate revenue.
You went up in arms in your mind, didn't you? Of course, you did.
With all of the time they spend writing? You must have thought. Well, yes, most people believe writing is not a lucrative career. So, they feel concerned that you will be setting yourself up for poverty if you venture into it.
...........................
But, you just look at Chimamanda Adichie, one of the most successful female writers in Nigeria and Africa at large. Have you seen her net worth?
How about Linda Ikeji, the Nigeria blogger who shot to stardom because she decided to put pen to paper? Now, what do you think?
3. They feel that writing grants no social or income security.
In Nigeria, writers don't command the same prestige as other socially acceptable professions like engineers, doctors, or lawyers.
Most people believe that writers are not doing a grand deed by writing. They believe that since writing doesn't contribute to either economic, social, or humanitarian development, then it's certain it wouldn't attract a stable income. Well, as an aside, people almost forget that these professionals read books written by writers to acquire some of the knowledge they have, or at least books proofread by one.
...........................
These reasons and more are typical arguments people would tell you to dissuade you from starting your career as a writer. Should you listen to them? Well, it depends.
If you have assessed yourself and you've discovered that you enjoy writing and that you are very good at using words, then you shouldn't. You just need to have courage and forge ahead.
Gone are those days when writers only had literary and creative writing as the only writing career option available to them. Now, writers have several options to pick from. Let's look at a few major ones you can consider.
Major Careers in Writing
1. Reporter
If you love to investigate and write about new findings, this is how to start a writing career – become a reporter. As a reporter, you can conduct research and write new stories for news publications such as online publications, newspapers, and magazines to keep the public informed about what is going on in the world and their community.
...........................
2. Columnist
Another closely related career you can consider is a career as a columnist. Columnists usually have an article slot in a newspaper, magazine, or online publication where they express their unique thoughts about current events and expert opinions on specific niche subjects of their expertise.
3. Communications officer
Is marketing more your thing? You can consider a career as a communications officer. In this role, you will be required to write promotional content such as press releases, brochures, and newsletters. However, all your writing will be in your employer's preferred tone and follow your employer's marketing plan and branding guidelines.
4. Communication specialist
Like the communication officer role, this is another career that is worth exploring, especially, if your strength is in editing and proofreading. As a communication specialist, you will be responsible for checking and coordinating corporate and marketing materials before they are distributed.
...........................
You will make sure that all content is free of errors, factually accurate, and written in their employer's preferred tone and voice.
5. Social media manager
A social media manager role is a career to consider if you love writing and are tech-savvy. Your role as a social media manager will involve creating suitable write-ups as social media posts on behalf of businesses to build awareness and a lively network of loyal followers and customers in the long run.
6. Public relations manager
The office of a public relations manager is another space a writer can fill. As a writer in this position, you will be required to help your employer maintain a positive public image. Of course, through writing. You'll write press releases, speeches, and marketing content to encourage good press and counter negative publicity.
...........................
7. Executive Assistant
With good organizational skills and writing skills, you can land this job as a writer. As an executive assistant, you would oversee the administrative tasks of a business executive. And most often than not, you will be required to write. From briefs to documents for business reports, proposals, and thank-you notes, you will be allowed to flex your writing skills in these areas.
8. Copywriter
Copywriting is one of the hottest writing careers currently. It is one of the most in-demand skills today. So, you can join the moving train. Writing copies might just be how you can start your writing career. A copywriter writes copy for a variety of materials and mediums. These written pieces may be for blogs, websites, social media, or as adverts.
...........................
All you need to get started as a copywriter is to learn how to write engagingly and persuasively to encourage consumers to use a business's products or services.
9. Content marketer
The role of a content marketer is similar to that of a copywriter. The only difference is that, as a content marketer, your content is primarily to inform, recommend, and get your employer's company or brand known, while as a copywriter, you write to sell, persuade, and direct your target audience to take action. So, it can be said that a content marketer informs while a copywriter sells. A content marketer recommends while a copywriter persuades. Nevertheless, a content marketer can double as a content strategist.
...........................
However, the interesting thing is this: both professionals can work for a company or in a freelance capacity. For a company, they work the regular 9–5 hours, but as a freelancer, their work hours are more flexible.
If you want to be a content writer for a blog, we have a course where we will teach you how to use A.I to write articles like this one, and also how to find the most amazing clients that will employ you.

If you are interested, check out the course here: AI writing course
Building a Freelance Writing Career
With all that has been said, you can deduce what the message in this article is exactly: Irrespective of what society thinks about it, a writing career can be a lucrative and rewarding one for you, and we have given examples to prove it.
...........................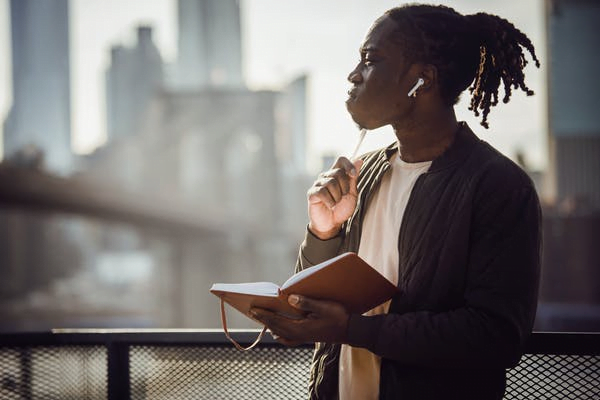 If you think the route of creative writing (following in the footsteps of Chimamanda) doesn't suit you as a writer, thankfully, there are several other writing careers you can explore just as we've mentioned, so how to start a writing career shouldn't bother you anymore.
But we must say this, among all the writing options we have mentioned before, freelance writing seems to be the most popular option with a high prospect. Think of it this way: it is a goldmine in the writing industry.
How so?
Because it is one of the few remote jobs that offer such fluid flexibility that it can be combined with other job roles.
So what do you do as a freelance writer?
As a freelance writer, you'll write professionally for people on a contract basis. What this means is that you are not tied to one job, do not need to be in a designated office to write, and can work at your own pace.
...........................
Fantastic, is it?
You just need to be able to satisfy your clients by ensuring that what you have written meets their needs.
Is the content a blog post, a case study, a video script, a press release, a white paper, a sales copy, an ad copy, an email sequence, or a product description? Your writing should be satisfactory to your clients.
The Skills You Need to Become a Successful Freelance Writer
How do you start a writing career? You start by writing. This may seem so obvious, but we need to mention it. Having a remarkable writing skill is one of the primary requirements you need to have before venturing into writing as a career.
You need to be able to intelligently combine words if you are to produce an interesting read for people. Hence, the need for the skill. Either writing comes to you naturally, or you have to acquire it, it doesn't matter. You just need to be able to write creatively.
...........................
You must be passionate about becoming a professional writer. There are no two ways about it. Without enthusiasm for your craft, in this case, writing, your journey to a successful career will be nothing more than a mirage.
You must have a good command of grammar to be a writer. Whether writing is a natural ability or an acquired skill, this is one area you don't stop improving on as a writer. Once your written pieces are error-free, they make for an interesting read.
To become a successful freelance writer, research should come second to you. Why? Because that is one of the ways you can source information that will help you create robust content regardless of what you are writing.
...........................
Ability to meet deadlines
How fast can you churn out content? This is one question any client would ask before hiring you. As a freelance writer, you need to be able to meet deadlines because it communicates your integrity and credibility as a writer.
With the advent of various tools that help with writing, writing has become easier. First, you don't need to have a high stack of paper containing your drafts; there is Microsoft Word and Google Docs to cover everything you need to put your words down in an organized manner.
Next, after writing, you don't need to go through the words you have written one after one to edit them. There are writing applications that can help you with that. For example, Grammarly, sign in if you haven't. You'll see there'll be nothing to it when it comes to writing.
...........................
Enroll in some writing courses
As you write and create various content, don't forget to enroll in some writing courses from time to time. That way, you can learn new approaches, get new writing strategies that work, and polish your writing skills.
CONCLUSION
Just because having a writing skill comes first when thinking about starting a writing career doesn't mean you don't need a formal education.
Having a formal education is the first thing in the order of "how to start a writing career". Whether a Bachelor's Degree in technical writing, marketing, communications, or any related field, it would suffice.
Once you have that sorted, then you can focus on building a strong portfolio with different writing offers.