As a wannabe bee farmer who is passionate about beekeeping, this article will guide you on how to start a bee farm from the scratch into a profitable business venture.
So take your precious time to read and digest this publication, as it will help you go along the way into building a successful bee farm.
By way of introduction, beekeeping or bee farming is the process of keeping and raising bees in order to collect honey, propolis, pollen propolis, royal jelly, beeswax, etc.
Hence, beekeeping may be a better alternative for you if you are in dire need of another source of income that will yield a positive outcome.
How to start a beekeeping in Nigeria
Without further delay, we shall be delving into the key steps are necessary to follow in other to establish successful bee farming.
Advertisements
CONTINUE READING BELOW
These steps are very easy and simple to realize if you are very serious about it. Bee farming requires patience, persistence, and risk.
If you can maintain these three things, your stance to establish a profitable bee farm within a short period of time is very high.
How to start a bee farm with little investment capital
To start a successful beekeeping business in Nigeria, endeavor to read this guide to the end without leaving any line unread.
1) Get Bee farming training
The first thing to do on how to start a bee farm is to get beekeeping business training. You can do this online or offline.
Getting bee farming training online means reading blog posts like this or watching YouTube tutorial videos on bee farming.
Equally, you can meet with successful bee farmers and offer to do a few months of internships or training under them. Even if you have to pay for it.
Advertisements
CONTINUE READING BELOW
Once you've gathered enough knowledge on bee farming, you can then proceed to the next step. But if not, go and do necessary first and then come back.
2) Get Bee Farming Business Plan
When starting any business, one of the first things to do is write an effective business plan for the proposed business.
As such, the same is applicable to this beekeeping business. As a wannabe beekeeper, after getting trained on bee farming, the next thing is to create a business plan.
Writing an efficient beekeeping business plan will immensely help you to achieve success where those without a business plan crumble.
Moreover, you need to get the required training from professional beekeepers before you venture into the business.
While writing your business plan, it's important you highlight how much investment capital would be needed. Plus, how to get the said capital.
Advertisements
CONTINUE READING BELOW
3) Market Survey
Additionally, another important thing to know on how to start beekeeping is carrying out a survey or feasibility study. Also known as market research.
This entails knowing who your target audience is, where to find them, and the likes. You will also research how the bee market is being run generally.
Remember that you are new in this business, there is a need for you to consult several experts who have been running things in the industry.
Doing all these will avail you from making costly mistakes and it will also aid you to go a long way in the business.
4) Get Capital
After you must have drawn your business plan and conducted all the necessary feasibility studies, it is high time we talk about capital.
Advertisements
CONTINUE READING BELOW
This particular step is very simple if you have enough capital to run the bee farming business on yourself.
But if not, there is a need for you to raise capital as beekeeping cannot be operated in a vacuum and without capital.
Pitch investors for funds, ask family and friends, or better still, go to any recognized financial institution for a loan.
However, if all the above suggestions didn't or can't work for you, invoke any means you think you can legally get capital to kickstart the business.
5) Location
After you must have acquired all the necessary knowledge, survey, fund, and all about starting bee farming, the next step is getting yourself a location.
If you have enough investment capital, you can lease land or better still partner with plantation farmers who have several fruit trees in their farmlands.
Advertisements
CONTINUE READING BELOW
Make sure that the apiary is in the best conditions so that you can have a tempting return on investment. It's very important.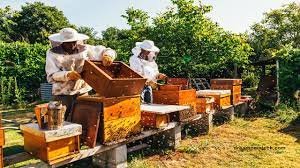 To locate the best apiary for your business, there's a little adventure involved: no matter what, never place your apiary in a crowded or noisy place.
Steer clear of places where insecticides are used as well as swampy areas.
Once you are sure that all the above mentioned are not in the chosen location, you are good to go then.
6) Get all the necessary equipment
Once you secured a suitable location for your apiary, the next step on how to start a bee farm is to identify the types of bees you will be keeping and buy equipment.
You must have learned about the different types of bee cultivars or species including their yield rates during your training.
Advertisements
CONTINUE READING BELOW
There is the honey bee, mason bee, solitary bee, bumblebee, etc. The equipment needed for these bees is quite different.
Some of this equipment include:
Bee hives,
Bee suits,
Smokers,
Buckets,
Jungle boots,
Wheelbarrows,
Basins,
Honey extractor,
Packaging machine,
Weighing scales,
Rubber plastics,
Nylons for packaging, and
Sealing machine.
Once all this equipment is in place, make sure to set your apiary in a particular place where the bees can find food and water easily.
This actually determines the success rate of your beekeeping or farming business.
7) Join the necessary association
At this juncture, it's very important you note that there are several associations in Nigeria that deal with agribusiness.
There is an Association of beekeepers, an Association of farmers, and many more. Joining these associations will give you the opportunity to meet people.
You will be able to interact with experts who will be guiding you on what to do next to take your bee farm to the next level.
Advertisements
CONTINUE READING BELOW
Be that as it may, you must, however, note that joining any association is at your discretion. It's not mandatory, it's voluntary.
But yet, it's advisable you join them. After all, joining them wouldn't bring you any harm but rather, progress, growth, and development.
8) Register your business
Legally speaking, it's advisable and a great thing for you to register your business with the Corporate Affairs Commission.
This is so because you are not just starting beekeeping or bee farm but rather, you are starting a bee business. And every business is expected to be registered as a legal entity in Nigeria.
So look for a special but unique name to give to your bee farm. Make sure it's a combination of words that is simple and easy to pronounce.
Put your target audience into mind before giving it a name; it should be free from any ambiguity and easy to remember.
Advertisements
CONTINUE READING BELOW
9) Beekeeping proper
Now, here we are. This is the last stage on how to start a bee farm in Nigeria. But before you do this, you must have done all of the above-discussed steps.
Don't kickstart the bee farm immediately unless you are very sure that you have passed through all the steps above.
This is very vital to your business success.
10) Beekeeping Marketing
Tell me any successful business enterprise in Nigeria or anywhere in the world that conducts business without advertising.
So it's very incumbent on you to market or advertise your bee farming for people to know about its existence thereby generating you profit.
It's through marketing that people will know who you are, what you do, and what your farm can actually offer them.
What's more, if you are serious about the business and produce quality honey, folds of customers and bigwigs such as pharmacies and industrial companies will be running after you.
Advertisements
CONTINUE READING BELOW
On this note, you can use the social media platforms like Facebook, Twitter, Instagram, WhatsApp, etc. to advertise your bee farming business.
And you can at the same time use conventional mass media to create awareness for your business. Platforms like a radio stations, TV stations, newspapers and magazines, billboards, etc.
Other forms of advertising or marketing beekeeping business include:
Distributing souvenirs with your bee farming brand printed on items such as face caps, notebooks, shirts, pens, hand bands, etc;
Word of mouth referral from satisfied customers;
Magazine and journal publications;
Online marketing via a blog or website, Google Ads, Facebook ads, Bing ads, etc;
Making fliers online and offline;
Providing free seminars; and many more.
How Much Does It Cost To Successfully Start A Bee Keeping Business In Nigeria?
Having the passion to start a bee farm is one thing and having all the required capital to keep the business up and running is another.
Advertisements
CONTINUE READING BELOW
So if you are starting out beekeeping from the scratch, you might want to do so with little capital investment. It's a condition precedent to keep going.
Without much ado, below is a comprehensive analysis of how much cost is needed to start a bee farm in Nigeria.
Equally, you will be exposed to the breakdown of what the substantial part of the investment capital will be used for.
The most important costs to consider in the bee farming business are:
An ideal place to process the harvested honey.
Standard and better hives for keeping the honey.
Several tables and chairs.
You will also spend on honey extractor and separator if you are going into large-scale bee farming.
You will also need a sieve if you'll be starting as a small-scale bee farmer.
Protective clothing that is locally made.
Tons of trays and tools like hive tools, etc.
How Much Capital Is Needed To Start Bee Farming Business In Nigeria?
Advertisements
CONTINUE READING BELOW
From the above analysis or breakdown of what the investment capital will be used for, we can easily give each item an average price and arrive at a conclusion.
On this note, depending on the scale on which you will be keeping your bees, you can kick start a bee farm in Nigeria with as low as N100,000.
But if you are going into large-scale bee production, you can as well budget as much as N5 million as your initial investment capital.
Remember that there's a need for you to get farmland, and you will agree that getting virgin land in Nigeria now is costly in most of the commercial cities.
Nonetheless, bee farming without a doubt is one of the few agribusiness or agricultural ventures that can be ventured into with little or much capital.
Advertisements
CONTINUE READING BELOW
Regardless of whether you are starting big or small, it is advisable you get locally made bee equipment to help reduce cost.
Locally made equipment like protective clothing, beehives for beekeeping, sieve, tables, and chairs, etc.
How To Start A Beekeeping Colony
To start a beekeeping colony of your own, there are three distinct ways available to do so successfully — even as a first-timer.
Hence, you can get yourself a bee colony from a swarm, obtain a hive, and you can get one from a nucleus. Very simple, isn't it?
Bee colony by hive: Of the three ways to establish a colony mentioned above, the easiest one to do among them is getting a bee colony from a hive.
As easy as it is, it will cost you a little money because it involves you reaching a payment agreement with beekeepers to collect bees from them.
Advertisements
CONTINUE READING BELOW
Bee colony by swarm: the cheapest method of establishing a bee colony is by capturing a swarm of bees. Remember from your lesson that honeybees live in colonies and are untamed.
Premise on the above, you can rub beeswax on tons of hives to bait them into a suitable place the swarms would prefer to form their colony.
Ideal places should be an area with flowering plants or fruits, water, favorable weather, free from noise, etc.
Bee colony by nucleus: in the same vein, you can establish a bee colony vides a nucleus. This simply means starting a colony from the scratch.
This can be perfectly done by obtaining a drone, queen, and worker bees. Feed them with water as well as sugar cane for the time being.
Subsequently, you provide them with adequate hives or scattered boxes covered in beeswax and place them in a conducive environment for bee swarms as bait.
Advertisements
CONTINUE READING BELOW
In conclusion, once you follow all the steps discussed from the inception ranging from how to start a bee farm down to the cost and how to get a colony; then you're good to go.