How to register a business in Nigeria is a fairly straightforward process. It is not time consuming, and the fee is affordable too.
In fact, business registration processes in Nigeria are not as difficult as people thought. It's a task that a layperson can perform by himself.
Hence, it's important you note that the body saddled with the responsibility of registering Company is the Corporate Affairs Commission (CAC).
This body was established by the Companies and Allied Matters Act (CAMA) 1990 to regulate the company formation and management in Nigeria.
So if you want to run a business or form a company without any hitch in Nigeria, it's a condition precedent you register it with CAC.
Company and Allied Matter Act, 2020
The principal legislation regulating business registration in Nigeria is the Companies and Allied Matters Act in 2020.
On January 1, 2021, a more simplified procedure for registration a business/Company in Nigeria came into force.
On this note, this blog post shall briefly explain the updated steps to follow on how to register a business in Nigeria from January 1, 2021 till date.
As it has been said, the government agency saddled with the responsibility company registration is still the CAC — even in the new law.
Documents Required for Business Registration in Nigeria
You must provide a notice of the registered address of your business.
Drafting the Memorandum and Articles of Association (MEMART) for the company to be incorporated is essential.
Receipt of payment of your stamp duties.
Particulars, list, and consent of the first directors of your company.
Statement of compliance by a legal practitioner.
Business registration processes in Nigeria
The step-by-step approach to registering a business in Nigeria will be simplified and explained in detail.
This explanation will cover registration processes for a private company limited by shares, public company limited by shares, Company limited by guarantee, unlimited company, etc.
Essential Requirements on How to Register a Business in Nigeria
Your company can have 2 to 50 members
The members of your company must be at least 18 years old.
The directors and the shareholders must be of sound mind, not disqualified by the CAMA, and not bankrupt.
The minimum limit of share capital required for company registration in Nigeria is N10,000.
How to register a business in Nigeria
The following are the best steps to take on how to register a business in Nigeria without any problem: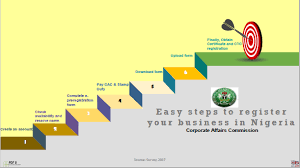 Step 1. Name check availability
The first thing that is expected of a business owner to do before registering his business is to conduct name check.
Since it's part of the requirements that you choose two unique and distinct names for your proposed company.
As such, you must check for the names availability to see if it's not already in use by another company.
Where all the names or either of them is available and not already in use, express your intentions to register it and CAC will reserve it you.
Step 2: Prepare your business MOA
There is no way you can get around this without the help of a legal practitioner. After all, lawyers are trained in preparing documents like this.
The Memorandum of Association (MOA) is a document that contains all the related objectives of the company you are about to register.
In doing this, your lawyer will request for the names of the company initial subscribers, directors, shareholders, and other principal officials.
Note that, the subscribers, directors, and shareholders must be 18 and above, sane, and without any criminal record.
Lastly, you must note that the directors will be required to present any means of identification by the CAC for further inspection.
Once you are done with this stage, you can proceed to the next step.
Step 3: Fill the Pre-registration Forms
Here, you can proceed to the Corporate Affairs Commission office by yourself and you can engage the service of a certified agent.
Whoever that is filling the pre-incorporation forms, there are certain important information you'll be where he will be required to provide.
Among these information are;
a. The approved business name and the proposed type of legal entity you'll be incorporating. You need to tell if the company is a private company or public, is it limited by shares or unlimited or by guarantee, etc.
b. You'll also be asked to describe the principal or major business activity the company will be doing.
c. There is need to state the registered office address, the company head office address (if it's different from the registered office address), the company's contact, email and the phone number.
d. Also, the applicant is obliged to prepare the Company's Memorandum and Article of Association. These documents can be best drafted by a Legal Practitioner.
Nonetheless, there are stereotypes of the Memorandum and Article of Association with the Corporate Affairs Commission, you can request for it and adopt same as your business MEMART.
e. In the pre-incorporation forms, the applicant is expected to fill company's secretary particular.
For small private companies, they are not obliged to appoint a secretary; it's optional.
However, where the applicant decides to get one for his company, he must submit all the relevant details.
Private companies and public companies are required by the law to have at least a secretary — an individual or corporate secretary will do.
f. The company's Directors information such as their name, main address, nationality, service, gender, date of birth, and phone number, etc.
Take notice: that the new CAMA 2020 now allows small private company to appoint as little as one director.
g. The particulars of the shareholder(s) which include their name(s), address, DOB, phone number and email address.
Shareholder of a company could be one person and they can be more than one shareholders in a company.
But where a company choose to have more than one, there's a certain percentage of shares to be held by each one of them.
h. The applicant is also expected to fill the true statement of issued share capital, the numbers and class of issued shares, as well as the rights attached to them.
Some of these right attached are voting rights, capital distribution in the event of winding up, dividend distribution, and shares redemptions at the option of the company.
i. Relevant information of Persons with Significant Control (PSC). This could be a Natural Person and it could be a Legal Person.
Step 3. Stamp duties and filling fee payment
After filling all the required information in the pre-incorporation form together and after you must have prepared your MOA and AOA, the next stage is to make payments.
These payments contain the stamp duty and business registration filling. This is usually done at the Federal Inland Revenue Services.
Better still, you may be prescribed the official filing fee and stamp duties by the CAC online or via bank using remita.
Once your payment is successful, your business Memorandum and Articles of Association will be affixed with an electronic stamp along with other incorporation forms.
After this, all the filled forms together with the accompanying stamped documents will be submitted at the CAC office.
In the long run, the Certificate of Incorporation will be returned to you after about five to six weeks from the submission date.
Step 4. Prepare and upload the scanned copy of your documents
What is next on your 'how to register a business in Nigeria' journey is to prepare the signed copy of your pre-incorporation forms.
On this note, you are expected to scan and upload the following documents;
Form CAC1.1;
Memorandum and Articles of Association;
Recognized form of identification for Director(s)/Subscriber(s) and Secretary;
Evidence of payment to CAC;
Valid identification of the director/shareholder and Witness;
Directors and Shareholders signatures on plain sheet of papers;
Company Resolution and Certificate of Incorporation (where another company will be part of the shareholders of the new company to be incorporated).
Immediately you have all these documents scanned, don't hesitate to upload them on the CAC portal for processing.
Step 5. Submit the original copy for registration
This is the final step and stages of business registration processes in Nigeria.
This step requires nothing than to submit the original copy of the applications for final approval.
Before the approval, the whole pre-incorporation forms and all other documents will be reviewed by the CAC.
Where everything is in order and under the compliance of Part B of the CAMA 2020, approval for your business registration will fall into order.
Conclusion
From the foregoing, it's evident that an ordinary person who has not undergone any legal training can register a business in Nigeria.
Besides, the CAC has made everything lots easier that an applicant can complete the whole process online using the online portal designed by the CAC.
Be that as it may, you must note that it's not a must that you register your business yourself.
If you are not familiar with the rules or you don't understand the regulation guiding the business registration, it's advisable you engage the service of a lawyer or a CAC accredited agent.
If, therefore, there's further question on how to register a business in Nigeria, don't hesitate to hit the comment section for clarification.