With a trip in your near future, it's time to start getting the excitement going! Planning your itinerary, double-checking the travel schedule, packing …
Packing. That's usually everyone's least favorite part of a trip.
How do you know what the weather will be like? What activities will you be doing and what clothes will you need for them?
From the many unforeseen wardrobe changes to toiletries and electronics, it's hard to remember everything. No matter how many lists you check and double-check, it's inevitable you'll forget something.
Even worse is when there's a limit to how much baggage you can take with you. But traveling light is actually a positive thing. It forces you to learn how to narrow down your luggage to the necessities and makes packing so much easier!
These tips will teach you how to pack light for a trip every time, saving you stress and money. You'll fall in love with the ease of limited luggage!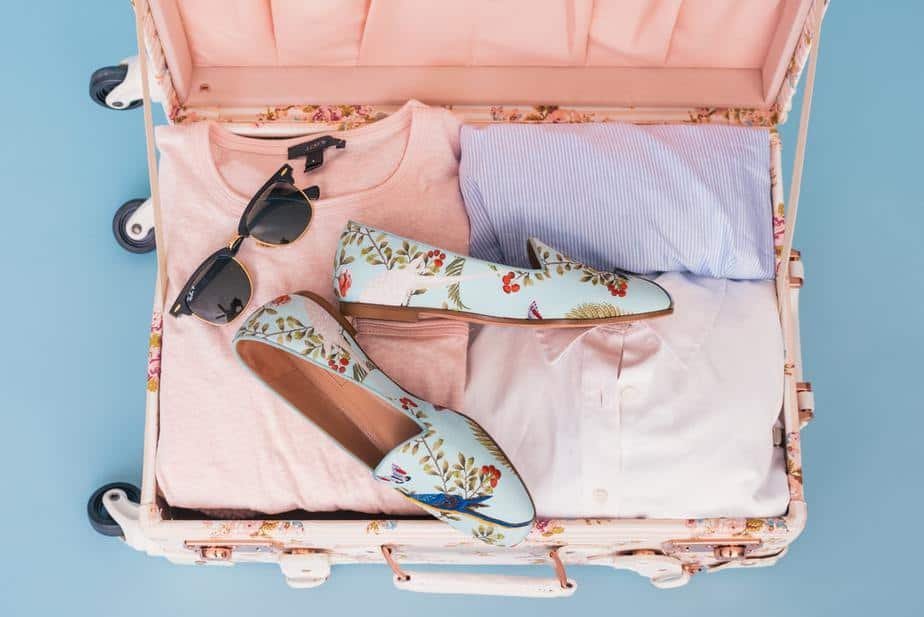 1. Start With a New Suitcase
Got outdated luggage?
It's time for an upgrade! Consider it an investment that will more than pay for itself with fewer baggage fees when you travel.
The right luggage makes traveling light easy. Bulky, awkward suitcases are a thing of the past with today's streamlined varieties. Today's manufacturers produce "light" and "ultralight" suitcases to reduce weight from the luggage and give you more room to pack.
If you don't fly often, lightweight luggage is still beneficial. It reduces the weight you have to lift. Most of the newer suitcases have four 360-degree rolling wheels for easy pulling, too.
When you're ready for an upgrade, look for these features:
Carry-on size (typically 9 inches x 14 inches x 22 inches, including wheels)
The light (seven pounds) or ultralight (five to six pounds or less) label
Extra internal and external storage compartments
Rolling wheels that spin 360-degrees
Squared corners for maximum storage space
If you checked off all the features on this list, you're ready to start packing! Before you leave the store (or the cart), add a travel scale to prevent surprises at the airport.
2. Make a List
If you are a frequent flyer (or any type of regular traveler), you know what you typically need for a trip of most durations.
But it's a pain to make sure you remember all the little and big things. The more you take trips, the harder it can get, instead of easier, because you get complacent.
A list keeps this from happening.
You don't want to make the same list all the time, though, so why not create one basic template and go from there?
On your computer, create a list of things you need for the most common trips you take. For instance, if you're a three-day weekend jaunter, create a "Three-Day" travel list. Include the items you know you'll need and the quantity of each.
Print out one copy and get it laminated. If you need to add anything for one trip, use a dry erase marker. You can also make multiple copies if you'd prefer and discard them later. Either way, use the list as a reference every time you pack.
3. Use Airtight Bags
Folding your clothes right is helpful, but it's also time-consuming.
Vacuum-sealing bags let you fit just as much of your wardrobe in your suitcase. It's like magic, but it's not!
Don't let the "vacuum seal" term scare you. For most of these brands, you simply put the clothes in the bag, zip it shut, and squeeze the excess air out. Some types come with their own hand pump for a super-airtight lock.
But if you'd rather not use a vacuum or pump, make sure to zip the bag up almost completely, then sit on it or squeeze it until the air is gone.
Pro-tip: For airtight bags without any effort, use the water displacement method. Chefs commonly use it to seal food in Ziplocs, but it works with clothes, too!
4. Choose Versatile Items
When you're picking out your wardrobe, it's hard to know precisely what you'll need for every occasion. That's why we tend to end up with way more clothes than we could possibly wear.
With your new goal of packing light, it's time to take a serious look at your itinerary, the weather, and your closet.
To minimize how much stuff you pack, you're going to have to plan a few outfits out ahead and stick to them. That means knowing the approximate weather and what you plan to do when you get to your destination.
The trick is to choose versatile items, like jeans and nice t-shirts. You can wear a pair of nice jeans more than once and in any environment. They also go well with almost any top.
Bring two or three shirts that look at home in casual and elegant places. Since you'll also have the clothes you're wearing, this gives you a choice of multiple outfit combinations.
5. Limit Your Toiletries
Packing the "essential" toiletries is another easy way to overload. But it gets expensive to keep buying "travel-size" shampoo, conditioner, etc.!
There's a hack the pro travelers use to get around this. It's so simple, you'll wonder how you lived without it:
Travel-size containers and your everyday toiletries.
Yes, if you invest a few dollars into durable travel-size containers, all you have to do is pour your regular supplies into them. Label each one and use them for your liquids and powders. You can cut down on pill bottles by using these little handy dandy bottles for your medicine, too!
However, if you're a frequent traveler with lots of supplies, you might need more to keep your toiletries organized.
An efficient way to pack is to get doubles of everything you use the most. Then, nab a foldable hanging toiletry bag to hold them and use these only when you're on the road.
Conclusion
Maybe you're downsizing from your usual big suitcases or want to pack light to be more efficient (and cost-effective). Whatever the reason, it's a good practice to get in the habit of!
These five tips will help you organize and fit all your essentials into as little space as possible.
Author bio
Ryan Sundling is a Group Marketing Manager at Cardinal Group Management. He has over ten years of experience in the conventional housing industry and works with The Ruckus on a daily basis to help them with their marketing efforts.