If you are thinking of joining the Inksnation Network to further complement your hustle, then you need to read this article on how to earn on Inksnation without any hindrance.
Knowing the registration process, how the platform operates and all is an important step that needs to be taken before joining the scheme entirely.
Hence, this article will open your eyes to all that is needed to know on how to earn on Inksnation plus other relevant tips to get started.
But before then, it's important you know the personality behind the Inksnation platform as that's the only thing to confirm the legitimacy of the scheme to you.
Who Is The Founder Of Inksnation?
The popular and highly patronized network scheme known as the Inksnation was founded by Mr. Omotade Spark Amos Sewanu.
Advertisements
CONTINUE READING BELOW
He is equally the CEO of another platform known as iBSmartify and it is the parent company of Inksnation.
The company head office is situated at No. 19, Posukoh Quarters, via, Joseph Dosu Way, Badagry, Lagos.
What Is Inksnation?
Knowing about the person behind Inksnation is not enough without knowing what Inksnation itself is all about.
Hence, INKSNATION is akin to Poverty eradication investment or program. It is a platform similar to cryptocurrency and it's asserted to be the first blockchain in Nigeria with a special coin called pinkoin.
What's more, Inksnation pinkoin was established in 2019 and was also registered with the Corporate Affairs Commission on August 15, 2019.
According to rumor, inksnation platform is said to be in partnership with few government agencies that are saddled with similar responsibilities.
Advertisements
CONTINUE READING BELOW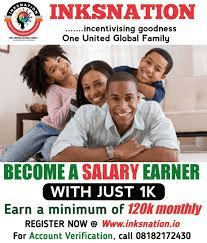 How To Earn On Inksnation
From research and information that I have gathered, earning on Inksnation platform is not something that comes on a platter of gold.
You will also have to contribute your own quota to it. But all you have to do is to firstly sign up, pay the activation fee and wait patiently.
After your registration, you don't have to do anything on how to earn on Inksnation than to wait and expect benefit from your referral earnings.
From my findings and researches, below is how the scheme works and how you can earn on Inksnation:
Step 1: Choose and deposit base on plan
Firstly, you will have to deposit the sum of ₦1,000, ₦10,000 or any other amount base on your desired plan of interest while joining the platform.
After that, you will verify your ink account and provide all the necessary requirements for registration.
Advertisements
CONTINUE READING BELOW
Step 2: Refer people to your Network
Immediately your Inksnation account is verified, you'll be credited with a whooping sum of ₦70,000. But before you can use it, you'll have to refer members and approve their accounts.
There and then, when one of your referral comes for the ₦10,000 plan, you will sign it up and your balance will be ₦60,000.
Which means the new referral will be paying their money to your account.
Step 3: Remit back to Inksnation
After exhausting the ₦70,000, you will only remit N20,000 to the Inksnation company and the remaining ₦50,000 is yours.
Having exhausted the initial N70,000, Inksnation will credit your account with another ₦70,000 to repeat the same process.
Thus, the answer to how to earn on Inksnation is majorly through referral. The more you refer is the more you earn. That is the only identified ways of earning on Inksnation for now.
Advertisements
CONTINUE READING BELOW
Requirements needed to join inksnation
There is no special requirements needed before you can join inksnation. All that is required to join are:
Once you supplied all the above information on the Inksnation official webpage, deposit the money and start looking for who to activate your ink account for you.
They have different kinds of plans which range from N1000 upwards which when you register someone with a pink card fund will activate your inksnation account for you. We can do that for you.
How can I join inksnation?
Whether you are looking for how to join Inksnation or how to register on Inksnation, the answer to that question is simple.
Visit the official website here and once you get to the redirected page, click on the sign-up or register button.
Advertisements
CONTINUE READING BELOW
After that, go to the next page where you will be asked to make selection on the plan you will like to activate.
These plans are different and are in distinct categories based on your investment capital. They include:
Bronze plan with N1,000 activation fee;
Sliver plan with N10,000 activation fee;
Gold plan with N100,000 activation fee; and
Diamond plan with 1,000,000 activation fee.
Now that you must have chosen your desired plan, proceed to fill out the next form which will be shown to as provided below:
More so, after you must have filled the form with all the necessary requirements, kindly move to the next phase which is Inksnation pink card registration.
How can I get my pink card?
Advertisements
CONTINUE READING BELOW
The Inksnation pink card is also known as the iBsmarty. Before you can be eligible for the card, your account must have been registered successfully.
Then, after the registration the account must have equally been successfully activated. Once this is done, you will be eligible to access your account.
Which means you can then apply for your pink card (iBsmarty card). I believe you know every single thing about the card importance, right? Well, that's topic for another day.
Conclusion
At this juncture, it's important to clarify the air that we are not in anyway campaigning for Inksnation or are we saying Inksnation is a legit platform.
And never said it is a scam at the same time. All we do is to write a guide on how to earn on Inksnation plus tips to get started.
Advertisements
CONTINUE READING BELOW
We are not a member of the platform but we have friends that invest there and we also do our research to make sure that our publication is detailed and accurate.