JAMB (Joint Admission and Matriculation Board) is the body charged with the responsibility of conducting entrance examinations into tertiary institutions in Nigeria. The examination is a must-have for all students seeking to gain admission into Nigerian tertiary institutions.
It started years back with Paper Test /Paper-based Test which usually written and Objective form of testing candidates. In a bid to increase the quality of the examination and also improve the system, a computer-based test (CBT) was introduced. A cut-off mark is set by the body for each type of tertiary institution while a cut-off mark is also set by institutions for each course they offer.
After the examination has been conducted, the result is released and the individual candidate's result can be accessed via the JAMB online portal using different methods.
...........................
Related Article: How to Check Jamb Result with Only Registration Number?
Before proceeding to the step-by-step guide, you can easily follow to check your JAMB result and print it out, below is a list of what you need to have to successfully follow the guide to check and print your result.
What you need to check your JAMB Result online.
Good internet connection: a good internet connection is needed to have stress-free access to the JAMB online result checker.
Smartphone or Laptop: a good device is also needed. Interestingly, it is not a must for you to have a laptop or personal computer before you can access the portal or check yours. You can get access to the online result checker to check your result using your Smartphone.
N.B: If you checked the result using your Smartphone, and want to print it, you can save or download and save it as pdf., or send it directly to a printer.
...........................
JAMB registration number: your registration number is also needed to check your JAMB Result online.
N.B: this is not compulsory especially if you want to check your notification of result
Email address: you will also need your registered email address to check your JAMB Result online. This is the email address you provided during your registration.
N.B: this is not compulsory especially if you want to check your notification of result
JAMB Result Checker PIN: you need to purchase the JAMB result checker PIN to get access to your result on the JAMB result checker portal. It is usually sold for a thousand naira (₦1000). However, this is not compulsory to check your result. There are ways you can check your JAMB result without the use of a PIN.
To help you in checking your original JAMB result easily without delay or issues, and also print it out, below is a step-by-step guide I have put together just for you.
...........................
Related: Jamb and WAEC Subject Combination for Mass Communication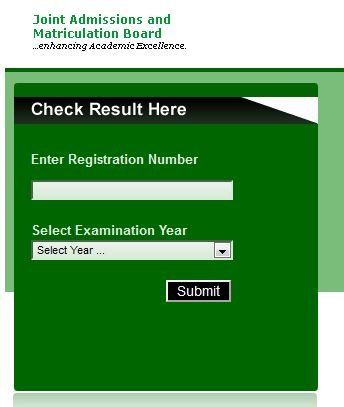 Step by Step guide to check your JAMB (Joint Admission and Matriculation Board) result online
Launch your browser (Either on a Personal computer, or Café, or Smartphone)
Enter the address https://www.jamb.org.ng/ExamSlipPrinting3/CheckUTMEResults in your URL section
Enter your Jamb Registration Number or email address in the space provided, and
Click on the "Check My Result" button.
The breakdown of your score and the total score will be displayed on the computer/Smartphone screen and you can then send it to your printer to get it printed.
N.B: The result generated here is called Notification of Result. If you would like to check, download or print the original JAMB result, use the step-by-Step guide below.
...........................
Step by Step Guide to Check Original Jamb Result Online and print it
Login to your JAMB profile using the URL http://portal.jamb.gov.ng/efacility
Lick on Login
A list of services will be listed, click on the "Print Result Slip ". *This costs one thousand naira (₦1000)
Click "Continue with payment" to make payment via the Remita platform. (N.B: you will be automatically directed to the Remita platform where payment will be made, but if you are not automatically directed, a link will be provided where you will be directed to click on, to proceed to remita platform.
Enter your card details or follow any other method you prefer to make your payment on the remita platform.
(After a successful payment, you will be able to proceed to print your result slip)
...........................
Select your exam year and enter your "JAMB Registration Number" in the space provided.
Also Read: Jamb and WAEC Subjects Combinations for Public Administration
NB: You can request your result slip to be sent to your registered email or be printed directly from the portal.