Fundamentally, Venmo is a digital wallet that lets its prospective users transfer money between each other using Its app. How does Venmo make money then?
An absolute answer to the above question is what this article is on the verge of providing. Hence, sit tight as we paddle you through.
But before going forward, it's very important we explain something important things. Things like what Venmo does, sending and receiving money using the app, etc.
What Is Venmo?
Venmo is a peer-to-peer payment mobile app that allows users to easily and quickly exchange money directly between themselves.
With Venmo, users can pay at selected merchants, either online using the Pay With Venmo feature or via the company's debit card.
Venmo is accepted as a form of payment by approximately 2 million online and brick-and-mortar merchants.
Advertisements
CONTINUE READING BELOW
Venmo was founded in 2009 although it began as a text-message–based payment delivery system. It was not what it was now.
In March 2012, the company introduced a platform with an integrated social network in an effort to capitalize on the growing Peer-to-peer (P2P) economy.
Few months later, Braintree, the mobile payment system that Uber, Airbnb, and other famous e-commerce utilized, bought Venmo for $26.2 million.
Soon after that, the money exchange app enjoyed a substantial boost in users when PayPal Holdings acquired Braintree.
The PayPal Holdings Inc. acquired Braintree for a whooping sum of $800 million. Subsequently, it rapidly monetized Venmo's user base.
Brief History of Venmo
Venmo was by Andrew Kortina and Iqram Magdon-Ismail in 2009. The brand headquarters was initially in Philadelphia, but soon after its incorporation, relocated to New York.
In 2001, Kortina and Magdon-Ismail met each other during a freshman program at their alma mater, University of Pennsylvania.
Advertisements
CONTINUE READING BELOW
Both of them majored in Computer Science before Kortina later changed his major to Creative Writing and Philosophy.
When the duo became seniors, they started their first company known as "My College Post".
My College Post was a classified website that was particularly aimed at college students. After all, they're both in college.
Throughout their years in school, the two achievers continued to experiment and try various ideas till adult life came into limelight.
As a result, Kortina moved down to New York and was employed as one of the first engineers at the URL shortener Company; bit.ly — founded by betaworks.
On the other hand, Magdon-Ismail did software job for Ticketleap in Philadelphia.
Fee years after the duo separation, Magdon-Ismail decided to pay a visit to Katrina in New York where she resides.
Unfortunately, Magdon-Ismail left his wallet at home and this forced Kortina to pay all the bills for that weekend.
Advertisements
CONTINUE READING BELOW
This little incident, however, sparked the great idea of Vendere Mobile which was shortened to Venmo, fortunately!
Vendere is a Latin word which means ("to sell") and the Mobile was shortened to "mo". Such was how VENMO was birthed.
At first, the app was designed to allow its users to send and receive payments through SMS. But then, the payments were always accompanied with funny messages.
Therefore, several reformations came in and with subsequent reformations, VENMO became what it's known for today.
How Does Venmo Works?
Venmo work well like any other peer-to-peer payment gateway. All you have to do is to download and install the app first. This is applicable to both the sender and the receiver.
After installing it on your smartphone, register and sign up after which you will link your Venmo accounts to either your credit card, debit card, or checking accounts.
Advertisements
CONTINUE READING BELOW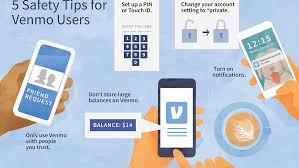 Right now, Venmo can only be set up if the user has a bank account or credit/debit card from an American financial institution.
Essence, in order to transfer and receive funds on Venmo, the two parties need to be registered as users on the platform.
This allows them both to transfer or receive money from and to their Venmo accounts respectively.
Plus, the Venmo app has a Facebook Messenger type of feel to it, allowing users to chat with each other or send emojis.
In addition, businesses can also register and integrate with Venmo Inc. to accept payments via the app.
All that merchants have to do is to adjust their existing PayPal Checkout configuration and add Venmo as another payment method.
The merchant partners include Grubhub, Uber, Poshmark, or lululemon. Additionally, Venmo also offers a debit card that is connected to the app.
Advertisements
CONTINUE READING BELOW
This debit card allows Venmo users to make purchases in the 'real world', like at coffee shops or in a grocery store.
More also, users can receive paychecks through the associated account plus earn cash back — although — at selected merchant partners.
How Long Does It Take to Send and Receive Money?
While this publication is on the verge of revealing how does Venmo make money, it is important we look into how long it takes to send and receive money using the app too.
So any money sent by a Venmo user to another user usually and immediately appear in the recipient's dashboard account.
Although for external bank transfers, the transaction delivery time is often more complicated. It can't be answered in precision.
Because the transaction speeds vary depending on whether the user is willing to pay for the transaction or not.
Advertisements
CONTINUE READING BELOW
If you try to add funds to your Venmo account from your bank account, it can take three to five days for the transaction to be completed.
Conversely, transferring money in the opposite direction could at the same time take from one to three working days to go through.
Lastly, if you are in a hurry to transfer fund out, you have the luxury or an option to go for an instant money transfer.
Typically, these transactions take up to 30 minutes to go through and involve Venmo charging you 1.5% as transaction fee.
Statistically, that 1.5 percent is capped at a maximum amount of $15 per transfer. Do you think it worth the fee?
How Does Venmo Make Money?
As I have said earlier, Venmo is a P2P payment gateway that renders excellent transactions to it users.
Advertisements
CONTINUE READING BELOW
So looking into Venmo business model and how it generates its revenue for smooth running of it affairs isn't bad.
That is, thinking how does Venmo make money from the transaction its renders to its users is wise. You might want to replicate them.
According to research, Venmo makes money through several revenue stream. It adopts an efficient revenue models.
Among them is the Pay With Venmo feature, the Instant Transfers, interchange & withdrawal fees, spreads as well as fees on crypto transactions, cashing checks, affiliate commissions, etc.
Let's take a critical look into each and everyone of these Venmo income generation streams in more detail ways.
They are as follows:
1. Pay With Venmo
One of the top most Venmo revenue model is the 'Pay with Venmo.' This feature account for the Company's huge net revenue.
Advertisements
CONTINUE READING BELOW
The Pay With Venmo model allows Venmo users to make purchases at their selected merchant partners using their respective Venmo account.
Some of these selected partners include Foot Locker, Urban Outfitters, Forever21, and lots more.
Whenever users made payment at one of these selected merchants, a service fee is applied to the overall order amount.
Categorically, Venmo charges merchants the rate of 1.9 percent along with $0.10 in a single transaction.
This service fee structure is in accordance with standard rates that's applied by payment processors like VISA, Mastercard, etc.
As a matter of fact, merchants are always ready to pay the service fee because it widens the ocean of available audiences they can serve.
Besides, traditional banks are usually not integrated with the modern-day apps, and this sometimes leaves Venmo as the only means of payment available.
Advertisements
CONTINUE READING BELOW
In the same vein, the users transactions conduct will be displayed in Venmo's social feed — with an exception of users that opt out from sharing their information publicly.
Sharing their information publicly will grants merchants extra eyeballs and can turn to a valuable marketing strategy to add to their exposure.
2. Instant Transfers
Another notable Venmo revenue generation stream and brilliant business model that you can replicate is the 'instant Transfer'.
You never can tell, you may find yourself in this industry tomorrow. So knowing how to make money for your Company will be an edge.
In 2019, the Venmo Inc. announced that it would allow its users to instantly transfer funds — without any issue — into their personal bank accounts.
Under normal circumstances, retrieving fund from your Venmo account and transferring same to another bank do take one to three working days.
Advertisements
CONTINUE READING BELOW
On every transaction made, Venmo charges the user a 1.5 percent as service fee. The minimum fee on the platform is $0.25 and the maximum is capped at $15.
With this fee paid, the transferred money is expected to drop at the user's bank account in the wake of 30 minutes or less.
On this note, the service fee levied on users that want fast and immediate completion of their transfer is another revenue source.
Which according to report, it constitutes a huge part of the Company's annual revenue. You can imagine how much they will get from over 1 million users.
3. Interchange and Withdrawal Fees
More so, Venmo makes money via the interchange and withdraw as it levy an affordable service fee on the users of the feature.
Venmo started offering its own Mastercard-branded debit card to all of its users that owns an account date back to 2018.
Advertisements
CONTINUE READING BELOW
This branded debit card allows the users to carryout purchases in the actual world using the card and as such, debiting them from their Venmo balance.
Since the card is connected to the Venmo mobile app, users can, therefore, pay for anything using their card.
What's more, if enabled, all the card's transactions will be shown in the owner's social feed.
Very similar to the Pay With Venmo revenue generation stream, this can also act as a marketing medium for businesses.
Now, it is safer to say that Venmo generate revenue from the debit card by billing the merchants for an interchange fees.
These fees (though not that certain) in all likeliness will be splitted between the Venmo enterprise and Mastercard.
Not limited to that, when retrieving cash, users, will in the same vein, have to pay another $2.50 as an ATM Domestic Withdrawal Fee.
Advertisements
CONTINUE READING BELOW
Plus, a $3.00 Over the Counter Withdrawal Fee. Adding all these charges together will give an incredible amount per year.
Thus, interchange and withdrawal fee are another business and revenue model implore by Venmo for efficient running of the Company.
4. Cash A Check
Next on the list of how does Venmo make money is 'Cash A Check' revenue and business model.
Sometime in January 2021, Venmo business enterprise launched a new service that it called Cash A Check.
As the name implies, all interested users can use the context to cash in payment or any government stimulus checks.
To do this, the intending user will have to turn on a location device, have to enable either Direct Deposit or have a Venmo Debit Card.
Not limited to the above, it's important for this service user to possess an active but verified email address too.
Advertisements
CONTINUE READING BELOW
Once all is set, the intending user cam then take a picture of the stimulus check and let Venmo review it.
Once the review is complete and Venmo approved it, Venmo will gladly deposits the money directly into the person's account.
In exchange, Venmo charges 1 percent for this review and verification service. That is, the minimum amount of money that can be cashed in $5.
Depending on the amount of money to be cashed in, 1 percent service rate isn't bad either. It accumulates to something huge in the end.
At least, out of the approximately 2 million active users of Venmo, half of them will engage in this service before the end of the year.
5. Cashback
More importantly, Venmo did not become one of the largest P2P payment gateways in the United States by playing cards.
Advertisements
CONTINUE READING BELOW
The company put in some real work and great business models to achieve greatness. Cashback also pays Venmo.
Put differently, the Venmo branded debit card equally comes with the possibility of earning several cashback rewards.
This cashback reward is, of course, at selected merchants and example of these partner merchants include Papa Johns, Target, Chevron, Dunkin' Donuts, and lots more.
Simply put, the Cashback feature transfer a certain percent of the overall purchase price back to the user's account.
In return, it serves as aincentives to customers and allow them to shop at any of those merchants.
The merchant partners will then pay the Venmo, being an advertiser in this case. The Company get commission for referring the customer.
As such, how does Venmo make money on each purchase made is then subject to the entire transaction volume as a whole.
Advertisements
CONTINUE READING BELOW
In addition to the above, Venmo also get extra income based on the contractual agreement that exist between Venmo and the partner.
So summing up the commission Venmo get per overall transaction made as Cashbacks and the payment its get per agreement, one will realize something compendium in the end.
6. Cryptocurrency Fees
Lastly, the incredible Venmo peer-to-peer payment gateway make money through cryptocurrency fees.
In a bid to generate extra revenue from its platform, Venmo introduced the option to buy and sell cryptocurrencies via its app in 2021.
Ever since then, Venmo users in the United States can do transaction in four different currencies without any limitations.
These currencies include Bitcoin, Bitcoin Cash, Ethereum, and Litecoin. These are the major game player in the crypto industry.
On this note, Venmo used an interesting method of generating revenue from its crypto products. This revenue model is called spread and transaction fees.
Advertisements
CONTINUE READING BELOW
In simple term, spread is the distinction between the actual market price received by Venmo from Paxos (its trading partner) as well as the exchange rate between the US dollars and the cryptocurrency asset that's displayed to the user.
Hence, the spread is very dependent on the market conditions to wits. That is to say, the strength of the Dollar.
On top of all that, Venmo still go as far as charging a transaction fee on every purchase or sale that occurred on its platform.
Nonetheless, the Venmo's transaction fees are wholly in accordance with what all famous cryptocurrency exchanges such as Binance or FTX charges.
Conclusion
Now that you understand that Venmo is a digital wallet that lets its prospective users transfer money between each other.
With all that has been said above, there's no any special enlightenment anywhere again other than what you've got here.
Advertisements
CONTINUE READING BELOW
And it is our humble believe that the question how does Venmo make money isn't longer a question to you.
Especially after we exhausted all the Venmo Business Model and revenue generation streams the Company uses.
If there's further question or clarification on how Venmo make money, feel free to use the comment box.
And don't forget to share this article with your friends and family. Remember, there's love in sharing!