UFC is becoming more and more popular with each passing year as fans from all around the globe eagerly tune in to watch some of the most ferocious and relentless fighters in the world battle it out with one another in the octagon.
Currently bantamweight is proving to be one of the most hotly contested weight classes, with a number of excellent fighters vying with one another for ultimate supremacy. In May all eyes will turn to UFC 288 where Aljamain Sterling and Henry Cejudo (both undefeated) will go head to head – the early UFC odds suggest Sterling is the slight favorite.
In this article we take a look ahead to that fight and also take a broader look at the UFC bantamweight division in general.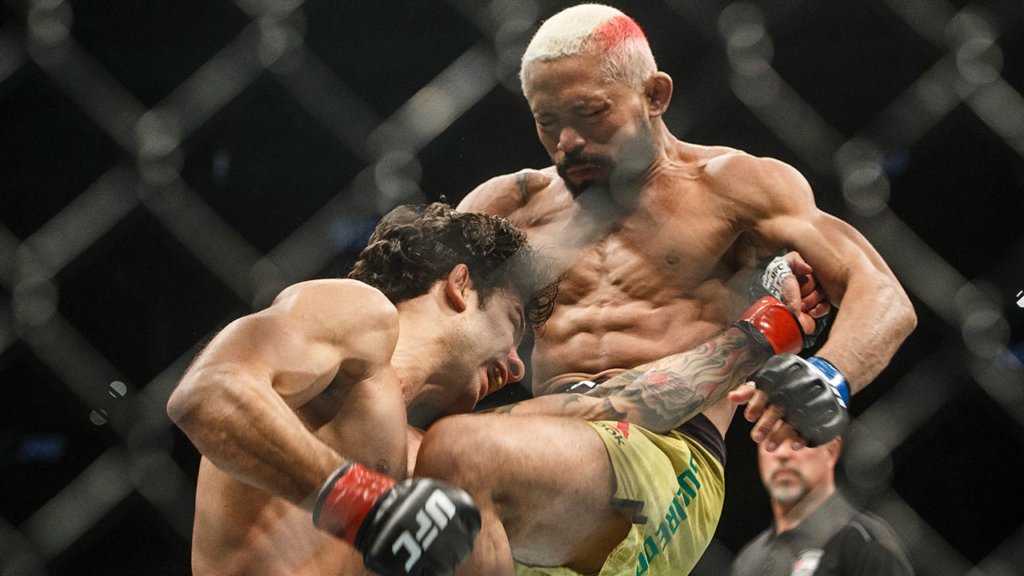 UFC 288 Aljamain Sterling vs Henry Cejudo
Advertisements
CONTINUE READING BELOW
This fight seemed to take an age to arrange but it is almost finally upon us, with reigning champion Sterling facing returning former two-division titleholder Cejudo. Who will win is a question that has had pundits and former fighters scratching their heads.
On paper, Sterling appears to be the technically superior fighter. In fact, an argument could be made that pound for pound, he is the best fighter in the UFC right now. That aside though, he does have his weaknesses, not being the best striker. But he does make up for that with his fight IQ and wrestling ability.
Likewise Henry Cejudo is an incredibly talented fighter and like his opponent excels in wrestling. The fighter that wins this game will have to overcome their opponent on the ground and if we were to pick a slight favourite in that regard it would be Aljamain Sterling.
Advertisements
CONTINUE READING BELOW
(Sterling vs Cejudo is one of the most hotly contested fights of the year.)
Beyond UFC 288
It's easy to get drawn into the hype ahead of a big fight and think that the two fighters calling each other out in the media are the only fighters in the UFC let alone the division, which is to do a disservice to the quality in the bantamweight division right now.
Petr Yan is a fighter who will be watching the action at UFC 288 with eager eyes, no doubt wanting to challenge the winner to face him next.
The 30-year-old who is known for his devastating striking and swift takedowns has a 16-5-0 record will be doubly motivated to get back to winning ways after losing out to Merab Dvalishvili on a contentious decision.
The Bantamweight Rankings
Advertisements
CONTINUE READING BELOW
Aljamain Sterling is obviously the number one when it comes to the bantamweight division, but who are the fighters just behind him in the rankings?
Merab Dvalishvili: As mentioned above, the man who beat Petr Yan by decision is currently second in the bantamweight rankings. In his last three fights he has beaten Yan, Jose Aldo and Marlon Moraes with the first two coming by decision and the latter by TKO.
(Merab Dvashvili making light work of Petr Yan.)
Marlon Vera: The 30-year-old Ecuadorian finds himself third in the bantamweight rankings after a spree of wins that saw him defeat Dominick Cruz by knockout, Rob Font by decision and Frankie Edgar by knockout. Later this month he will test his mettle against the ruthless Cory Sandhagen.
Advertisements
CONTINUE READING BELOW
Sean O'Malley: At just 28, Sean O'Malley still has a lot of fighting ahead of him but has already achieved so much. His last two victories have come against Petr Yan and Raulian Paiva. Currently O'Malley has yet to confirm who he will be fighting next but expect a big name as he seeks to stomp his authority on the division.
Upcoming Bantamweight Bouts For Your Diary
Now you know the main runners and riders in the division, let's have a look at some of the key fights that you should be putting in your diary.
Marlon Vera vs Cory Sandhagen
Briefly mentioned earlier, this is one of those fights that has seemingly flown under the radar but is an absolute must watch for anyone with an interest in UFC. It's not just a fight between two of the best fighters in the division but it's also a fight between two of the most explosive and entertaining fighters in the UFC.
Advertisements
CONTINUE READING BELOW
Adrian Yanez vs Rob Font
Talking of exciting fighters, what about Adrian Yanez? The 29-year-old Texan first leapt to fame on Dana White's Contender Series. Since then he has notched five straight wins in the octagon, violently finishing off four of his opponents with explosive strikes.
Against Rob Font he will get his long-awaited opportunity to prove that he is an elite level fighter, can he grasp that opportunity?
In Summary
The UFC is an exciting and captivating sport as it is, but in the bantamweight division that notches up to a whole new other level. There are elite level fighters with huge aspirations everywhere you look so why not take advantage of it and watch every fight you can?