Are you someone who loves going on a vacation or trip and staying in a hotel with all the amenities that give you an enthralling experience? If your answer is YES, then you are probably on the right page.
Because this article will give you the most luxurious, congenial, and stress-free stay with immaculate hostels in Dubai's capital city, ABU DHABI. Before we discuss further first let us discuss how we categorize hotels are luxury or not.
A luxury hotel is something that has all the facilities that you don't need any other services outside of what you have been provided with. Generally, a 4- star or 5- star hotel is considered a "luxury".
So, let us dive in and see what Abu Dhabi has in store for you for the fancy, exquisite "vacay". The best thing you can do is to use the best hotel booking apps to get the best offers on your stay in these luxurious hotels.
...........................
Here are the top hotels that you won't want to miss out on if you travel to the humungous city of Abu Dhabi.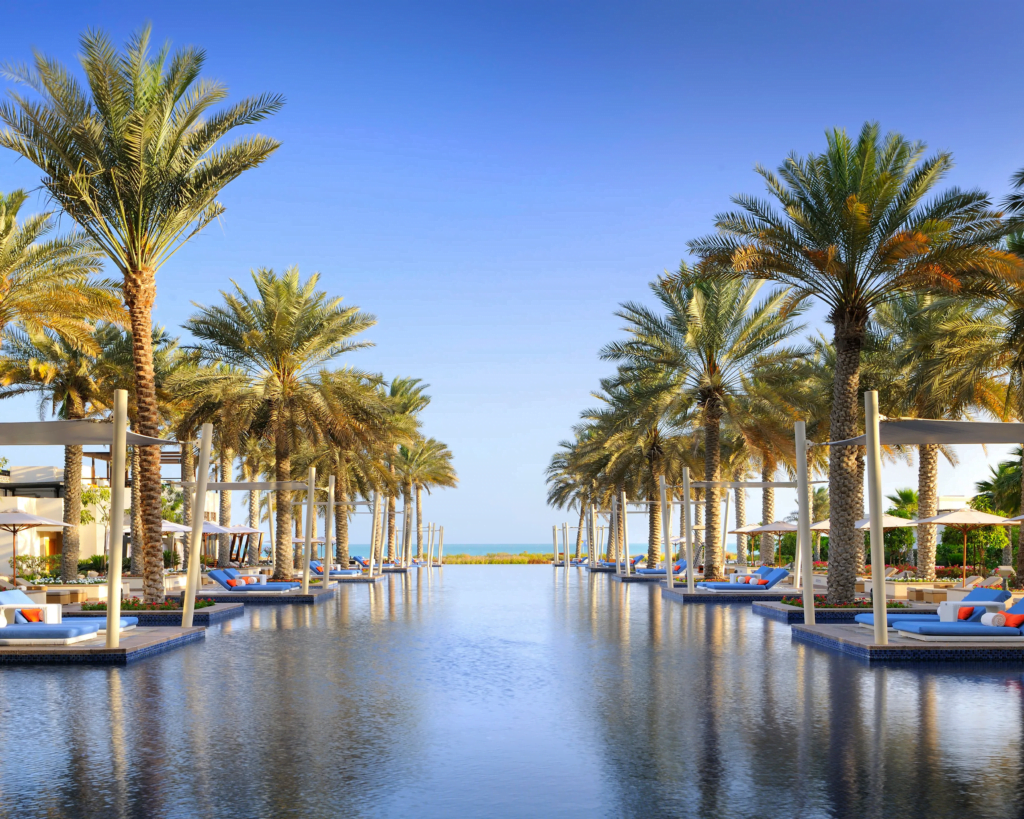 1. Conrad Abu Dhabi EithadTowers:-
If there is spectacularity among the best of your gourmet travel it is this place. With its marvelous view around the gulf state, this Conrad will be one's best choice.
When it comes to hospitality, it serves you with immense out-of-the-world services- exceptionally designed suites and residences. The dining facilities offer you 12 different restaurants and bars preparing you for the comestible world tours from Mexico to Argentina to Tokyo to Tuscany and whatnot.
Well, if you think this is it, it is not. A place is also an ideal place for conducting corporate meetings, exhibitions, etc. which makes it Abu Dhabi's largest conference faculty.
...........................
2. Anantara Desert island-
If vacations are something where you want to escape the harsh realities of life, then this is the right place for you. With the magnificent ocean view, this place provides tranquility and serendipity to one's soul and mind.
This also provides secluded villas for you to chill alone. The Anantara Spa is also an ideal place for you to relax. Situated on Yas Island, this place offers many social media influencers to campaign this over the top 5- star hotel.
Not only this, the wildlife sanctuary travel and various activities such as tennis, and swimming are a few other choices that you have.
3. W Abu Dhabi- Yas Island –
With free up-gradation of room, this also has other amenities to offer. The eye-popping architecture welcomes you with yet another striking feature. The oil- drop-shaped desks give you an idea of what this place has in store for you.
...........................
Every corner has something to offer with sophisticated and breathtaking views. Dine at Garage with the food gourmet and sumptuous food. Also, the hospitality provided is top-notch.
4. Fairmont Bab Al Bahr –
Set alongside a canal, Fairmont is considered the most spectacular tourist place with fancy architecture. The topnotch serene from this place is the ever-beautiful and stunning Sheik Zayed Grand mosque.
The other striking feature of this hotel is its waterfront private beach, fitness area and a cold spa tub. Well, how can we forget about the FOOD! The hotel has ample cuisines which you can enjoy on the terrace by the beach at Marco Pierre White house. The friendly, helpful staff is the cherry on the cake if one plants to visit.
...........................
5. Ritz Calton Abu Dhabi, Grand Canal –
Inspired by the Renaissance, the building of the hotel is an eye-soothing view. This 5- star luxury hotel has its private beach setting up yet another reason to book this place for your dream holiday.
Well, if you think that you will have to go to just one restaurant then you are probably wrong. Well, if I talk this grand staycation has 8 big restaurant that serves you millions of options on your plate.
6. Shangri La Qaryat Al Beri –
with its exquisite services, Shangri is the first choice of people when they say the luxury hotel and why not. This gives you all that you need for your fancy vacations. The furniture has that Arabic touch to it which signifies the Arab richness, elegancy and persona.
...........................
You can get a side view of the Arabian Gulf from the balcony or terrace of your room and this extinguish feature makes you want to stay here even more. The Spa is inspired by Asian cultures that give you natural tranquility from the hustle-bustle of life.
The warm and friendly staff always keep you in check if you need anything. What is best is you get time to try extra activities and clubs that makes your stay even more memorable.
7. Emirates palace –
This 5 – star exquisite Emirate palace is no less than a palace which gives the finest hospitality. Located on the side of the Arabian Gulf this has all that you need. Well, even if you don't want to stay, the entry to take a look at this beautiful structure is free of cost.
...........................
All travelers and tourists even if you can't afford should go and check this place out. If not now then when? The comfortable room and suites with room services and the best options on the menu give you a relaxing stay.
From the above list, I am sure one couldn't wait to experience all the fantasies of you living in the lavishing property of the Abu Dhabi hotels. From big celebrities like Jennifer Lopez, Kim Kardashian, and Kendall Jenner to Bollywood famous Ekta kapoor and Akshay Kumar and who doesn't want to stay in these "celebs go to place". Therefore, these hotels are the go-to stay hotels that everyone loves.
Abu Dhabi in its own is known for the great number of facilities and lavish living. These warming and kindly hotels, yet, make them stand away from the crowd. If you plan to go and visit the place, these lists give you the best of the hospitality and luxury at the same place. If you plan to visit Abu Dhabi, do not forget to take a look at the hotels.
...........................