Today, we shall be discussing the First Bank salary structure and also provide answers to some common questions like; How much does a First Bank staff earn? How much does First Bank of Nigeria pay their fresh graduate and entry-level and any further questions related to First Bank salary scale?
As the name implies, the First Bank of Nigeria (FBN) is one of the leading financial institutions in Nigeria. It was founded even before Nigeria got its independence and has ever since then performing brilliantly to stand the test of time.
Historically, the First Bank of Nigeria is a multi-national bank established in the year 1894. The bank is regarded as the oldest bank in Nigeria with over 750 business networks across the globe.
Working in First Bank will be a dream come through for many Nigerian students studying any finance-related courses. This is because the bank has the highest gross earning, biggest total deposits and it's also the largest retail bank with a client base in Nigeria.
Advertisements
CONTINUE READING BELOW
How Much Does A First Bank Staff Earn?
Knowing the basic salaries of the first bank is very important for any unemployed graduate with the hope of working for the leading financial institution in the country one day. This is in case you are there one day for an interview and you are asked 'What is your expected salary from First Bank of Nigeria?'
At this stage, giving your interviewers a reasonable amount will only scare them away but if you practically have no foundation about their salary structure, you might end up giving them a figure meant for the experienced personnel or amount that is too below your level.
For this reason and many others, take your time to study this First Bank of Nigeria (FBN) salary structure and get hold of how much they pay their staff every month.
Advertisements
CONTINUE READING BELOW
Related: How to become a hostess in Nigeria and how much they earn?
How Does A First Bank Graduate Trainee Earn?
Graduate trainees at First Bank of Nigeria will be giving four months of compulsory training towards knowing and understanding how the financial institution operates.
At the end of this 4 months training, all the trainees will be attached and send to different First Bank branches within the city for two weeks and upon completion of this training, the qualified trainees will be selected and the unsuccessful ones will be sent packing.
However, during this period, all the Graduate Trainees will be paid N40,000 monthly simultaneously for 4 months, such amount is meant for their transport as the bank is under obligation to feed them throughout the training session
How Much Does A First Bank Staff earn at Entry Leave?
Advertisements
CONTINUE READING BELOW
Being the first and leading financial institution in Nigeria, First Bank of Nigeria (FBN) as at the time of compiling this article, has one of the tempting and appealing salary structures for the Entry Level Staff i.e the fresh graduate.
That is to say, First bank pays the sum of 120,000 Naira to their staff at Entry Level without other bonuses, remunerations or profit-sharing. The profit-sharing is often carried out at the end of their financial year which does not have to be at the end of the calendar year.
What is the First Bank of Nigeria Salary Structure For The Contract Staff?
Usually, the Contract Staff at FBN are not direct staff of the bank, they are rather hired by the outsourcing companies hired by the First Bank. These Contracts Staff pay obeisance to all the laid down rules and regulations of First Bank of Nigeria.
Advertisements
CONTINUE READING BELOW
Just like any other staff of the bank, Contractual staff is also entitled to the compulsory monthly salary payment. While their salary scale varies, some Contract staff at First Bank earn N84,000 monthly and if estimated per annual, that will be N1,008,000.
You might also like: UBA salary structure: how much does a UBA staff earn (2021)
How Much Does A First Bank Loan Officer Earn?
The loan officers are the staff of the bank that are saddled with the responsibility of disbursing and retrieving loans. While this position is not allotted to anyhow staff, anybody to occupy this position must have work being in the bank for years to gain the necessary skill sets.
Thus, only an experienced staff with many years of uninterrupted service at the bank can take up this position and such person will be entitled to N 420,000 or thereabouts as monthly salary plus other bonuses that he's entitled to.
Advertisements
CONTINUE READING BELOW
How Much Does A First Bank Credit Analysts Earn?
Credit analysts are the senior and experienced staff and they are handsomely paid on every blessed month. Sometimes their salary is equal or close to what the manager earns.
This position, however, comes with a lot of work and responsibilities. All in all, a credit analyst at FBN earns between the range of N600, 00 to N720,000 worth of money as a monthly salary.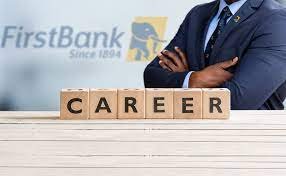 What is the First Bank Salary Structure For The Senior Banking Officers or Managers?
Senior banking officers at First Bank are often the managers and other positions above them. Their office comes with folds of responsibilities and not without huge benefits too. The senior banking staff, therefore, earn from the range of N500,00 to N1 million per month.
Advertisements
CONTINUE READING BELOW
What is more, a branch manager of FBN gets some bonuses apart from the salary. Bonuses like official car, house, travel expenses plus other petty bites from the company's end of financial year profit. That being said, a First Bank branch manager earns up to N920,000 as a salary every month.
How Much Do Assistant Managers Earn At First Bank of Nigeria?
Mostly, First Bank pays its assistant branch managers a monthly salary that falls in the range of ₦700,000 to ₦800,000, plus other allowances and remunerations that will surely come their way.
Also Read: Access Bank Salary Structure: How Much Does An Access Bank Staff Earn?
End Note.
While the whole analysis of the First Bank salary structure and the amount their staff earns are work and subject of research, we did not in any way say in precision or certainty that the figures are fact, correct, and actual as they can be changed (any time) at the discretion of the bank.
Advertisements
CONTINUE READING BELOW