To be honest, if you are not well acquainted with the cost of living in Nigeria — either as a family man or individual — one may end up accumulating debts upon debts.
Unlike before, while preparing for a budget for the month or the whole year, it's very important one put into consideration the cost of living in Nigeria.
That is, the average amount to be spent on food, housing, transportation, fueling, health, among others. This is very important now.
Whether you are going shopping or what have you, it is a good idea you have extra money on you if you don't want your plans to be ruined by unforeseen circumstances.
On this note, this article come in handy as it will vividly explain the cost of living in Nigeria right now as answered by Nigerian.
Advertisements
CONTINUE READING BELOW
Analysis of the cost of living in Nigeria
We will be discussing this topic under different subheadings for easy understanding.
But before then, note that Abuja and Lagos are the largest and most patronized urban places in Nigeria.
They are in fact two of the most expensive cities in the world. So it will be easier to cover some expenses in rural areas or small towns compare to them.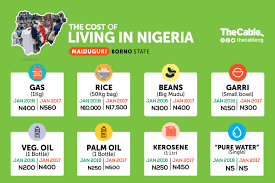 Cost of housing in Nigeria
The first thing to look into under the current cost of living in Nigeria is the cost of housing. Whether building one or renting.
Usually, the cost of housing in Nigeria depends largely on the area in which the housing property is situated.
The cost of renting an apartment in urban and prestigious centers is quite high, but you can save some money if you choose cheaper locations.
Advertisements
CONTINUE READING BELOW
But it all depends on your choice. That is, if you are looking for a luxurious house or just a modest apartment.
Renting a modest apartment in a city like Lagos, Abuja, Owerri, or Port Harcourt can cost you up to N1m and a bigger furnished one could cost N3m to N5m a year.
But if you will be renting a house in a small town or modest city like Ibadan, Ilorin, Osun, Kebbi, Sokoto, Onitsha, and the likes, you can spend as little as N150,000 to N200K.
Cost of transportation in Nigeria
Knowing the cost of transportation in Nigeria is also important in analysing the cost of living in Nigeria right now.
Generally, public transport is quite expensive in developed cities like Abuja, Lagos, and Port Harcourt and cheaper in rural areas.
But a any point in Nigeria, the cost of transportation largely depends on the rise or change in the oil prices as well as the exchange rate.
Advertisements
CONTINUE READING BELOW
A liter of petrol costs N175 and the average cost of public transport in small towns and cities is N100 – N200 per drop.
So if you'll be going for a monthly pass, you may have to budget N1000 – N20,000. An average taxi ride in major cities could costs N200 – N400/km.
Monthly cost of utilities in Nigeria
There are some basic utilities that are of necessities in one's life. An average Nigerian spend N9,000 – N20,000 per month to enjoy basic comfort.
These comforts include water, electricity, garbage disposal, cooling, heating, etc. Prepaid mobile tariff (for calling) costs about N15 – N30 for a minute.
On the other hand, internet data or subscription 60 Mbps or Gigabyte could costs about N1000 – N15,000 per month.
Advertisements
CONTINUE READING BELOW
Termly Cost of basic education in Nigeria
Of course, in every household there is a little kid or a child of an adolescent, and as such, it becomes very important to factor the cost of education too while calculating the cost of living in Nigeria.
You'll agree that education in private schools — whether in urban areas or rural area — is more expensive compare to the public institutions.
An average school fee for a child in a private primary school will cost N30,000 or thereabouts in urban centers. For international school, N45,000 – N2m.
In case you don't have that luxury, most public schools in Nigeria don't even ask for anything as school fees. The highest you can spend — including buying of books and uniforms — is N5000.
Cost of buying clothes in Nigeria
Advertisements
CONTINUE READING BELOW
Also, it's advisable we calculate the cost of buying clothes and other wears alongside food, shelter, education, etc., in other to have a peaceful life in Nigeria.
Now, a pair of jeans trousers is being sold for N3500 — N15,000 and a girl could get a summer dress for N7000 — N15,000,. depending on the material quality.
A pair of sneakers now costs N8000 -N25,000 and men's business shoes also could cost N10,000 – N40,000.
Cost for Personal care in Nigeria
Since human body is not a stone, health wanes and one need to be at alert for such circumstances. Hence, this form part of living well in Nigeria.
Medicines for the treatment of headaches, cold and catarrh (to be taken for 6 days) cost N2000 and antibiotics cost N1400.
Advertisements
CONTINUE READING BELOW
We shouldn't forget about personal hygiene and personal cleaningness. A box of pads (32 pieces) costs N1300 or more depending on the location.
A 50ml deodorant could cost N900, 400ml shampoo is about N1300, toilet paper (4 rolls) is N450 and toothpaste is N200 — N600 depending on the brand.
Most importantly, the average cost of men's haircut in a babar shop is about N400 — N1,200 depending on the area. Lady's hair can be plaited for N500 — N30,000.
Cost of foodstuffs in Nigeria
We can't give a definite, precise, and fixed amount of food items in Nigeria but we can give you a price that's is obtainable in some towns and cities like Ibadan, Ilorin, Sokoto, and Lagos.
As a result of the economic recession, many food stuffs have become more expensive. However, the following is the cost of food items in Nigeria.
Advertisements
CONTINUE READING BELOW
Bag of rice weighing 50kg – N29,000 – N40,500 (depending on the location)
A kilo of tomatoes – N400 – N1000
Box of iced fish – N10,000 – N19,000
Bag of onions – N18,000 – N20,000
A crate of egg – N1350 – N1,500
A bag of pepper – N25,000
5 liters of palm oil – N6,500
4 tubers of yam – N1500 – N4000
A carton of noodles – N3,500
1 kg of apples – N600 – N1200
1 kg of banana – N300 – N700
1 kg of oranges – N200 – N1000
1.5 liter of water – N100 – N200
Conclusion
From the above analysis, one can conveniently sit down and calculate the cost of living in Nigeria in other not to accumulate debts.
Advertisements
CONTINUE READING BELOW