Like we read entertainment and business blogs in Nigeria, it is also necessary that we have career blogs to read.
Career blogs are not only meant for new graduates or job seekers; they are also for people with established career paths.
It doesn't matter whether you are starting your career, looking for a career shift, or changing jobs, reading articles on career blogs can give you the deep insights and nudges you need to make a successful career move.
For example, on a career blog, you can find an article that exposes the common job interview questions and answers in Nigeria or one that talks about how to start a writing career, if that's your interest.
You can also find articles for self-education like Udacity courses for learning programming or ones for job opportunities like the best-paying jobs in the cyber security space.
...........................
A career blog is an online resource that can help you narrow down career options, build career development goals, and sometimes lead you to find a suitable job.
There are several career blogs online, all with useful advice to help you succeed. You will find some career blogs that belong to job search sites and some others that are standalone blogs. Hence, it can be overwhelming to decide which one resonates with you more to become a favorite.
This is where we come in. We have prepared this article to help you out. It reveals the best career blogs to read in Nigeria. But before we go into the list, let's learn about what you should look out for when picking a career blog to become your favorite.
...........................
Discovering The Favourite Career Blogs to Read
When you come across any career blog, the first thing you notice is the unique style of writing and then the pattern of presentation.
You might discover that some blogs have just one writing style, while others have more than one writing style because different writers publish articles on the blog. But the number of writing styles is not what you should look at.
So, what should you look at?
One, do they use too many high-sounding words in their writing that it is difficult to understand their articles? Also, does the article deliver what was promised in the headline?
If a career blog checks these two boxes, you can make it your favorite read. It shouldn't matter if articles were written by various writers or not.
...........................
Next is the pattern of presentation. When we say the pattern of presentation, we are not referring to whether or not the articles are organized in alphabetical order or properly labeled with tags. What we mean is that articles are written to portray the career development model. Career blogs with articles that capture the stages of career development and offer their readers a complete career diet.
For a better understanding, let's define a career development model.
The Career Development Model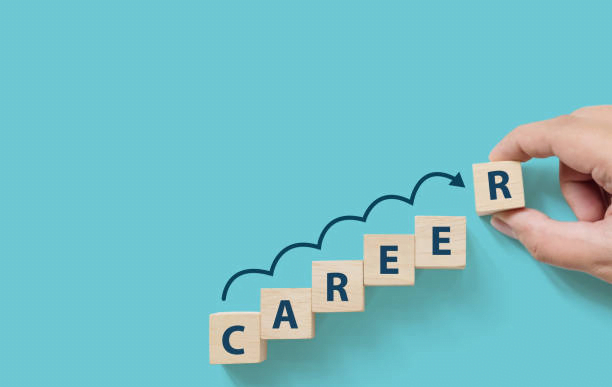 According to a study conducted by Simmons University, a career development model is a 5-step comprehensive framework that helps with assessing skills and developing learning outcomes that demonstrate self-awareness, career paths, and academic and career opportunities. In a nutshell, it is a holistic structure that helps with the career decision-making process.
...........................
So what does this suggest?
It suggests that for a career blog to be your favorite, it should have helpful articles that speak to various readers at different career levels. You may find articles on lifestyle or success stories to motivate you once in a while. But different articles should mirror the different stages in the career development model.
The stages are:
1. The evaluation stage
A career blog should have articles that can inspire you to learn about yourself. Why is this necessary? Because once you learn about yourself, you will begin to identify your values, your interests, your skills, and your unique characteristics. Then, you'll be able to tell what you need to start a suitable career.
2. The investigation stage
A career blog should contain articles that will help you investigate different options and choose the best one for you. You should be able to get information on various fields to compare, and numerous available opportunities tied to a particular career path you can explore.
...........................
3. The planning stage
A career blog should have articles that can help readers develop a career action plan that would enable and prepare them to do any of the following: start a career; maintain a career; or transition into another career.
4. The implementation stage
A career blog should have articles that speak to the area of improvement. There should be articles on different topics explaining what readers can do to advance in their chosen field and how to achieve their objectives most effectively. These topics are necessary to motivate readers to reach the pinnacle of their careers.
5. The decision-making stage
A career blog should contain articles that help readers evaluate their career readiness. Articles that give insight into the professional development skills required for success and other practical aspects of life that are instrumental in choosing a career can assist readers to make an informed and meaningful career choice.
...........................
Best Career Blogs to Read in Nigeria
So now that you know what to expect from a favorite career blog, let's see the list of the best career blogs to read in Nigeria that we have carefully put together.
AtlanticRide.com is a career blog that provides business and career advice. It is one of the best career blogs to read in Nigeria because it features numerous articles that are invaluable in assisting readers from all educational and cultural backgrounds to find career solutions from multiple perspectives.
Whether you are looking to start a career or trying to advance in one, you'll get useful information that will propel you in the right direction.
Perhaps you want to start a business or you intend to migrate abroad to expand your horizons. In this blog, you'll get to know the facts and the requirements to make it work.
...........................
AtlanticRide publishes articles on the most recent developments in business, career, insight, personal growth, and travel.
2. MyJobMag Blog
Remember, we mentioned that some job search sites have blogs, this was one of the blogs we were talking about. It is a blog that was borne out of the need to coach job seekers on how to win the hearts of their prospective employers.
MyjobMag has been in the business of assisting individuals with job searches for many years, so you will agree that they must have seen what so many of us aren't doing right. They are quite the career professionals to turn to when in search of job advice.
MyJobMag Blog is a career advice blog that provides a variety of interview tips, career advice, career resources, and much more.
...........................
Reading JobMag will allow you to discover the most recent career advice, job advice, job search advice, workplace insights and issues, and scholarship opportunities.
3. New balance blog
This career blog has a mission to assist readers in creating a work-life balance.
The New Balance blog is a career blog where you can get tips on how to balance your professional and personal life as well as get key career advice to land your dream job.
Their articles zoom in to focus on the talents and expertise job seekers ought to have while providing strategic guidelines on how to improve work life and personal life practically.
It is the career blog for one of Nigeria's job boards, Newbalancejobs.com. Newbalance jobs.com is one of the job sites where individuals can get the most recent job updates in Nigeria, vacancies and career opportunities.
...........................
3. Delon Jobs blog
This is another career that belongs to a job search site, this time, Delon Jobs. It is one of the best career blogs to read in Nigeria because of the educational articles you can find there.
The articles do not only satisfy a wide range of readers in Nigeria, but they also cover crucial topics that speak to the experience that comes with migration. Like AtlanticRide, they publish articles on recruitment abroad, how to get high-paying jobs abroad, and many more.
For the audience looking to build a career in the nation, there are articles on how to find jobs in Nigeria; how to prepare for interviews; how to advance your career; and how to start a business in Nigeria, if that is what you want to do.
...........................
4. CareerLife Nigeria
If you want to be successful but need a little motivation to move on, this blog would be a good choice for you. The blog has a narrative style that ropes you in and takes you on an impactful journey through words, so you can believe you can do it too.
In this blog, you will find fantastic career advice on mostly HR and business-related topics. So if you want to know the secrets to a successful business, or HR secrets, you should read this blog.
5. Job Gurus Blog
The Job Gurus blog is another career blog you would love to read. It is the blog for the job search site, Job guru. Like other of its counterparts, it provides the most up-to-date career advice, tips, and scholarship opportunities.
...........................
Conclusion
Our top recommendations are all of them. Which would you start with?