If you enjoy spending your time outdoors in nature and having fun adventures, Utah might be the place for you. If you decide to spend some time in this beautiful state, visiting mesmerizing cultural sights like the Arches National Park and the Bryce Canyon will be just the tip of the iceberg.
However, if you're looking at Utah as an option to settle down permanently, you'll want to explore it a bit further. Make sure to see whether it checks all the boxes before you make any bigger decisions. Check out the best neighborhoods and places to live in Utah in this article if you are considering this option.
You'd be surprised at the rich and unique character Utah offers. Although it has a pretty cohesive vibe throughout, all the different neighborhoods have their own quirks. Finding the one that suits you will be something that makes or breaks your experience with Utah. Here's some info that'll help you decide if and where you want to visit or even move to.
Advertisements
CONTINUE READING BELOW
Utah – why move there?
Generally speaking, Utah is a great state to live in. However, if you're not familiar with its advantages yet, we've come up with a list that should be of help.
Housing prices and living costs
The housing prices and the living costs in most places in Utah are pretty affordable. Of course, these things vary, and you need to do your research before making a choice.
Education
In most areas of the country, educational opportunities are excellent, especially when it comes to the lower levels of education.
Safety
With some urban exceptions, Utah has a pretty sweet track record when it comes to safety.
Climate
The climate in Utah is very dry, which most of its residents find highly beneficial.
People
Especially in the smaller neighborhoods and areas of the country, the people tend to be very welcoming and warm to new neighbors.
Long-distance moving to Utah
Advertisements
CONTINUE READING BELOW
If you opt for some of these neighborhoods and places in Utah, you'll need to relocate. Especially when it comes to long-distance moving, there's quite a bit of work involved. Hiring a moving company to help you with relocation from other cities in Utah is really important, if not necessary. Make sure to look for reliable movers ready to take on a project as big as this one.
The best cities in Utah
As you're probably already aware, Utah has many incredible cities to choose from. Here are some of the top choices.
1. Salt Lake City
Of course, the number one spot has to go to the one and only Salt Lake City. It's probably the first thing that comes to mind when you hear Utah.
Advertisements
CONTINUE READING BELOW
Both when it comes to culture and business, Salt Lake City is, without doubt, the best that Utah has to offer. The rich history of this place is evident through its architecture.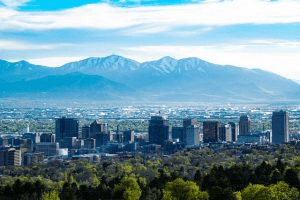 Of course, this isn't the only thing that the city has to offer. There are many other qualities that you'll experience if you choose to relocate here. It's very inclusive and has progressive views on most subjects.
You'll also have no trouble finding work and, even though housing isn't very affordable, it's still not as expensive as in other cities of the same caliber. Whether you decide to live in the city center and experience all the business or retreat to one of its suburbs, the chances are that you won't be disappointed.
2. Logan
If you're a student looking to relocate or a parent who wants their kids to have a great college near their home, Logan might be the best option. However, the fact that Utah State University is located here is hardly the only great thing about the city. Everything from the mesmerizing nature to the small-town charm will make you want to stay here and never leave the place.
Advertisements
CONTINUE READING BELOW
You'll also be able to go for swims and hikes during the summer, as well as practice different snow sports during the winter. If you're a sociable person, you'll be happy to know that the city's population is steadily growing due to its affordable prices.
Another feature that's great for some and not as desirable for others is that it's pretty secluded. Still, if you're looking for a place for developing your business, you'll have quite a few opportunities thrown your way.
3. Park City
Park City is a tiny place of 7,963 people and a great soul. It belongs to Summit County and makes for an excellent place for life.
When it comes to the costs in this area, they're neither here nor there. Although renting is more expensive than owning in the grand scheme of things, many choose to do it. Park City is a pretty great spot if you're looking to build your career since it has such a small population.
Advertisements
CONTINUE READING BELOW
However, if you're looking at the neighborhoods and places to live in Utah for a short-term change of pace, you won't be disappointed either. It offers two fantastic ski resorts, the magical Park City Mountain and Deer Valley, that you can enjoy during any season. These attractions are only a few of the many things that tourists love about Park City.
4. Fruit Heights
If you're not a fan of Park City, you'll surely love its polar opposite – Fruit Heights. When it comes to affordability, this city is undoubtedly more affordable than the previous one. Since the average home price is $317,800, many of its residents are lucky to be homeowners.
The market is, as you probably would've guessed it, quite competitive. If you decide to sell your house and relocate here, ensure that you're doing so once you've found your future home.
Advertisements
CONTINUE READING BELOW
If you're raising a family, the schooling system is probably a pretty important factor when looking for a place to call home. However, with Fruit Heights, there's nothing to worry about. Education opportunities are plentiful. If you're looking for a rural feel but a place that still offers personal and professional growth possibilities, don't miss out on this one.
5. Kaysville
If you're looking for something that's in close vicinity to Salt Lake City but not as crowded and wild, check out Kaysville. It has some of the best neighborhoods in Utah. It's an excellent place for those that have found work in Salt Lake City but don't wish to spend all their time there.
The community here is very close-knit, and the people are great and very friendly. Many families live here, too, if this piece of information is something that'll make or break your decision.
Advertisements
CONTINUE READING BELOW
There's no lack of fun activities in Kaysville. Although it's a pretty quiet place, you can get to Lagoon (a great amusement park) in no time or Cherry Hill, a great center that's more suitable for families. The average rent price goes down to as little as $759, and you should have no trouble finding a place to settle down in.
6. North Logan
Cache County, located in the Wasatch Front, has a great city called North Logan. If you'd rather rent than purchase a home, for the time being, this might be the place to do so. Just like Kaysville, it offers excellent and affordable options.
The average rent is around $864, which is impressive compared to the closer neighborhoods and the national average. The community is very tight, and the people are brought together by faith.
Advertisements
CONTINUE READING BELOW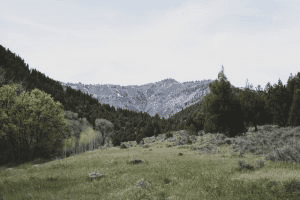 The best neighborhoods in Utah
Of course, living in a beautiful city is great; however, choosing the exact neighborhood you want to spend your time in is important too.
1. Greater Avenues
Firstly, there's something we need to get out of the way when it comes to Greater Avenues; its crime statistics aren't great. Taking its vicinity to Salt Lake City into consideration, not many people are surprised.
However, the people that live here have taken action to fix this problem. The very active and involved police patrols do their best to keep everyone safe and significantly improve the situation.
Let's move on to why this city belongs on our "best neighborhoods and places to live in Utah" list. The economy has a lot to do with it. Especially if you're in the tech business, you'll have great chances for success because of the economy that's on an all-time rise. Also, there are many great restaurants, coffee shops, and bars you would surely enjoy.
Advertisements
CONTINUE READING BELOW
2. East Bench
Another great Salt Lake City neighborhood that you should check out is East Bench. It's a suburb with a sumptuous peaceful family feel. If you're relocating with your little ones, you'll be happy to know that this neighborhood is home to the Hogle Zoo. If you and your children love animals, you'll adore this place.
When it comes to the costs, they aren't very consistent thorough the neighborhood. Although some would view this as a flaw, it can actually be a positive thing. You'll have better chances to negotiate a more affordable price if not all homes abide by the same standards. Depending on what you're after, you could get a pretty great deal.
3. Yalecrest
Yalecrest is a great little residential neighborhood in Utah with 29,213 residents. Although it's small, it's a true favorite for many people. It offers more than just a wonderful neighborly feel. You'll find that it has excellent schools, a very low crime rate, and housing that's nowhere near as pricy as its surrounding areas.
Advertisements
CONTINUE READING BELOW
If you're not looking to purchase a property yet but wish to experience what living in Utah is like, there are very affordable renting opportunities here. The average rent varies at about $759, which is very low for Utah. Once you're ready to take on the next step and purchase a home, you will be happy to know that the price averages $275,700.
4. Wasatch Hollow
If you head south from the previously mentioned neighborhood, you'll run into Wasatch Hollow. It's a great little suburb that many deem the best community in the area. You'd probably be surprised to know that this neighborhood is overflowing with younger generations which isn't that typical for suburbs.
However, the people that are planning to purchase their first houses and start a family consider this place a great opportunity.
Advertisements
CONTINUE READING BELOW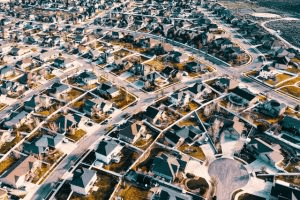 Most of the properties it offers are outstanding and unique to the neighborhood. If you're looking for an authentic American tv-show-like suburb, this is as close as you'll get. The average price is $353,200, which isn't too bad compared to some other neighborhoods.
Make sure to choose wisely out of the neighborhoods and places to live in Utah
If you've never been there before, choosing between all the places to live in Utah is a huge and tough decision. You should always explore it virtually first if that's available to you. However, even though this option is great, nothing beats the real deal. Make sure to set some time aside to visit and explore the place you're considering making your home. Although it's a bit of a hassle, especially if you live far away, it'll be worth it in the end.
Advertisements
CONTINUE READING BELOW
Have some fun
No matter which one of the neighborhoods and places to live in Utah you end up choosing, you'll surely make the right decision. Many people tend to get caught up in all the clamor of relocating and starting their lives from scratch that they forget to have fun.
Although it's a cliche, stopping to smell the roses every once in a while will bring you some peace and remind you of why you've moved here in the first place. Luckily, there are so many great places to choose from that you're bound to have a lifetime's worth of new experiences.