Before delving into the best places to live in Sweden, it's important to state that Sweden is ranked as the 9th Best Country in the world by USnews.
This ranking was based on its high marks scooped for its quality of life, tackling of social issues, enticing business environment, etc.
In Sweden, over 10.2 million people have access to free and high-quality education, security, health care, and host of other social amenities.
The country is also on top of the list for expatriates that are searching for a greener pasture in a new country.
In Sweden, expats enjoy a better work-life-balance, quality and high standard of living, flexible work culture, and many more.
If you are worried about language, it is convenient to say that Swedes derive pleasure in speaking English comfortably as their second language.
Advertisements
CONTINUE READING BELOW
12 best places to live in Sweden for Expatriates
Without further delay, we will be considering the best cities and towns to live in Sweden as an expat putting many things into consideration.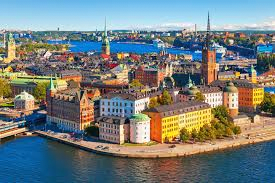 Let's get started…!
1. Stockholm
You'll agree with me that Stockholm is one of the best places to live in Sweden without any prejudice, being the State capital.
Stockholm has an amazing aerial view with tons of brightly coloured and peerlessly shaped buildings that are surrounded by water.
Being the country's capital, Stockholm is located on the east coast of Sweden with 1.5 million inhabiting there. It is a great place for immigrants to start a new life.
Lastly, Stockholm has a friendly climate and it is one of the cleanest cities in the world. It is a home to major tech companies and probably the new "Silicone Valley of Europe".
Advertisements
CONTINUE READING BELOW
2. Gothenburg
The Gothenburg is another interesting place to live in Sweden. It is located on the west coast of the country with over 600 thousand residents.
Being a diverse city, the majority of Gothenburg population has a foreign background. And yet, discrimination isn't there thing.
More so, Gothenburg had the largest port in Scandinavian and also has the major transportation hub for goods.
As an expat who loves art, Gothenburg offers a very nice recreation, amazing culture, and arts lifestyle that is similar to Stockholm.
Economically, it has a blue-collar history although the white-collar in technology and finances keeps growing on a daily basis.
3. Malmo
Next on the list is Malmo. It is located on the southwestern coast of Sweden and it's the third-largest city in the country with over 316K residents.
The beautiful city of Malmo is about 400 miles south of Stockholm and as such, giving it a less snow cover with a warmer temperature.
Advertisements
CONTINUE READING BELOW
Although the shipping industry in Malmo is not as active as it was before but yet, it still remains a crucial transportation connection.
Through the Malmo port, one can easily cross to Copenhagen, Norway, and it can be reached by relatively crossing a new 10-mile bridge.
In addition, Blue-collar construction and transportation jobs remain common in Malmo, but the city is also growing fast tech industry.
In fact, Malmo is made popular because it's where the headquarters of IKEA is located.
On estimation, approximately 7 new companies began operation there everyday. The city offers arts, recreation, culture, and lifestyle similar too.
4. Uppsala
Are you looking for the best places to live in Sweden to start a new life? If yes, then go to Uppsala.
Uppsala is an amazing city with over 160K residents. It is located just 45 miles north of Stockholm.
Advertisements
CONTINUE READING BELOW
Being a religious city, Uppsala is the seat of the Church of Sweden. It is also a home to the oldest university in Scandinavia.
The Uppsala University was founded in 1477, and it was the first of its kind in that part of the world.
The historic quarter of the Uppsala lies on its west side and that's where the Church of Sweden lies, the Oldest University, and the museums.
While the east side of Uppsala is the modern residential and commercial quarter of the city.
Most importantly, the city of Uppsala is a leader in biotechnology, and many residents use 40-minute train ride down to Stockholm for work.
Essentially, rental prices in the historical city of Uppsala are more affordable compare to the rents in Chicago.
And it is more affordable than the prices in Stockholm and this explains why many people live in Uppsala when their place of work is in the capital.
Advertisements
CONTINUE READING BELOW
If you'll be working there as expat, the available salary after-tax in Uppsala is $3,000 per month, which is something manageable.
5. Vasteras
More so, Vasteras is another better place to live in Sweden. The town has over 128K residents and it is located in about 60 miles to the west of the capital city.
Vasteras is located towards the magnificent geographic center of Sweden and it's connected to the Baltic Sea through Lake Malaran.
Without any iota of doubt, Vasteras was initially founded as a Viking settlement and it is one of the oldest cities in Sweden.
As a matter of fact, in the old quarters of the town, you will see ancient Wells, Viking burial mounds, and an old church.
Industrially, Vasteras is basically an industrious city with folds of companies producing lithium-ion batteries and high-voltage power grids parts.
Advertisements
CONTINUE READING BELOW
Additionally, the city produces nuclear fuel too and nuclear power plants associated parts.
The Sweden's largest heat or power plant is situated in Vasteras and costs of living there is a bit high although still affordable.
6. Orebro
Living in Orebro, Sweden as an immigrant who is searching for a greener pasture isn't bad either. It's one of the country's commercial hubs.
This particular town is famously known ad "Robot Valley." This is because it is the home to the many world-leading robotic companies.
Orebro has over 120K residents and the town is located at about 60 miles further from the west of Vasteras connecting to the Baltic Sea through the Hjälmaren Lake.
Accordingly, the Orebro central location has made it a famous hub for transport shipping companies, and the repair of transport equipment.
Advertisements
CONTINUE READING BELOW
The town also has a fairly different economy with leading players in real estate, truck parts, livestock processing, banking, etc.
The rental prices in Orebro are affordable, the costs for utilities, food, and other common goods are equally within an average earner's limits.
The average salaries — after-tax — in Orebro are $3,100/month and the income-to-rent ratio is just 21%.
7. Linkoping
The Linkoping town, is located at about 125 miles southwest of Stockholm, towards the center of Sweden. And it has about 11k residents.
Linkoping is the home of the highly talked Church of Sweden cathedral, the Domkyrka.
In Linkoping, the major players in the commercial industry include Saab airplanes, Motorola, software companies, medical tech companies, Motorola, Toyota, etc.
Like Stockholm, Linkoping city also offers a nice recreation, arts, culture, and lifestyle. The cost of living is affordable.
Advertisements
CONTINUE READING BELOW
And the rental prices in Linkoping is affordable compare to Orebro. The weather and climatic condition there is favourable, too.
8. Helsingborg
The list of the best places to live in Sweden will not be completed without including Helsingborg.
The beautiful city of Helsingborg has 110K residents, and it is located in the southwest corner of Sweden, just about 40 miles drive to the north of Malmo.
Helsingborg is one of the oldest cities in Sweden, and the town can be traced back as far as the 1085.
Today, the city of Helsingborg is blended with modern commercial buildings and historic structures bringing out a domestic looking appearance.
There is a 600-year old medieval fortress sitting in the center of the city. The main pedestrian shopping street in Helsingborg is called Kullagatan.
This Kullagatan was the first and foremost pedestrian shopping street in the whole of Sweden. Classic, right?
Advertisements
CONTINUE READING BELOW
In the same vein, Helsingborg situated just about 2.5 miles from the coast of Denmark with ferries running 24-hours a day to canverss people between the two nations.
Major business organizations in Helsingborg include IKEA, Spectronic phones, Nicorette chewing gum, Online tailor store, Ramlösa mineral water, Zoegas coffee, etc.
The average salary structure — after-tax — salaries in Helsingborg is $3,100 and that is similar to what is obtainable in Uppsala, Orebro, and Linkoping.
9. Eskilstuna
Whether as a student, immigrant, or explorer, Eskilstuna is another beautiful town with beautiful sceneries in Sweden that you can live.
This beautiful town has over 107K residents who are living happily and it is located at about 70 miles west of Stockholm, across the Vasteras lake.
The city of Eskilstuna is home to large numbers of Finnish-speaking Swedes. Although there are English speaking Swedes there, too.
Advertisements
CONTINUE READING BELOW
Eskilstuna used to be the largest steel producing city in Sweden during the Industrial Revolution.
Today, the town is still as important as ever in industrial hub. Key business organizations include Volvo, Assa locks and keys, Outokumpu stainless company, etc.
What's more, Eskilstuna is a home to one of the largest hospitals in Scandinavia which housed about 3000 employees.
10. Jonkoping
Although Jonkoping is a town with amazing buildings, the place is not a major city in Sweden if you are looking for luxury.
The Jonkoping town is with 97K residents and it is located at about 80 miles south of Linkoping, southern tip of Lake Vattern.
This town is situated near the geographic center of Sweden, and at a natural crossroads for several trade routes by land or water.
Advertisements
CONTINUE READING BELOW
Historically, the location of Jonkoping has been so prized and it had been destroyed by the enemy forces on several occasions.
But today, the Jonkoping town has continues to be one of the major logistical centers of Nordic trade.
Several major business corporations like Elkjøp, IKEA, Electrolux, Husqvarna and the likes all have their central warehouses there.
The towm also has a very busy conventional center that organizes the largest eSports multiplayer event in the world.
Not only that, it also holds the largest convention and event dedicated to the industrial forestry.
11. Solna
In the recent years, the peaceful city of Solna has been voted as the best city to live in Sweden.
Thanks to its ever growing employment opportunities and its nearness to the capital city, Stockholm.
Solna has the lowest or one of the lowest corporate tax rates in the country and this has attracted tons industries over the years.
Advertisements
CONTINUE READING BELOW
As such, making its employment rates and job opportunities to be excellent. And remember, Stockholm is also an easy route.
Being located at the north of Stockholm, Solna has access to all the rivers, lakes, islands, and coastline making the area so beautiful for nature lovers.
More over, there are huge and amazing parks in the city, recreation centers, beaches, national park, excellent restaurants with great cuisines, etc.
So if you are searching for a serene and peaceful environment that comes with all the opportunities of living close to a capital city, then Solna is the place for you.
12. Umeå
Another great place to live in Sweden that will offer you a new life is Umeå. This town is very beautiful with favourable weather.
The Umeå town is popularly known as the regional center of Northern Sweden. If you love winter sports and dramatic landscape, then this the best place to live.
Advertisements
CONTINUE READING BELOW
Umeå is located at the far north of Stockholm, the place is always cold and very ideal for ice hockey, ice skating, skiing, snowboarding, etc.
In Umeå, there are not much light during the winter but the summer days often bring on beautiful spring couple with long hours of daylight.
The city is a home of history and culture with lots of museums and great restaurants there.
There are incredible schools there and there is a university located on the coast there.
The views of Umeå to the west bring om the Gulf Of Bothnia and the east views are lakes, mountains, rivers, and forests.
Conclusion
Expatriates keep moving down to Sweden because they are enjoying a better work-life-balance, quality and high standard of living, flexible work culture, and more.
Besides, there are amazing and great cities with peaceful existence in Sweden, but the above mentioned are the best places to live in Sweden to start a new life.
Advertisements
CONTINUE READING BELOW