Best Data Analysis Crash Course
Do you want to boost your career by becoming an expert in data analysis?
If you want to quantum leap your career by helping business leaders find answers to questions using data, this post will expose you to the best data analysis crash courses you can enroll in order to place yourself on a new and promising pedestal.
Quick note: If at times you use the term data analytics to solely represent analysis data, you are not the only one. Many people erroneously use the terms, data analysis, and data analytics interchangeably. While the two terms are closely related, there's a significant difference between them.
Data analytics is a term used to describe everything that happens in the complete management of data. It defines the science (concept) and art (practice) of all activities related to data.
These activities include:
Collection of data
Refining of data
Storing of data
Analyzing of data
Sharing of data
From the description above, what do you think data analysis is?
It is easy to deduce that data analysis is a subset of data analytics.
Data is only some facts and figures. In itself, it cannot help you understand the challenges facing an organization. As a result, the analysis of data is the bailout. Data analysis encapsulates cleaning, transforming, modeling, and questioning stored data in order to extract useful information like trends, patterns, and insights.
Why did we need to distinguish between these two terms?
The understanding that data analysis is found in the circumference of data analytics will help you comprehend what connection is between them and if you want to be proficient in data analysis, it will be a great move if you also familiarize yourself with the concept from the lens of data analytics.
Why? The reason is simple.
The output of data analytics is preferred to the output of mere data analysis.
For example, after an analysis is concluded, the information extracted will still be displayed in a table-like format or better still, in a spreadsheet. Presenting such a report to the decision-maker of a company is completely unprofessional because it is unappealing compared to data that has been transformed into bar charts, pie charts, histograms, dashboards, and other visualization elements. These visually-aided reports are easier for decision-makers to interact with.
The transformation and presentation of this report in an appealing format is an activity of data analytics.
You probably already know this, but I had to just go over it again.
Now that we are all clear, in no particular order, let's dive in immediately to check out the best data analysis crash courses.
The list consists of a blend of standalone data analysis courses and data analytics courses housing data analysis.
Best Data Analysis Crash Courses
1) Statistics/Data Analysis with SPSS: Descriptive Statistics
If a course is coming from the stable of Udemy, you can vouch for such.
Now, what's more, significant is that if a course ranks top of other courses on the same subject, then it is worth your consideration. Here are specific examples of top-ranking Udemy data analysis crash courses on SPSS to leap your career.
What we love about Udemy data analysis crash course
Udemy is actually very cheap and affordable, with their courses starting from $10. And I can confidently say that this is one of those times when cheap doesn't mean a bad thing because the courses that go for $10 are also just as good as those ones that go for $50. This I can attest to firsthand.
Another great thing about Udemy is that the courses you buy are yours for life and you also get lifetime updates. What does this mean? Say you bought an SPSS course on Udemy in 2015, you still have access to that course 10 years later. Given that the software gets an update every now and then, the instructors have to update these courses for a 2023 version to be able to sell them in 2023. So because you have lifetime access, you also have access to the 2023 update.
You can also be rest assured the courses you are getting are top quality. There is a rating system and a course with over 1000 buys and a 4.5 rating can be trusted.
What we don't love about Udemy courses
There isn't much not to love. But personally, Udemy course can last anywhere between 5 hours to 40 hours of quality class. Now, this means you have to actually dedicate some hours a week to be able to finish them in a month. While this is not necessarily a bad thing, some times I wished I could take a 30 mins course and get it over with.
Take for example this bestselling SPSS masterclass that has 24,058 students at the time of this writing with a 4.4/5 star review has 31 hours of on-demand video. This is an entire semester if you ask me.
2) Python Crash Course for Data Analysis
This course is on skillshare and it is central to all you need to hone your data analysis skill.
Why? Data analysis is the crux of the analytical effort of any business and Python is the ideal programming language for carrying out the required analysis
As a matter of fact, Python is one of the most extensively used programming languages for data analysis today.
The most effective approach to learning Python is to put what you've learned into practice and this course affords you the opportunity to do that.
According to the author – Jesper Dramsch, Ph.D., purchasing this course will give you free access to all of the resources included in it, including Python scripts, references, exercises, and more PDF content.
This course is a great resource and you'll be introduced to Python and data science in general. It is an intermediate course.
Loading data from files (e.g. Excel tables) and databases (e.g. SQL servers)
Data cleaning
Exploratory data analysis
Machine learning
Model validation and churn analysis
Data visualization and report generation
To get this course or even to review it a bit further, head over to Skillshare and purchase a subscription.
Yes, the thing about Skillshare is that they do subscriptions. As long you have a subscription, you'll have full access to all their course. So that even if you don't like the course you are currently taking, you can just stop it and switch over to the next one. This is one thing we majorly love about skillshare.
3) Data Analysis and Fundamental Statistics
If you are completely new to data analysis and you need to understand the basic concept and functions of data analysis, you may need to swiftly head over to Future Learn and take this course.
As at the time of writing this post, it has 525 people already enrolled.
Just to reemphasize, you don't need any prior knowledge before you are considered for this course. Only your zeal to transform any data to actionable insights is required of you.
By the time you are done with this course, your skillset will span through basic data analytics, general statistics and Excel.
In case you are wondering the exact topics you will cover, they include:
Introduction to data analytics
Processes and tools for data-driven decision-making
Introduction to fundamental statistics
Application of fundamental statistical techniques
Duration: 4 weeks
Weekly study: 4 hours
100% online
Price: $39/month
4) Data Analytics with Python and SQL, Udacity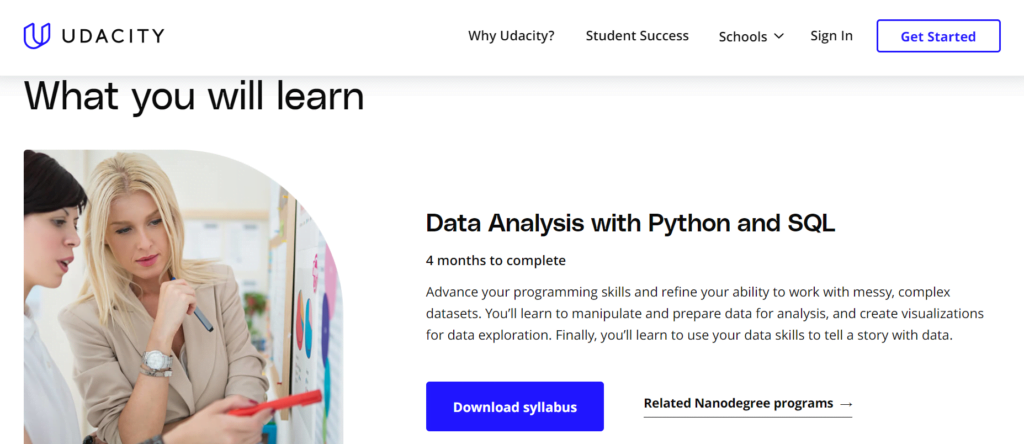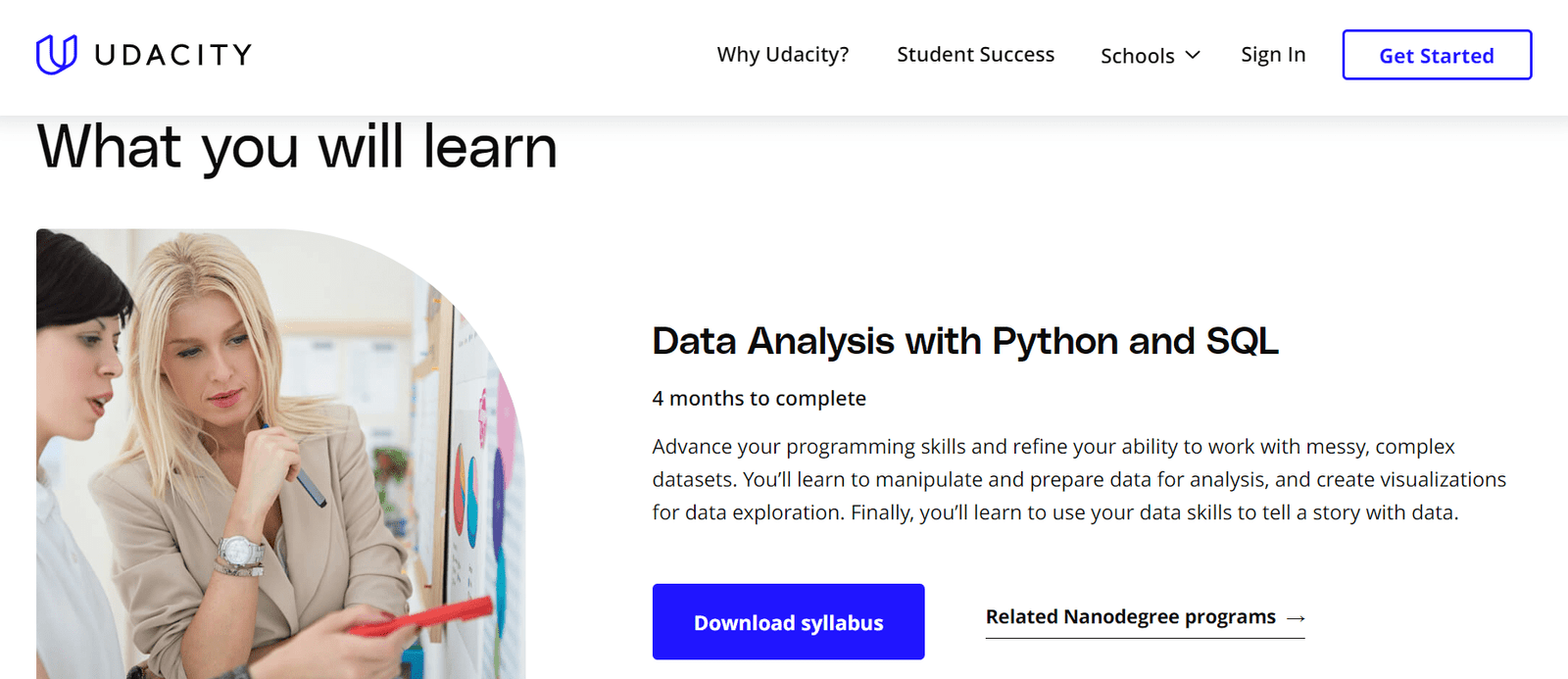 Now if you are looking for something more advanced like a nano degree, then let's head over to Udacity's Data Analysis with Python and SQL. This is a four-month program and you'll earn a nano degree at the end of the program and a fancy certificate to prove it.
Once completed, you'll improve your programming skill and your capacity to work with large, messy datasets. You'll learn how to edit and prepare data for analysis, as well as how to construct data visualizations. Finally, you'll learn how to tell a story with data using your data expertise.
There is a basic requirement before you can enroll in this course. In order to successfully complete the program, it is recommended that you have experience working with data in Python (specifically NumPy and Pandas) and SQL. This includes:
Python standard libraries
Working with data with Pandas and NumPy
Duration: 4 months at 10 hours a week
100% online
Price: $399/month or $1356 for 4 months
What we like about this Udacity data analysis crash course
First of all, this data analysis crash course is not like the rest of the ones on this list. It is a bit more advanced and if you take it, you can be rest assured of coming out with something these other guys wouldn't get. But again, it's not for everyone. You need to have prior knowledge of python standard libraries and should have at least worked with data with Pandas and NumPy.
So this is a course you should take after taking the other courses above or below.
5) Business and Data Analysis Skills by Fullbridge
In this course, you will learn business management skills, the methods, and tools for analyzing data and presenting the result in a professional way.
This course under Business & Management subject doesn't require you to have a prior experience. It is self-paced, career transforming, and exposes you to the use of Microsoft Excel.
Taking this course will also give you the opportunity to perform real world data analyses.
Among others, instructor Jim Pautz will teach you how to communicate different key metrics, how to visualize and communicate data with different descriptive charts and how to ascertain the best Microsoft Excel functions for different tasks.
Duration: estimated 3 weeks (3-4 hours per week)
Free – access lasts for just 5 days.
Paid – $149 for unlimited access
6) Learning Python for Data Analysis and Visualization
This one is slightly different in that it is for those who have basic to intermediate Python skills.
But in this course, you will be immersed fully into how you can program with Python and how you can use it to analyze data.
Plus, you will be exposed to how to use pandas to create and analyze data sets.
This course comprises:
21 hours of on-demand video
3 articles
4 downloadable resources
Certificate of completion etc.
7) Data Analysis Essentials Using Excel
Ranked 4.5 out of 5 and with about 53,255 students enrolled at the time of putting this information together, this course will help you learn the techniques of data analysis using just excel.
In this short course, you will learn how to use the right charts and you will be an expert in turning data into actionable business insights.
This simple to follow course does not require any prior experience. All you need to engage is just your PC or Mac and have the Microsoft Excel installed on it.
The details of this course include:
12 hours of on-demand video
8 articles
172 downloadable resources
Certificate of completion etc.
Final Thoughts
This post on the best data analysis crash course has exposed you to seven different options you can easily choose from. In this article also, we examined the difference between data analytics and data analysis and the almost unnoticed relationship that exists between them.
Once you are done with any of these courses, you can go ahead and showcase your development for your employers (or potential employers) to see. Impress them and make your dream – landing a new position or job – a reality.