It is relatively reasonable to conclude that the aviation industry in Nigeria is saturated. For this reason, the available airlines always contend for recognition as one of the best local airlines in Nigeria.
Traveling may not be a problem, but the assurance of safety begs for concern. If you are going on an air trip, you would not want to end up with an aviation service defined by unresponsiveness, unnecessary delays, faulty airplanes/helicopters, etc. To avoid experiencing such poor air travel services, you need the list of the best local airlines in Nigeria that offers the best of airline services.
We are saving you the cost and hassles of inquiring for the best Nigerian airline by releasing this airline compilation. Below are the top 7 airlines to consider for your air journey with safety assurance.
.........................
Also Read: Connecting Flights vs. Direct Flights, Which Is Cheaper?
Best Airlines in Nigeria
1. Air Peace
Your Peace, Our Goal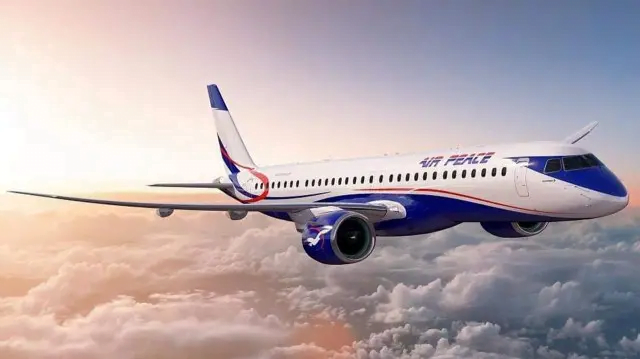 Founded in 2013, Air Peace is a privately owned Local airline in Nigeria. The company continues to repay Nigeria with excellent and worthwhile services, coupled with trust. Air Peace is an ambitious airline with a vision to propel the outlook of the Nigerian aviation industry. They have been able to establish a series of network options and seamless connections within Nigeria and the international level.
The Air Peace airline offers passenger and chartered services across the major cities of Nigeria at affordable rates. They can as well fly you to several West African locations and the Middle East. Moreover, every loyal customer is open to Air Peace's loyalty program, which is a form of appreciation. If you wish for a flight with efficiency coupled with affordability, then seek Air Peace.
.........................
2. Dana Air
The Smartest Way to Fly
Dana Air is simply one of the best local airlines in Nigeria. The airline is a private airline serving Nigeria since November 2008. They are a successful aviation company in terms of progressive development and providing a route network affording travelers with choice and convenience.
They show enormous commitments towards improving the overall experiences of customers in Nigeria. Dana Air is more than just an aviation service. They are inspired by competence, such that it elicits other competitors.
Dana is aware of your safety concerns and works towards preserving your safety. Several measures and techniques are always put in place to ensure that the general public enjoys safe air travels to the fullest Their mode of operation is compliant with the airline requirement worldwide. Also, they are the only Nigerian airline with a successful audit by the Nigeria Civil Aviation Authority Flight Safety Group.
.........................
3. Azman Air
Best Travel Experience Guaranteed
A fast-growing local airline in Nigeria founded in 2010, Azman Airit is a domination force in the Nigerian aviation industry. The vision of the company is to lead the Nigerian world-class airline. Admittedly, this vision is fast becoming dominant as Azman Air forces more into providing affordable air travel for residents in Nigeria.
Their customer service is responsive, and the customers are a priority for the company. Sincerely, Azman Air merits its position as one of the few best airlines in Nigeria. Their presence is enough to spur other aviation companies into providing better services in Nigeria's aviation. Furthermore, Azman Air thrives on setting new trends in the Nigerian aviation industry
Regarding safety, Azman employs a globally recognized standard of operation. They are a trusted airline in Nigeria, and the primary hub of Azman Air is the Mallam Aminu Kano International Airport.
.........................
Related Article: 7 Best Hotels in Abuja You don't Know About
4. Aero Contractors
The Reliable Way to Fly
The Aero Contractors is a giant among the best airlines in Nigeria. The services every traveler enjoys from this aviation service are well-refined and comforting. Aero Contractors is a state-owned airline with its headquarters in Lagos. Nonetheless, the Asset Management Corporation of Nigeria owns 60% of the Aero Contractors shares.
The airline covers up to 13 destinations in Nigeria with a decent number of fleets. Aero Contractors further provide several air services, including helicopter services, chartered flights, third part flight operations, and fixed wing domestic and international scheduled services. They may not be the leading airline, but no reason disputes the fact that they are a giant in Nigeria's aviation industry.
.........................
5. Arik Air
West Africa's Leading Airline
Arik was founded in 2002 but commenced operation in October 2006. They have since grown into an influential airline in Nigeria and West Africa at large. Over millions prefer Arik Air for their capable performances and efficiency in flying adventurers to their respective destinations.
Arik Air schedules your flight for comfort and convenience with commendable, world-class worldwide compliant safety measures. They offer domestic, regional, and international services to all classes of individuals. They also boast of a fleet size of 22 covering 16 destinations with headquarters in Ikeja, Lagos.
Kotoka International Airport is the secondary hub of the Arik Air aviation service. With a vision to propel the level of the Nigerian aviation higher, Arik Air is Indeed a unique airline in Nigeria. If you wish to earn miles while you fly, you may sign up for the Arik Affinity Wings.
.........................
Also Read: 15 Countries That Give Nigerians Citizenship Easily
6. Overland Airways
A Fast Growing Airway
Intending to increase the status of the Nigerian hinterland, Overland Airways qualifies as a respectable airline in Nigeria. They are a reputable aviation company flying all classes of individuals in Nigeria.
Overland Airways provides the 'Business Flyer' which is scheduled domestic flight services in Nigeria. They also offer chartered services within Nigeria and across West and Central Africa.
The aviation company commenced operation in 2002 under its parent company, Overland Airways Limited. They currently cover up to 10 destinations with a fleet size of 5. The headquarters situates in Lagos, and its central hub is the Murtala Muhammed International Airport, Abuja.
7. Med-View Airline
.........................
The Airline of Nigeria
Med-View Airline debuted Nigeria airways in 2007 but commenced flight operations in 2012. The airline is famous for the annual conveyance of the Hajj pilgrims between Nigeria and Saudi Arabia. Presently, Med-View Airline operates in not just Nigeria, but the whole of West Africa, Dubai, and London.
They are gradually rising to the peak of the limelight and are steadily overtaking several airlines in Nigeria. Med-View Airline is an airline with flexible air travel and that every individual or family seeks comforting air travel.
They currently boast of a fleet size of 5 with new fleets projected at a sooner time. They cover 13 destinations presently, and the Med-View Airline headquarters situates in Lagos, Nigeria. Furthermore, the Murtala Muhammed International Airport is their hub. You may want to take advantage of the electronic Blue Flyers Program that rewards for every flight.
.........................
Final Thought on the Best Airlines in Nigeria
Ultimately, the Nigerian aviation industry is commendable and occupied by worthy competitors. Be assured that any of the above aviation services you opt for would provide an incredible experience. Finally, it is advisable to properly prepare your car for long term storage before traveling. Otherwise, you might return to meet your car in an irreparable condition. Wherever you are visiting, endeavor to be vigilant and have a safe trip.