High mountains, deep jungles, desert lands, perennial rivers, extensive plains and plateaus — the topography of India is blessed with almost all the main topographical features! This unique characteristic of India is a reason enough for its rise as a hotspot for adventure tourism.
Trekking, biking, scuba diving, surfing, wildlife safari, bungee jumping, white water rafting, paragliding, skiing, hot air ballooning, desert camping, and a lot more adventure activities in India leave you spoilt for choices! No matter if you have just developed an interest in thrilling and exciting experiences or have always been a daredevil, book your flight tickets and leave for India because this is a country that disappoints none! Also, do check out our list of the best adventure activities in India and the places where you could enjoy them.
Advertisements
CONTINUE READING BELOW
Paragliding at Bir Billing: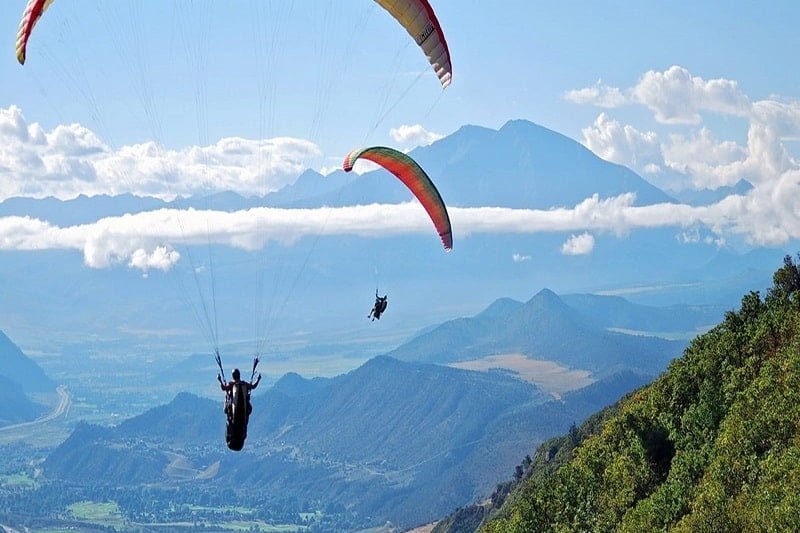 Who hasn't wished they had wings so they could fly freely like a bird across the blue skies? Forget about natural wings, you could still experience what it feels like to fly in the sky with paragliding! Up for this exciting free-flying experience? India boasts the second-best paragliding site in the world, i.e. Bir Billing.
Situated in the Kangra district of Himachal Pradesh, it is undoubtedly the best place to experience this adventure sport in India. If you are a first-timer, we recommend tandem paragliding. The bird's eye views of Himachal Pradesh's beautiful landscape make sure that your paragliding experience here stays forever cherishable!
Bungee Jumping in Rishikesh: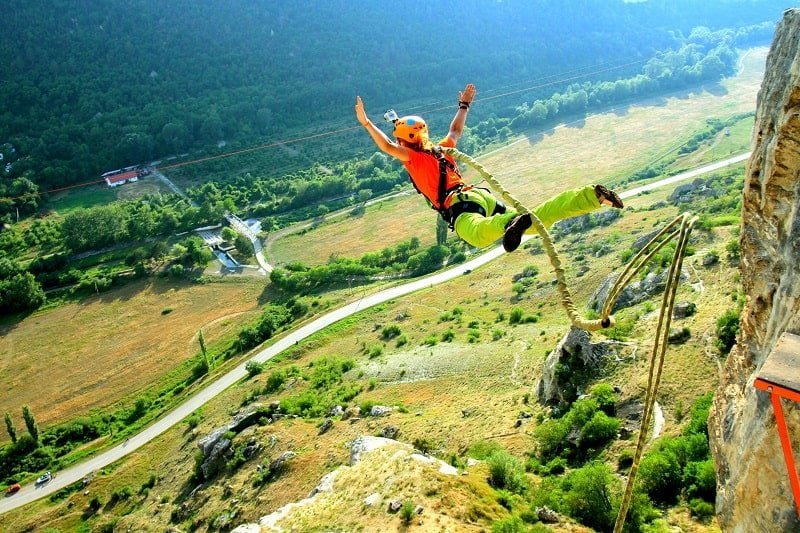 If you are someone who does not hold yourself back to give extreme adventures a shot, try bungee jumping (that is, if you haven't already). Rishikesh, the Adventure Capital of India, is one of the best places to visit for adventure activities in India. This place has the highest bungee jumping spot in India, where you'll be plunging from a fixed Cantilever platform under the guidance of professionals from New Zealand. Feel the sudden rush of adrenaline as you jump from a breathtaking height of 83 m, and enjoy the thrilling rebound in the air!
Advertisements
CONTINUE READING BELOW
Chadar Trek:
Chadar trek, one of the toughest treks in India, is surely going to test your physical and mental strength. This popular Himalayan winter trek requires you to cross the completely frozen Zanskar River braving the harsh temperature. But the majestic beauty of the snow-capped peaks, high passes, icy boulders, and mainly the frozen river that looks like a thick white blanket (chadar) inspires trekkers to take up this winter trek despite its high difficulty level. After all, the greater the challenge, the greater is the motivation for all adventure junkies!
Flyboarding in Goa:
Flyboarding, categorized under extreme water sport adventures, is an exhilarating experience you wouldn't want to miss. Take your water-based adventure activities in India a notch higher with flyboarding. Revel in the thrill of riding the flyboard (that is attached to a jet ski) high above the water, doing somersaults in the air, and diving back into the waters only to rise higher again! Goa is the best place to try your hand at this newest addition to the section of adventure water sport activities.
Advertisements
CONTINUE READING BELOW
White Water Rafting at Dandeli:
White water rafting at Dandeli in Karnataka gives you an experience of a lifetime if you are ready for the electrifying adventure that involves riding over the fiercely fast-flowing waters of the Kali River and crossing the rapids that literally skip your heartbeat for a second. Besides the thrill, you will also love the scenic beauty of the Dandeli rafting trail that passes through dense forests blessed with a great variety of species of plants, birds, and animals.
The River Ganga in Rishikesh, Subansiri River in Arunachal Pradesh, Mandovi River in Goa, and Beas River in Kullu Valley are also popular destinations for white water rafting in India.
Wildlife Safari in Gir National Park:
India offers scores of wonderful options for the best wildlife safari tour, an intriguing and adventurous ride that allows you to discover the unspoiled beauty of the forest trails, besides giving you a glimpse of the life of wild creatures in their natural habitats.
Advertisements
CONTINUE READING BELOW
Imagine coming face to face with a lion! No matter how brave you are, that particular moment sends chills down your spine! But being an adventurer, you don't want to give up, right? Go for a wildlife safari in Gujarat's Gir National Park, the royal kingdom of the rare Asiatic lions. This national park is also home to more than 300 species of birds, 2,000 species of insects, and 35 species of mammals and reptiles.
Skiing in Auli:
If you are planning your adventure tour in the country during the winter season, then skiing deserves a top spot in your bucket list of adventure activities in India. Auli, referred to as the Skiing capital of India, is the most favored destination among skiing enthusiasts, thanks to the perfect snow-covered mountain slopes fit for both novices & pro skiers, and the enchanting natural beauty surrounding the Auli slopes. January is the best month for skiing in Auli as this is the time when this Himalayan hill station receives maximum snowfall.
Advertisements
CONTINUE READING BELOW
Hot Air Ballooning in Jaipur:
Hot air balloon ride — a relatively safe yet greatly thrilling adventurous activity in which you'll be sailing in the air taking in the panoramic views of the ground below — has an aesthetic appeal to it. This dreamy ride in a hot air balloon offers great peace of mind as you soar further and further up in the sky, away from the chaos that we have created on Earth. You should give it a shot if adventures with a high-risk quotient are not your thing. The royal charm of Jaipur's landscape is perfect to be looked at, as you hover in the sky!
Apart from these, a few more fun-packed adventures you must not fail to add to your extensive list of adventure activities in India include snorkeling and scuba diving in the Andaman Islands, microlight flying in Bengaluru, caving in Meghalaya, mountain biking in Ladakh, camel safari in Rajasthan, and surfing in Kerala or Tamil Nadu.
Advertisements
CONTINUE READING BELOW