The scariest places in the world are places that are haunted, have a dark history, are abandoned, or have a dark story attached to them.
There are lots of scary places to visit all over the world that will give you the creeps. From closed mental hospitals to Renaissance castles with dungeons underground and abandoned towns, there are many reasons why these places will make your skin crawl.
These are some of the scariest places to visit around the world. If you dare, you can visit any of these haunted places and try not to jump when you hear something bumping in the night.
Also see: 20 Most Beautiful Places In Nigeria for a Vacation to Nigeria (Update 2022)
13 scariest places in the world
1. Island of the Dolls (Mexico)
Isla de las Muecas, or "Island of Dolls," is tucked away in the Xochimilco canals south of Mexico City. The creepy dolls that live there have made it a popular place for tourists to visit. Local legend says that the only person who lived on the island found a dead girl in the canal and a doll nearby.
.........................
He then started hanging dolls all over the island. There are now thousands of them hanging from the trees. It's not clear if he did it to show respect for the girl or to keep bad spirits away. The only way you can get to the island is by boat.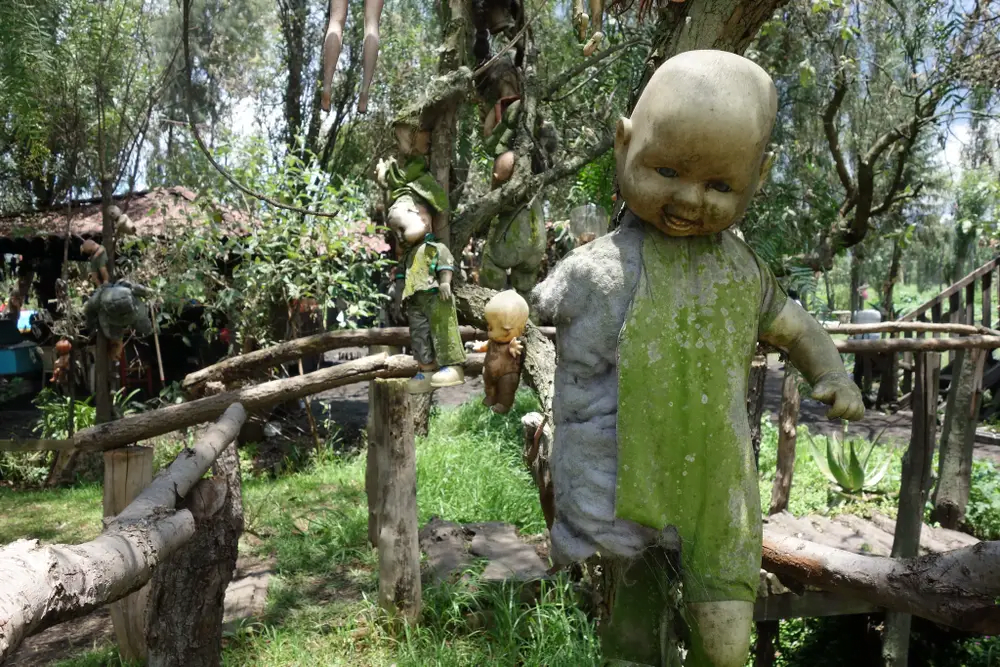 2. Hanging Coffins of Sagada (Sagada, Philippines)
There are cliff-side graves all over the world, and the Hanging Coffins of Sagada is just one example. People say that the tombs in the Philippines follow an old funeral tradition in which the dead are buried in coffins attached to rock faces or in caves in cliff faces.
Ancient Tang Dynasty writings say that where the coffins were put depended on the person's status. Other people say that the placements kept animals from getting to the bodies and didn't take up valuable farmland for burials, according to CNN.
Philippines Lifestyle says that the Sagada people have been doing these kinds of burials for more than 2,000 years and that some of the coffins are "well over a century old."
.........................
3. Aradale Asylum (Australia)
Eerie and unquestionably one of the scariest locations on Earth, Aradale Asylum in Victoria was a psychiatric facility built in the middle of the 19th century that formerly housed seriously mentally ill individuals.
Since it was built, the complex has been the scene of more than 10,000 fatalities. A significant portion of the recorded deaths was not caused by natural causes.
People who have seen paranormal activity here think that the location is home to the ghosts of people who died for unidentified reasons. The asylum is currently used as a polytechnic campus, nevertheless.
4. Aokigahara (Japan)
At the bottom of Mount Fuji in Japan sits the dense forest known as Aokigahara. This forest is the subject of many urban legends, and some people think it's haunted because of its tragic history as a suicide location. Aokigahara Forest has recently been in the headlines due to a contentious YouTube video posted by an American, but this forest has a much older history.
.........................
The Japanese frequently commit suicide in this unusual forest because it is so peaceful and devoid of fauna. And many Japanese are afraid to approach the forest because of the eerie silence (where you can hardly hear birds singing).
At the entrance to the forest, local officials have up signs warning against suicide. The placards included, "Think about your parents, siblings, and kids once more," and "Your life is something precious that was given to you by your parents."
The signs conclude with a hotline phone number in the hopes that the lost souls looking to die will contact them for assistance.
5. Sedlec Ossuary (Czech Republic)
The Sedlec Ossuary is not particularly impressive from the outside. It is a tiny chapel situated in Sedlec, a Czech town outside of Kutna Hora. You would assume it to be a typical old medieval gothic church until you step inside. The inside of the churches has human bone-based motifs.
The large bone chandelier that sits in the middle of the Church of Bones is one of the Sedlec Ossuary's most intriguing creative creations. Every human bone is present in the enormous chandelier.
.........................
Even though this place seems spooky, the story behind this house of bones isn't all that scary. In 1278 The abbot of Sedlec Cistercian monastery returned from Jerusalem with a jar of "holy soil" from Golgotha.
This led to more people requesting that they be buried at the Sedelec, which they believed to have become a holy place, and soon, the cemetery became full. After the Gothic church was built in the 15th century, its basement was used as an ossuary.
In 1870, Frantisek Rint, a woodcarver, was given the duty of arranging the bones in the Ossuary, and let's say he took creativity to the next level by designing what we know as the "church of bones" today.
6. Lome Bazaar (Togo)
The Lome bazaar, also known as the Akodessawa Voodoo Market, is certainly not your normal market. You'll probably never visit a market quite like it.
This market is well renowned for offering a wide range of goods. Everything you would need for a Voodoo ritual, including fetishes and charms, is available here. Locals that frequent the market do not come here for entertainment. They come here to visit the market's Voodoo priest or to purchase ingredients to solve a problem.
.........................
The stalls are filled with numerous animal carcasses, including monkeys, cats, crocodiles, bats, snakes, hedgehogs, birds, and chameleons. The practitioners think that anything, from diseases to curses, can be cured with products purchased from this market. In this market, one can even pay a voodoo priest a visit.
7. The North Yungas Road (Bolivia)
Nearly 300 people perish annually on the North Yungas Road, also called "the World's Most Dangerous Road". Drivers who begin their journeys on this road typically mumble a little prayer In order to ask their deity to keep them safe on the perilous 56-kilometer drive from La Paz to Coroico in the Bolivian Yungas.
The 64-kilometer South Yungas Road, which connects La Paz with Chulumani, is almost as dangerous as its northern cousin. The North Yungas Road begins in La Paz and climbs 15,260 feet before descending to 3,900 feet at Coroico. Even though it is so dangerous, this is the lone route linking La Paz to Yugas.
.........................
A deep abyss may be seen on one side of the road, and on the opposite side, 2,000-meter-high towering cliffs can be seen. A car that slightly loses balance on the narrow, around 10-foot-wide road cannot do a U-turn.
The North Yungas Road's notorious reputation may be enough to drive most people away, but for some, the spooky ride through the mountains is an adventure and fascination. To experience a rush of adrenaline like never before, approximately 25,000 adventurers have driven along this road since the 1990s, most often on bikes.
Today, a variety of tour companies offer equipment, infrastructure, guides, and maps to anyone looking for extreme thrills on the North Yungas Road.
8. Mirny Diamond Mine (Eastern Siberia, Russia)
Looking at this giant hole could give you chills, and flying over it may even be worse. Due to the size of the Mirny Mine, helicopters are not permitted to fly over it.
This is due to the air within deep holes becoming warmer due to Earth's heat. In the mine, turbulence is created when heated air rises and mixes with the cool air just above it. Any helicopter pilot who encounters a sudden temperature shift would notice that the chopper's rotors would no longer give as much lift.
.........................
The temperature shift would occur so quickly that the helicopter would lose height even if the pilot increased the rotor speed to compensate.
The mirny mine is currently the world's second-largest man-made hole, with a depth of 1,722 feet and a diameter of 3,900 feet. It was built in 1955 as a diamond mine and produced so many quality diamonds that were worth an estimated $13billions during its lifetime. The mine was closed in 2001; however, rumors have it that the mine is still operating secretly.
9. Pendle Hill (Lancashire, England)
Pendle Hill and the towns and villages nearby are a very entrancing region of Lancashire, most noted for its connections to the now infamous witch trials of 1612.
This historic hunting ground was originally home to wolves and wild boars and is still populated with small farms and hamlets. It is still a wild area, shrouded in mystery, and notorious for being the residence of the Pendle Witches, four women who were tried and killed for witchcraft in 1612.
.........................
Walkers and lovers of the countryside are welcome in the scenery that has been shaped by both man and nature. Long walks, such as the 43-mile Pendle Way and portions of the Bronte Way, combine history and beautiful landscape, and there are many rural inns and farmhouses to offer the most comfortable rest and refreshments along the way.
10. Hashima Island (Japan)
An abandoned island, devoid of people yet rich in history, is located around nine miles from Nagasaki. Hashima Island, which was previously the epicenter of submerged coal mining, served as a stark illustration of Japan's quick industrialization.
Hashima served as a coal facility from 1887 until 1974 and was also referred to as Gunkanjima (literally Battleship Island) due to its resemblance to a Japanese battleship.
The mines closed, and the workers left as soon as the coal reserves began to run out, and petroleum started to replace coal. Hashima Island was forgotten for almost three decades after that.
.........................
The decayed island, however, drew visitors interested in the unaltered medieval ruins as the concrete walls left behind crumbled and the vegetation grew.
During World War II, Chinese and Korean prisoners of war were put into forced labor as part of Japanese wartime mobilization efforts. Over 1,000 people are thought to have perished on the island between the 1930s and the end of the war due to unsafe working conditions, starvation, and weariness, leaving a dark history attached to this place.
11. Nagoro (Japan)
If you don't like the idea of an island full of broken doll parts, you might like the idea of a small town full of life-size dolls.
Nagoro is a small village in Japan with only about 30 people living there. But the village is full of human-sized dolls. About 350 dolls that look like scarecrows live there.
The dolls are made by a local artist named Tsukimi Ayano. She makes life-size figures to stand in for all the people who have moved away from Nagoro to bigger cities or died over the years.
.........................
The inanimate doppelgangers live in the town just like their human counterparts used to. They sit outside the shops, go to school, and fish by the river. Even though the dolls are meant to be sweet, some people who visit Nagoro say that seeing them everywhere is a little unsettling.
12. Catacombs of Paris (France)
In the 18th century, bones from overcrowded cemeteries were moved to this underground maze. It now holds the bones of about six million Parisians.
Visitors can go down 130 steps to cold tunnels and crypts filled with human bones. This is just a tiny part of the nearly 200 miles of haunted passageways that run under the streets of the city.
13. Antarctica
Darkness rules in Antarctica when the winter months draw nigh. From March to the middle of September, the sun never rises above the horizon, fierce blizzards can make it hard to see more than a few feet, and the temperature stays around or below -55 degrees.
If you don't die of cold on this southern continent, you could die of loneliness. Antarctica is the only continent on Earth where there are neither natives nor immigrants. Only scientists and people who like to try new things spend time in this cold, windy, and lonely place.
.........................
Final words
If you don't mind the dark and want to know where some of the scariest places in the world are, make that trip today and experience some skin-crawling adventure.