Are you a fun lover who craves adventure but not sure where to spend your next vacation? We are here to help you make that choice. Lying south of the equator, Tanzania is the biggest country in East Africa and a popular tourist destination because it is home to Africa's largest concentration of wildlife.
Getting a Tanzania visa is also slightly easier than you'd think, the people are nice and the country is beautiful. Also, with numerous adventurous spots that will blow your mind away, you are sure to have so much fun that you won't want your vacation to come to an end.
This blog post gives you a peek into some of the exciting places and activities you can engage in while in the country.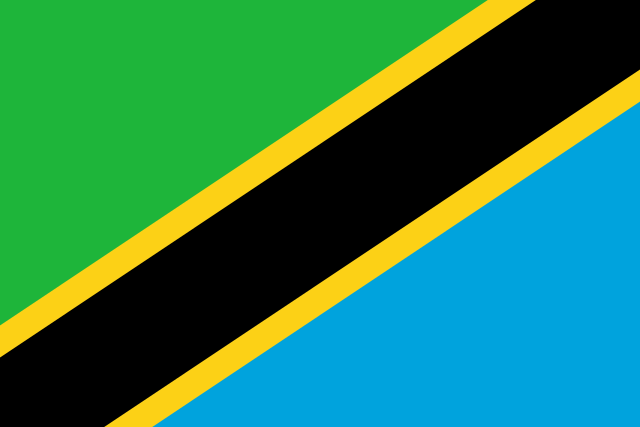 12 Amazing Things To do In Tanzania
Advertisements
CONTINUE READING BELOW
You have probably heard about Mount Kilimanjaro. But you may not know that this prestigious mountain, which stands at 5,895m, is Tanzania's most famous landmark.
Mount Kilimanjaro National Park is different from other parks in northern Tanzania because people don't go there to see various animals.
Instead, they go to see a beautiful snow-capped mountain. Visitors can climb Mount Kilimanjaro any time, but the best time is from late June to October when it is the dry season.
The iconic mountain, a world heritage site, resulted from a volcanic movement along the Rift Valley more than a million years ago.
The lower part of the mountain is farmland. And as you go up the mountain, there is a rainforest, an alpine meadow, and a barren lunar landscape. The rainforest slopes are home to animals like buffalos, leopards, monkeys, elephants, and elands.
Advertisements
CONTINUE READING BELOW
Bird lovers will be thrilled by this alpine zone of the mountain, where they can feast their eyes on numerous predator birds.
2. Safari In The Serengeti National Park
The Serengeti, Tanzania's oldest and largest national park, is known for being the center of the world's largest animal migration.
At its peak, the park had more mammals than any other place on earth. So, it shouldn't come as a surprise if it is included in one of the country's most amazing places to visit.
During the migration, about 5 million animals, 1.5 million wildebeest, 500,000 gazelles, and 300,000 zebras are seen in the park.
Even when the migration has moved elsewhere, there are still a lot of buffalo, giraffes, warthogs, and antelopes.
Also, the park boasts about 3,000 lions, cheetahs, leopards, and bat-eared foxes, among numerous animals. During a two- or three-day safari, birdwatchers can expect to see hundreds of different species.
Advertisements
CONTINUE READING BELOW
3. Zanzibar Beaches
The beautiful beaches on the island of Zanzibar are a paradise on earth. It has become a top destination spot for vacations for many celebrities and tourists.
The islands of Zanzibar and Pemba make up the Zanzibar archipelago. This island has some of the best beaches in the world.
There are different waves based on the side of the island you are in. And if you are a beach lover who loves to play in the sand, Zanzibar beach is surely a place to visit. The soft white sand, clear shallow water, and traditional boats lined up along the shore are a spectacle to behold.
You may also like: Top 10 Beach Resorts in Lagos You Have To Visit This Year.
4. Take A Balloon Safari
If you are up for some excitement, you should jump on a balloon safari when you visit Tanzania. There is no better way to see the Serengeti Plains than in a hot air balloon.
Advertisements
CONTINUE READING BELOW
Ballon safari is a very popular pastime in the country. The view can be relaxing from the top of a hot air balloon. Flying over the country in a balloon safari is a great way to see animals above ground level.
Most of the time, these trips happen in the morning. Afterward, you are greeted with champagne and breakfast to start your day in the right mood. What a great way to kick-start your day.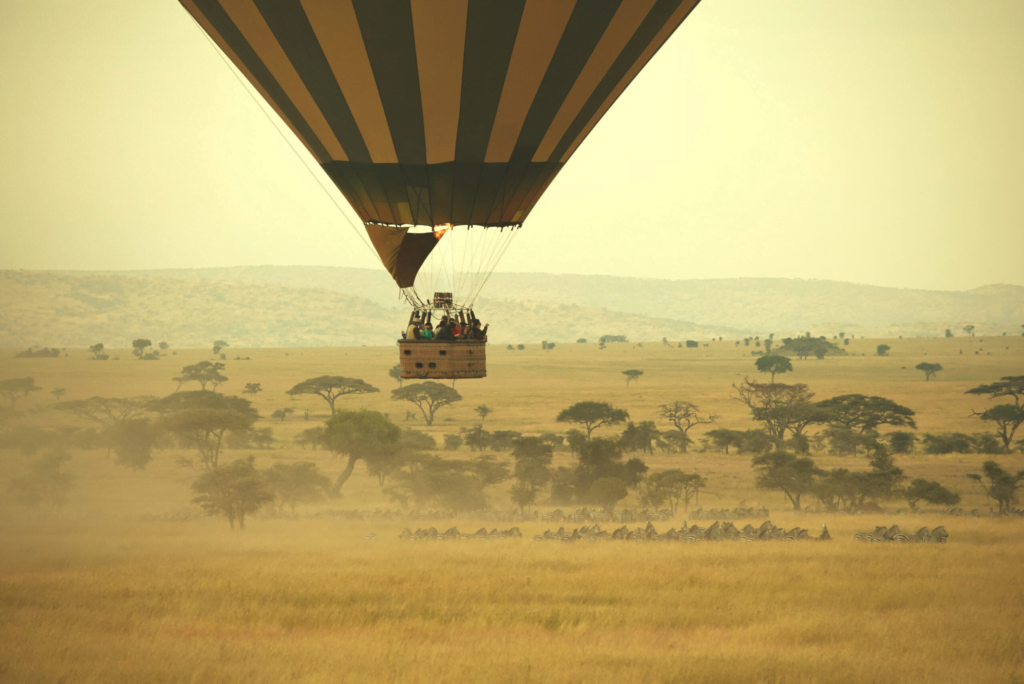 5. Selous Game Reserve
Selous is Africa's biggest game reserve. It was established in 1922 and covers 5% of all of Tanzania. The area in the south is out-of-bounds for tourists because it has a lot of trees and cliffs.
Only the north of the Rufiji River can be toured. In this part of the Selous Game Reserve, there are large open grassland areas, forests, rivers, hills, and plains.
Advertisements
CONTINUE READING BELOW
The Selous Game Reserve is split in half by the Rufiji River. The river is an important part of the reserve because people go there to watch different animals that live in and around the water.
These animals include elephants, hippos, rhinos, buffalo, antelope, giraffes, warthog, wildebeest, lions, leopards, cheetahs, etc. This is in addition to over 350 species of birds that can be spotted in the game reserve.
6. Pemba Island
Pemba Island is located on the northmost island among the group of islands that make up Zanzibar. The main city of Pemba, Chake Chake, has many scuba divers. As a result, scuba diving in the Indian Ocean takes place on this island because its visibility is incomparable.
The underwater haven has coral gardens, colorful sponges, and sea fans. The island has a laid-back atmosphere with hills and deep valleys. The favorite leisure for mountain bikers is the 1,000-meter peaks.
Advertisements
CONTINUE READING BELOW
This beautiful island is a big producer of cloves, and it's famous for juju medicine and magic. People from all over East Africa come here to learn about voodoo and traditional healing.
7. Tarangire National Park
During the dry season, the Tarangire National Park is the best place to see elephants. It is always a thrilling experience to watch most migrating animals gather around the river and water pools.
At this time, animals like the fringe-eared oryx and up to 25,000 wildebeest, 30,000 zebras, and 3000 elephants can be seen in the park.
One peculiar thing in this park is that these big animals are dwarfed by the huge baobab trees, some of which are more than a thousand years old.
In the northern part of the park, there are grasslands and woods, while in the southern part, there are low hills, scrub, and swamps.
Advertisements
CONTINUE READING BELOW
The Tarangire River flows west into Lake Burunge and cuts through these habitats like a long corridor. This river is crucial to life here, and the most popular place for game drives is along its northern edge.
8. Swim In Chemka Hot Springs
When it comes to natural attractions, Tanzania has more than just mountains to offer. There are also hot springs in the country where you can swim in warm water. The best place to do this is at Chemka Hot Springs.
People can relax or eat a meal in the shade at these naturally heated springs, but a spring trip isn't complete without a swim in the water. It is usually beautiful and relaxing, and sitting by the spring or warming up in it is a great thing to do after a strenuous activity like climbing Mount Kilimanjaro.
Advertisements
CONTINUE READING BELOW
The Chemka Hot Springs is located near the town of Moshi and are about 1 hour and 30 minutes from Arusha.
9. Ngorongoro Conservation Area
The Ngorongoro Crater is the world's largest ancient caldera and is about 3 million years old. The famous volcano Ngorongoro Crater is in the Ngorongoro Conservation Area and is located between Lake Manyara and the Serengeti. This volcano was one of the tallest mountains in the world before it erupted and fell.
Many animals are attracted to this huge volcanic crater because of the water availability, so they don't have to migrate.
That is why animal lovers travel down to this area to watch big animals and birds. Near Lake Magadi, flamingos gather in the shallows, making it the best place to visit if you want to watch birds.
Advertisements
CONTINUE READING BELOW
On the crater floor, you can see animals like lions, elephants, rhinos, Thomson's gazelles, and buffalos. However, most of the animals in the conservation area are wildebeests and zebras.
10. Mafia Island
The first people to live on this beautiful island did so in the 8th or 9th century. Between the 12th and 14th centuries, it served as a trade route between East Africa and the Mediterranean and became a more important settlement.
Divers and snorkelers from around the world come to Mafia Island to explore the underwater world protected by the Mafia Island Marine Park.
Mafia Island Marine Park has coral gardens, a variety of fish, and a calm atmosphere for diving. There are a lot of birds and over 400 kinds of fish in the area.
Endangered species like green turtles are found on the island. It is a haven for deep-sea fishing, especially for tuna, marlin, sailfish, and other big-game fish.
Advertisements
CONTINUE READING BELOW
11. Explore Stone Town In Zanzibar
Stone Town is one of the oldest places in Tanzania. In this town, you get to see amazing art, beautiful buildings, and the rich culture of the Swahili people.
One of the ways to learn about the history of this part of the country is to walk through the town's streets and look at the Arab, Indian, and European influences on the buildings.
If you are a lover of art or history, the Stone Town of Zanzibar is a place you should visit in Tanzania.
12. Hike To Materuni Waterfalls
Materuni Waterfalls is one of Tanzania's most beautiful natural attractions to visit. It is in Materuni village at the base of Mount Kilimanjaro.
It's a great place to go hiking, as it takes one hour journey to get to the waterfall. During the hike, adventurers can enjoy the beautiful scenery of the environment.
Advertisements
CONTINUE READING BELOW
But the charming scenery is nothing compared to the beautiful picturesque that awaits you at the waterfall.
You can swim in the pool at the waterfall's base, making the hike even more fun and relaxing.
Bottomline
From this blog post, you can see how much fun awaits when you visit Tanzania. There are many fun places to visit, so it is best that you plan everything you want to do ahead of time so you can have a great time and get the most out of your vacation.
These amazing tourist spots will keep you thrilled throughout your visit. You will learn a lot about the country and have a memorable experience that you will cherish for a long time.