Are there reliable locksmiths who have the requisite credentials and experience in Kokomo? If there are, will they continue to keep their standards? Truly, these are important questions to ask if you are looking for the best locksmiths in Kokomo, Indiana.
While it is hard to vouch for the future quality of any locksmith, there are some of them with good reputation to protect and have proven not to compromise their excellence over the years. For this reason, you can trust their service now and in the future – for maintenance.
Without delay, this post will expose you the best options available so that you can make the best choice.
What Should I Look For When Considering the Best Locksmiths in Kokomo?
.........................
Locksmiths are an essential part of every homeowner's or business owner's security arsenal, and are responsible for providing a variety of security upgrades and installations.
When selecting a locksmith, it's important to understand what makes an excellent locksmith, as well as the factors you'll need to take into account when selecting a locksmith.
You need to ensure that your locksmith has a comprehensive knowledge of both modern and traditional lock types. Not only will this help them select the most effective security measures for your property, but it will also equip them with the necessary tools to handle emergency repairs should any problems arise.
To find the best locksmith for your needs, you'll need to take into account a number of factors, including accessibility, price, and previous client feedback. Armed with this information, you'll be able to select the perfect locksmith for your needs – both during the initial consultation and on future visits.
.........................
What's next? Let's quickly take a look at the best locksmiths in Kokomo.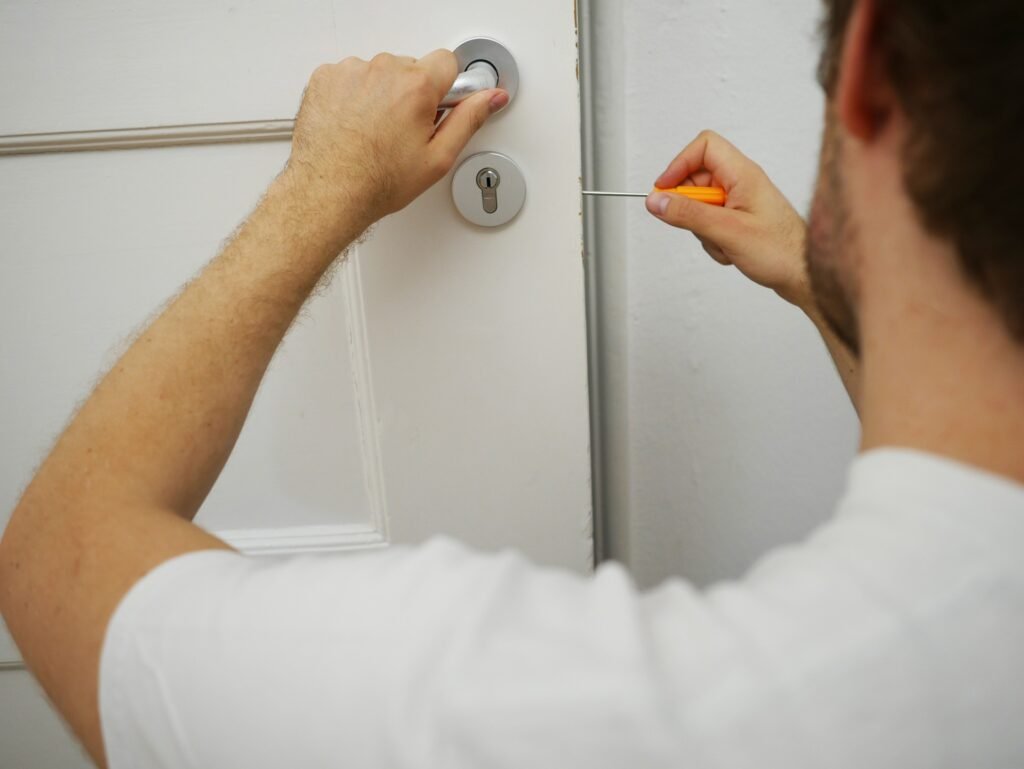 Best Locksmiths in Kokomo, Indiana
This section provides you with 11 best locksmiths in Kokomo, Indiana and they include:
1. Affordable Locksmith
How do you identify a trusted service?
Among other important indicators, the number of years of existence is a major factor showing how solution-driven a brand is.
Affordable Locksmith has been in operation for more than 30 years. Specifically, since 1984, they have been a local locksmith company in Kokomo, Indiana.
An outstanding part of this locksmith outfit is that, they offer a full service wherever you want it. That is, they are always ready to serve you irrespective of your location in Kokomo and environs.
.........................
Their vast range of offerings include:
General Lock Installation
Broken Key Extraction
Cabinet Lock Services
Security Door Locks
Key Creation
Gate Lock Services
Key Duplication
Lock Repair
Rekeying
Safe Locksmith Services
Vehicle Lockouts
Vehicle Unlocking
Contact Information
2856 E 100 N, Kokomo, Indiana 46902, United States.
Telephone: +1 765-434-1881
Business Hours: Monday to Friday 8:00am – 6:00pm Monday to Friday
2. Kokomo Lock and Key
When considering the best locksmiths in Kokomo, this company is superb because they provide outstanding locksmith services to customers in the Kokomo area.
They offer a wide range of security services, including lock installation, key replacement, alarm system installation, and so on.
What's more, Kokomo Lock and Key team can identify vulnerable points within and around your house.
With a top-notch understanding of the importance of providing quality service to their customers, they do not always hesitate to work hard to provide excellent customer care.
.........................
If you ever have any questions or concerns about your locks or security needs, they are fast and dependable and you can contact them today!
Contact Information
2911 South Washington Street, Kokomo, Indiana 46902, United States.
Telephone: (765) 461-1980
Business Hours: Monday to Friday 8:00am – 6:00pm Monday to Friday
3. Ashley Safe & Lock
Founded in 2015, they are a reliable and affordable company that offers homeowners and businesses the peace of mind they need to protect their belongings.
Ashley Safe & Lock provides a broad range of services which include:
Broken key extraction
Lock change or installation
Burglar alarm system installation
Security safe installation
Surveillance camera installation
Access control installation
Video doorbell installation and so on.
In addition, they afford their customers a variety of payment options including cash, debit card, personal checks etc.
.........................
Contact Information
320 E. Alto rd.
Kokomo IN, 46902
Telephone: (765) 450-9300
Business Hours: Monday to Friday 9:00am to 5:00pm (closed on Saturday and Sunday)
4. Able Unlock
If you need help fixing or upgrading your locks, Able Unlock is also a perfect choice. They have a wide variety of tools and knowledge to help you with any fix or upgrade.
Also, they will provide you with a quote for the work you need done.
Contact Information
1912 Tam O Shanter Court
Kokomo IN, 46902-6128
Telephone:
Business Hours:
Monday – Friday: 8:00 am – 6:00 pm
Saturday – Sunday: Closed
5. ABC Lock & Key
They are a professional business that provides a wide range of locksmith services. These services include installation, repair, and replacement of locks.
.........................
The team is experienced and qualified to provide quality locksmith services. The team is also knowledgeable about the latest security trends and products. This makes them the ideal option for customers who want to install and maintain locks and security products in their homes or businesses.
The company also offers a variety of security products, including safe locks, home security systems, and keypad locks.
Contact Information
1201 E Vaile Ave.
Kokomo IN, 46902
Telephone: (765) 457-5336
Business Hours:
Monday – Friday: 8:00 am – 6:00 pm
Saturday – Sunday: Closed
6. Lock Master
Lock Master is a locksmith business that provides high-quality, affordable lock services in the city of Kokomo.
They offer 24/7 emergency service and their team of experts are available to assist you with any locking needs you may have.
.........................
From simple repairs to full system replacements, they can get the job done right.
Contact Information
4476 E 100 N Rd, Kokomo, IN
Call: 765-456-3912
7. JBB lock and key
"I was very happy with my service. The time of his arrival was very prompt. I had gotten myself locked out my house and as soon as I reached out to him he responded quickly and it only took him about 5 minutes to get me back in very efficient! Highly recommend this lock smith. Very professional and polite"
That review was written by Robyn Collins and it's one of the numerous 5 star ratings on 'Google review summary' page for JBB Lock and Key.
JBB provides a sterling 24 hour service and that really helps if you are locked out or want to schedule an appointment.
.........................
With quite an affordable service, JBB does the following:
Building key copying
Building lockouts
Car lockouts
Door lock and bolt hardware installation
General repairs
Installation
Lock rekeying
Contact Information
1718 N McCann St, Kokomo, IN 46901, United States
Call: +1 765-389-4579
8. A Maximum Security Locksmith
If you need to improve your security on a regular basis, they are the best choice. They are experts in all types of lock repairs and replacements, as well as custom installations.
If you have any issues with your current door or garage security system, they can help you out immediately by providing a consultation and recommending the most appropriate solution for your specific situation.
They offer online booking capabilities so that you can easily make an appointment without having to leave your home.
.........................
Contact Information
421 W North St.
Kokomo IN, 46902
Telephone: (765) 457-7676
Business Hours:
Monday – Friday: 8:00 am – 6:00 pm
Saturday – Sunday: Closed
9. KeyMe
They boast of fast service – their average arrival time is 29 minutes – and they are quite exceptional in the sense that you can track your locksmith. Additionally, you can view arrival status and the profile of the locksmith.
Also, you have nothing to worry about because their locksmiths are licensed and insured.
KeyMe specializes in providing:
Residential lockouts
Commercial lockouts
Lock repair and installation
Door re-keying
Key duplication
Key copying
Vehicle key fob replacement
Master key system
Safe installation
Smart lock installation etc.
Contact Information
1715 E. Heavens St, Kokomo IN 46901
Telephone: (765) 326-4699
Business Hours:
Monday – Saturday: 6:00 am – 9:00 pm
.........................
Sunday: 8:00 am – 8:00 pm
10. Minute Key
Minute Key is an industry leader in key services in Kokomo, providing high-quality locksmith and key copying services. They are a go to service provider if you're locked out and need an emergency locksmith, or if you'd like to arrange an appointment with a locksmith to fix, install, or repair a lock.
In fact, they offer self-service for some of the services they provide.
For instance, if you want to duplicate your home, office or auto key, all you need to do is just insert your key into the kiosk and choose the design you want. In no time, the robot will take charge and your accurately duplicated key will be delivered to you.
Some of their services include:
Duplication of RFID key cards
Key fobs duplication  
Fob upgrading
Home, office, or padlock key duplication
Contact Information
.........................
1920 E Markland Ave,
Kokomo IN 46901
Telephone: (765) 432-9240
Business Hours:
Monday – Sunday: 24 Hours
11. Local City Locksmith
This is 24 hour nationwide emergency locksmith service.
With a fast, reliable, and affordable service, they are available 24 hours a day, 7 days a week to provide you with the best service available.
To reemphasize, they serve all the 50 states in the US including Indiana and by extension, Kokomo.
Their services include:
Car Door Unlocking
Computer Chip Keys Programming
Electronic Locks Installation
Emergency Lock Outs
Trunks Unlocking
Access Control Systems
Biometric Lock Installation
Business Security Surveys
Code Compliance Consultation
Keys Production
Locks Changing
Locks Re-keying
Contact Information
Call: 1-855-919-5813
Conclusion: Best Locksmiths in Kokomo
Every homeowner or business owner knows the importance of security – especially in today's increasingly digital world. A good locksmith can help you protect your property and possessions by providing you with the necessary security upgrades and installations.
.........................
This article on the best locksmiths in Kokomo, Indiana has helped you outline the great options and it is your responsibility to reach out and have your needs sorted.